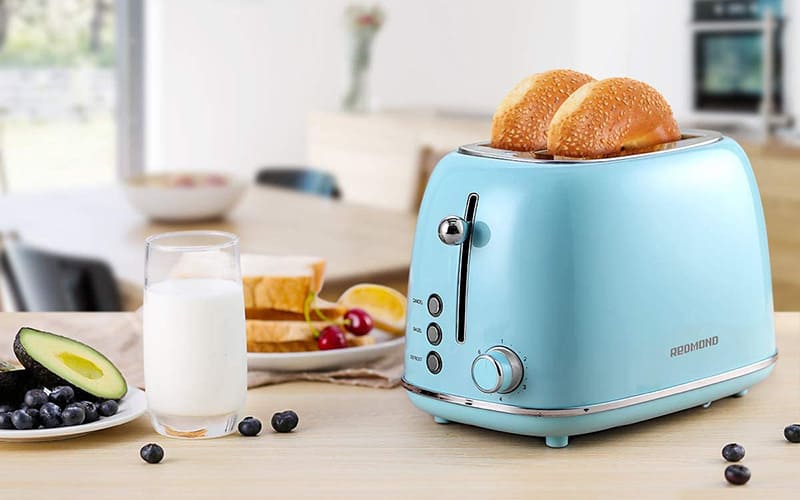 Toasts are one of the easiest yet gratifying breakfast options that would come to your mind on busy weekdays. And with the advance in technology, there's no reason you can't take a few extra minutes to prepare even quick snacks in a toaster.
When it comes to even and proper heating a wide variety of foods, toasters are one of the best choices for overall versatility and convenience. If you compare it with a full-size oven, it is a more comfortable and straightforward alternative to heat food, especially in warmer months.
Also, they are beneficial and suitable for small rentals with tiny kitchens. However, the efficiency of a toaster is, most of the time, dependent on the model. Therefore, we focused on reviewing the models that are efficient yet affordable.
Best 8 Toasters Review
Toast is one of the most versatile and commonly eaten foods. Since it is such a staple, it is no wonder why a toaster is one of the most popular appliances in the kitchen. Sometimes, it is so cool to watch the slices nicely toasted once they are out of the toaster.
But like most products for the kitchen, there are so many toasters to choose from! To save you a lot of stress thinking about which one to buy, we've rounded up a list of the top 8 best toasters.
Cuisinart metal classic toaster makes delicious toast, and it makes a great choice when selecting a useful addition to your kitchen countertop. It features all six shade settings and four toast functions which include, bagel, defrost, repeat, and cancel if you change your mind.
The defrost function helps you defrost bread straight out of the freezer. It has all the attributes of an efficient toaster- adjustable browning levels, top and bottom cover for cleaning crumbs. Finally, the elegant stainless steel design makes it the right choice for every household.
The chunky yet well-rounded retro design is pleasing to the eye as it is well built with quality material. It has two dials, the bottom control, and the mechanical timer. The base controls the automatic timer, and the top one lets you choose from one to four slices and one or two bagels.
Simplicity, coupled with the excellent build quality and retro design aesthetics, ensure that you can use Dualit that would last a lifetime.
Features
Easily slide-out crumb tray that stack toast crumbs
Six browning dials allow you to choose the shade of color of your toast
The convenient cord wrap for easy movement from one place to another
Well-polished stainless steel for sleek and nice sleek
Clear instruction book to guide you on its usage when you buy a new product
Extra-lift carriage lever to view the entire toast during the toasting process.
Pros
Makes nice and crisp toast
Toast evenly across the bread
Wide slots for the bagel
Heats nicely
Cons
Risk of scratching the toaster when unwrapping the package
Might experience loose dial
Verdict
The Cuisinart metal classic toaster is efficient as it consistently and conveniently toasts bread evenly.
The AmazonBasics is a highly functional kitchen appliance that gives a nice toast. It comes with the option of mid-cycle cancel if you happen to change your mind. You can heat and defrost the bread slices as well.
It also comes with a variable six (6) shades browning control; this allows you to customize the level of browning of bread slices.
You can easily insert thick bread slices as the toaster features a wide slot for thick bread slices. Owing to the extra lift provided, smaller bread slices can also fit properly too. Cleaning is made easy with the help of the slide-out crumb try hence, helping in hygienic storage.
Features
Two slice toaster for grilling and toasting one to two slices of bread at once
Six shade setting that allows for individual browning preference
Extra-wide slots that would enable for thick slices of bread.
Removable crumb tray for easy stack-up and cleaning of bread crumbs
1-year warranty
Pros
It is cost-effective
Decent quality for the price
Crumb tray is pretty handy
Heats nicely and does not overheat
It toasts evenly on both sides
Cons
Initial testing gives off a mild smell
Might need to read the manual before use
Verdict
The AmazonBasics is good value for money and a highly effective breakfast companion.
Aesthetically, the Redmond toaster is one of the most nicely-built kitchen appliances. This compact small-sized toaster features a classic elegant design and a sleek blue appearance. Quality also doesn't look bad as it is made with stainless steel and a subtle finish.
Redmond toaster has a similar feature with almost every other toaster, so you really wouldn't miss out on them.
You can get perfectly browned toasts that suit your preference due to the 6-level browning control feature this product offers. Its defrost function lets you toast frozen bread up. The bagel, cancel, and variable browning control feature adds to the convenience.
The toaster allows you to toast either one or two slices of bread at a time. The toaster uniformly toasts slices whether they are thick or thin. The extra-wide and deep slots easily fit the bread.
Features
Six shade setting for browning control
Removable Crumb Tray for an easy cleanup
LED indicating button for convenience
Cancel, Defrost, and bagel function for even toasting
Pros
Cool touch surface while toasting
Reliable and even toasting
Occupies small counter-space
Simple and nice packaging
It is convenient for use
Cons
It is not the right choice for a large family
Verdict
Redmond toaster is the most stylish and very lovely looking toaster that works perfectly and toast bread into the right shade of beautiful brown.
Black decker is a convenient and handy home appliance that you can use daily for whipping up a quick breakfast. This has several useful features and comes with different options for convenient usage as per individual needs.
It features 850w power, two slice capacity, and alternatives to reheat, make bagel and cancel.
The toaster also comes out with electronic browning control, and easy to clean the crumb tray, and automatic pop up functions to give a faster and convenient breakfast experience.
It has a rigid body that ensures that the toaster resists any damages that can be caused due to overheating of the appliance. This enables you to use it comfortably. You can wipe away crumbs and get back to toasting quickly with the slide-out crumb tray.
Features
The crumb tray makes it easier to clean
Extra lever lifts for easy access to toast
Drop-down crumb tray for easy maintenance and cleanliness
Extra-wide toasting slots for thicker slices of bread to fit in
850 Watt for fast toasting with precise result
Pros
Super easy to remove crumbs from the tray
Gives an even toast result
It is light-weight
It is cost-effective
Cons
No indication light when a button is pushed
Plastics at the edge heats up within a short time
Verdict
The black decker is dependable and user friendly as it comes with outstanding and reliable functions.
This toaster comes with a dedicated mode that helps you toast slices of bread in super-fast time. The spread of heat is even thanks to the hot air being blown throughout the toast. This countertop toaster is best for every toasting set.
It comes with a see-through window so you could see through the window without opening the toaster. It is a smart toaster perfect for toast, bagel, and defrost.
It is stylish stainless steel with exclusive even toast technology satisfying your daily cooking needs. It has a stainless steel finish, non-stick easy to clean interior oven with seven (7) browning settings.
Features
The see-through window for a clear view of the toasting process
Feature auto shut off that prevents overheating
Extra-long slot for a wide variety of bread
3 One-touch buttons for reheating, defrosting and bagels
One year manufacturer warranty including a recipe book
Pros
Toast bread with golden brown perfection
Help keep your eyes on progress
All control settings are highly visible
It looks nice with a unique heating element
Cons
The ejection spring launches bread slices right out of the slot with almost no ease.
Occupies more space than the regular toaster
Verdict
Dash svts501aq toaster is an energy-efficient toaster that gives a clear view of your toast through its see-through window.
Ifedio toaster is an efficient appliance dishes out crispy toasts in minutes. It is an easy way to prepare toasts for breakfast. This machine comes with an automatic pop up and offers evenly fast toasting.
The feature allows you to get other household tasks done or relax while your toast gets cooked and ready. Also, small slices of bread are easily removed by the high-lift lever included. This makes cleaning the appliance a breeze.
Additionally, seven (7) settings are included in this multi-functional toaster for variable browning controls and also to provide extra convenience. The stainless steel toaster can toast one to two slices of bread at a time.
It comes with defrost, cancel, and bagel buttons, which makes it more comfortable to use.
Features
Removable slide crumb tray for easy maintenance
Automatic pop up for even toast
Seven shade selector for preferred browning
Compact design for a small counter-space
Extra wide-slot for various bread types
Pros
Cost-effective with great features
Keeps your counter tidy and easy to clean
Suitable for multiple types of bread
Extremely functional for a reasonable price
Cons
Not the best for a large family
Verdict
Ifedio toaster is a minimalist design concept and a multi-functional toaster that allows for different kinds of toasting pleasure.
This is one of the suitable four-slice toasters available in the market today. The toaster toast slices of bread evenly and come with six different browning options. From golden brown to crunchy, you can choose the crispiness of the toast.
The best part about this toaster is that it can toast four slices of bread at once. Thanks to the efficient four slots that comes with the toaster.
Regardless of how many slices you have toasted, and gives you consistent browning. The toaster comes with a dual solid high lift lever and two removable crumb trays. The toaster does look not only sleek but also has independent multiple heating modes.
With a bit LED display touch, three essential functions show in the red light indicator when they are on.
Features
Dual removable crumb tray for clean toast experience
Two independent control panel for multiple toasting
1650 Watt power for sufficient heat and even toast
One year guarantee and support from Cuisibox
Extra wide-slot for various types of bread
Pros
Functional and makes excellent toast quickly
It pops up your toast to where you can grab it
The toaster is suitable for a big family
Versatile and durable
Verdict
Cuisibox is a high budget toaster that can serve a large number of people at once without wasting much time.
If you need the best toaster that is loaded with technological features and not just a simple on/switch, the Cuisinart CPT-415 Toaster can be the answer. For the convenience of the users, the elegant toaster has seven shades setting with a touch of technology, which is digital countdown control.
The countdown control shows in the blue backlit LCD feature display.
The intuitive control interface and compact design make it perfect for everyday use. It comes with a high-lift lever that allows you to remove even the small-sized toast without burning your hand efficiently. It comes with four buttons, which include bagel, reheat, defrost and cancel.
Other highlights include a removable crumb tray for quick crumb disposal and handy cord storage to keep the countertop tidy
Features
Blue backlight LCD countdown timer for browning indication
Compact design for small counter-space
Seven shade control for even toast
Three years warranty
Pros
Great beeping timer
Good value for money
Good performance
Multiple toasting options
Easy to clean up
Cons
Loud beep when toast is ready
Verdict
Cuisinart is the most intuitive and versatile toaster that allows for varieties of items to be toasted with various toasting options.
Factors to consider before Selecting a Toaster
A clue to finding the right quality product is in the design. If the design has barely changed in decades, then it must be doing its purpose well. Here are some of the few things you should consider when selecting a toaster.
Features: Several useful features that come with different options for convenient usage according to individual needs are attributes of a great toaster. Typically, a toaster will have two heating elements, one on each side of the bread. The bagel setting, crumb tray, pop up function, among others, are a handy feature to look out for. You might also want to consider a combination of bagel and toast toaster just for flexibility.
Heating elements: Depends on the model, there can be 5-6 heating elements in a toaster that heats the air in the oven cavity. Some top toaster ovens may also have a combination of ceramic and quartz infrared heating elements and steam settings. A standard toaster oven has the function of defrosting, baking, and toasting, while some can include advanced functions like roasting.
Price: In essence, cheap toasters could be poorly made; therefore, moderately-priced simple toasters are your best bet. The models that are a little on the pricey side will include a better and more abundant feature. In our test, we found that the high priced toasters will not likewise make your bread taste any better. Unless you want to use your toaster several times a week consistently, an inexpensive toaster might probably do just an excellent job as a more expensive one.
Size: Most toasters usually come in compact sizes. Some toasters are a little bit big but come with a larger capacity. So, you have to figure out both the exterior and interior dimensions of your toaster before you select one. Another thing you should take into account is the dimension of the food items you want to toast, as results can vary greatly. It includes how many slices of bread you intend to toast or the number of persons you want to feed at once.
Counter-space: You might need to consider your counter-space if your rental space is a significant concern. If you live in a small rental, a two-slice toaster is a great option, but if you live in a well-spaced apartment, you may opt for the same or a four-slice toaster.
Built-up material: Toasters are either made with plastic or metallic materials. However, metal toasters tend to be more expensive than plastic toasters. So, if you want to cut your expenses, you may go for the affordable one. The aesthetics are also something you might want to consider. Either way, toast quality must not be compromised. Most importantly, pay attention to non-stick ceramic coating and the quality of plastic.
What is a Toaster?
Toasters are specialized pieces of equipment that are meant to cook foods with dry heat and make crispy crusts on toast, pies, pizza, and TV dinners. They are usually a countertop appliance designed to cook small-sized dishes.
Technically, slices of bread and some small snacks can be heated via a toaster.
Types of Toasters
There are different types of toasters, and it is penitent that you understand the available ones in the marketplace. Once you learn about them, you have different options that suit your needs. Without wasting time, let us consider the three main types of toasters.
Regular toaster: Most regular toasters come in two or four-slice capacities. This type of toaster is less expensive compared to others that have wider slots and extensive capabilities. Whether it is a regular or conventional toaster, the display settings make it easy to use. It comes with a defrost and reheat function that allows you to warm certain left-overs without losing their crunchiness.
You will also get the bagel function for bagel toast and shade setting to give you the dark shade you want on your toast. For most of it, regular toasters usually come with a crumb tray that stacks crumbs and dirt from your toast slices.
Countertop Toaster oven: A toaster oven is a kitchen appliance that is usually about the size of a "bread box." Most people prefer a toaster oven in place of a standard oven. And a toaster oven is more costly than regular oven Toasters are energy efficient and make crispy food in a way the microwave cannot. Toaster ovens are relatively low-powered countertop oven that cooks small items like toast or reheat small amounts of left-over. Toasters have a heating element on the top and bottom. You can turn on either one or both.
It is better for causing specific reactions such as drying and caramelizing the surface of foods causing browning and toasting. Some toaster ovens these days also have convection mode that can be used for baking, which means they have a fan inside to blow around heated air.
The convection mode makes food cook more evenly and quickly.
How does it Work?
Toasters can make a limited number of snacks but perform better for browning and toasting where microwaves are incapable of doing so. The primary use of toasters is to toast food items.
This is done by applying electricity to their heating coils, making them glow, and the heat radiates onto the surface of the food. A toaster combines hot air with radiant heat in a small volume, so there is good heat transfer.
Toasters apply an equal amount of heat on both sides of the bread, and it is always hot. Also, almost every toaster oven gets hot on the outside during use. Some toasters also use forced-air convection while radiating that dry heat into their cavities.
That means the heat generated will be blown around the inside, which will keep the temperature more even throughout the whole cavity. It will also prevent the cool spots around the foods and also cook a bit faster.
Advantages of a toaster over other Cookware
Some things don't cook well in a toaster, and sometimes, it doesn't work the same way other cooking appliances works. However, we found several reasons why a toaster is superior to other cookware depending on what you're cooking.
Energy-saving: Toasters are energy efficient and make crispy food in a way microwave cannot. It is much smaller in size and therefore requires less energy to come up to the required temperature and cook for the length of time needed. It also cools off faster, which means it does not overheat the house. This is good during summer unless it's wintertime.
Food Browning: A toaster is superior in many ways to many appliances as far as palatability is concerned. The process behind how the radiant heating of a toaster works is different. It does an excellent job of searing or browning a dish.
Saves space: You may not have a full kitchen due to whatever reason, but a toaster can work off of any standard outlet. Counter-space is extremely valuable. So, a toaster takes up less counter space in the kitchen.
Less heat: The extra warmth of an oven can help in the winter but would be unwelcome in the summer, which makes a toaster a better option.
How to clean and maintain a toaster
If you are willing to clean the inside of the oven, you will spend hours to get it spotless. There are many makes and models, so cleaning depends on the make and model. Some toaster oven has enough space that allows you to line the tray with a small piece of foil, which makes cleaning easier.
Here are a few steps you must take to clean and maintain a toaster:
Unplug the Toaster: Make sure to unplug the toaster and allow it to cool off before you begin the cleaning process ultimately.
Remove the crumb tray: Start by dropping or removing the crumb tray and shake off all the loose crumbs. The removal of the try is super helpful for the cleaning process. If the toast has no crumb tray, turn your toaster upside down and gently shake it till the crumbs fall off from the toaster
Soak the crumb tray: Apply any grease removing liquid and let it sit for a while if your tray is still crusted with crumbs. Alternatively, wash it with warm soapy water until it is clean.
Scrub with a scratch-free brush: Use a small basting brush to get into hard-to-reach corners and clean with mild abrasive cleaners. If there are remaining stuck-up greases, try once again with the dish soap.
Clean both in and out: From the inside walls and door to the outer part of the oven. Wipe the exterior with a clean cloth as it may not need much scrubbing.
Rinse well: In this case, use clean water to rinse by thoroughly wiping off the soap and residue with the sponge side
Dry it: Remove as much water as you can and allow it to dry before reassembling or using it. Once it dries up, pop your crumb tray back into place.
What are the popular Toaster Brands available on the Market?
If you are so fascinated with great toasters, that certainly meant you needed to get down to doing some research for the best toaster brands available in the market. Some of them include Oster, Black, and decker, KitchenAid, Breville, Panasonic, Hamilton, and Avanti.
Frequently Asked Questions About Toasters
Why is my toaster not toasting evenly?
If the toast keeps coming out dry but not toasted, then the oven temperature is not enough to start the mallard reaction. Ensure the heat goes round across the toaster to get an even toast.
Can I cancel my toast anytime?
Yes, you can cancel the toasting process at any time with the cancel button function. Whenever you change your mind, or you have what you want, you can put the toasting process to a stop.
Can I put any type of bread in my toaster?
With wide slots, you can quickly toast various types of bread. Thick slices of bread can easily be inserted in a toaster as it features extra-wide slots
Final Words
If you bake or toast your bread or buy a variety of artisan slices of bread, you will love the versatility of a toaster. But aren't they the best invention until today? It is so cool to watch the slices nicely grilled and toasted once they are out of the toaster.
Toasters work uniquely, and of course, we have modern standards and needs these days. This is the reason why many people prefer the best option according to quality, price, features, etc. Though relatively small, a toaster is excellent for heating left-over and small snacks.
With our selections and guidelines, we are sure it will help you choose only brandable models.