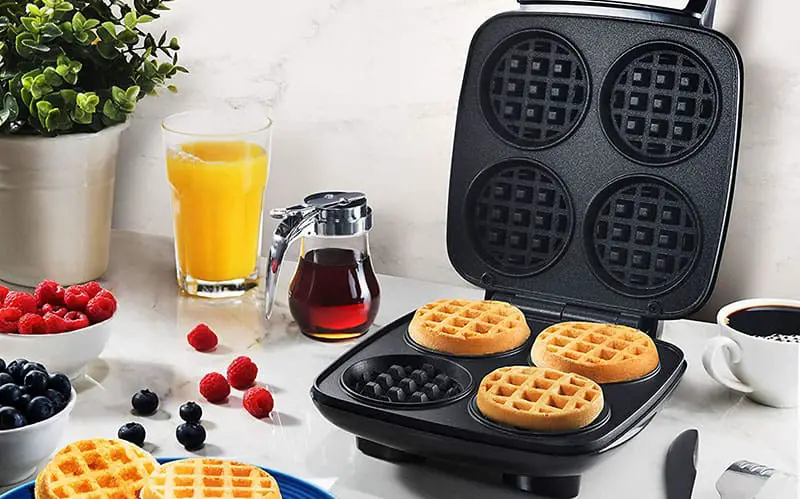 Waffles are one of the most versatile pastry meals that suit almost every moment. Whether it's breakfast, brunches, or desert, they are not only a handy recipe that can be prepared in a few minutes, but they also serve as one of the most delicious homemade meals around.
Crunchy, crispy, and tasty!
This makes waffle makers a critical home appliance that should be at the top of your shopping list. The best waffle iron will serve you and a whole lot more bellies with all the durability and efficiency needed to ensure every penny is well spent.
In this article, we are going to check out some of the very best waffle makers for you in terms of performance and affordability. Let's begin…
Quick Comparison Table of the Best Waffle Irons
| | | |
| --- | --- | --- |
| Waffle Iron | Waffle Shape | Special Features |
| Dash Mini Maker | Circle/Round | Multi-color variants, dual non-stick surface, and 4-inch cooking surfaces. |
| Oster Belgian Waffle Maker | Belgian | Indicator and power lights. |
| Presto 03510 FlipSide Waffle Maker | Belgian | Dual function base, and thick grid |
| Cuisinart WAF-F10 Waffle Maker | Belgian | LED lights, rotary grid feature, and browning control knob |
| Burgess Brothers ChurWaffle Maker | Circle/Round | Multi-purpose usage, and 4 unit for four waffles at a time |
| BLACK DECKER Waffle | Square | Multi-purpose kitchen appliance, 3-in-1 plate, oil draining channels, 180-degree hinge, and Hand switch. |
| BELLA 13591 | Belgian | Rotating grid, one-flip operation, |
Best Waffle Irons Review
At first glance, the DASH Mini Maker is quite appealing with its sleek design and astute size. It also oozes a friendly feel that is suitable for both kids and adults.
Manufactured by StoreBound, the waffle maker allows users to try their hands on other pastures besides waffles including, hash browns, Panini's, and pizzas of various types. With its singular 4-inch serving style, it's nothing but fun for kids.
Performance
Known for been portable and affordable, these waffle makers are also quick and easy to use as your meal is being done in a few minutes. The cooking surfaces ensures that your waffle is cooked evenly for a consistent result.
The power usage is also low and friendly for all situations- outdoor purposes or camping. Also, the feet are built to make the appliance stable and keep it from slipping during use. There is also an indicator light to tell you when you are ready to cook.
Pros
Light in weight
Portable and easy to take around
Different color variations
Decor friendly
Affordable
Perfect choice for gifts
Cons
Singular serving proportion
Not suitable for large-scale cooking
Conclusion
The DASH Mini Makers are one of the best options to consider when visiting the stores. It also comes with a 1-year warranty that includes a useful recipe book and database that will give users a whole world of waffle, making prowess right at their fingertips.
Your waffles can be prepared in so many ways, and this Belgian-style waffle maker comes with an 8-inch non-stick plate that is deep enough to add some of that tasty syrups. The temperature control is also one of the best you can find in the market.
This Oster Waffle Iron comes with superb handling to ensure that you are protected from a sudden burn. The waffle maker is almost entirely made from stainless, making it a durable appliance that is less susceptible to damage, and it also weighs at an astute 3.20 pounds.
Performance
The Oster Belgian waffle maker features eight-inch, non-stick round plates, which make your waffles come out easily, neatly, and delicious. Also, the plates are easy to clean.
Temperature control is also added to the appliance to help you customize heat levels quickly and easily for efficient performance.
Pros
A durable piece of technology
Presence of indicator lights and power status
Professional look
The handle is safe to touch
Conclusion
Despite all the steel present, Oster waffle makers are safe to use in terms of shocks and burns. The slim fit design makes it good looking, modern, and extremely easy to clean.
With its professional look and rotating design, this FlipSide appliance makes waffle cooking as easy as it should be. The waffle iron comes with a countdown timer with a digital display and a user manual to make you understand it well.
It comes with seven-diameter cooking surfaces that are divided by a think grid into four sections. The grid makes your waffle easy to cut.
Performance
It is safe to the Presto FlipSide is a high-performance waffle maker that is enough to tick all the required boxes in waffle making. The exteriors are made of stainless steel for handling while the interiors are non-sticky for seamless cleaning.
A dual-function base is included in this best waffle iron to offer space-saving storage and convenient rotation for baking.
Pros
Seamless design
Dual function base
Ergonomic handle
Durable stainless-steel body
Great performance
Conclusion
When looking for a waffle maker that brings about complete joy in making your meals, Presto is one of the best deals you can get. It's expensive and a bit sturdy, but when your throw opens its lid, you will discover that there is enough space to pack so many delicious waffles for everyone.
The Cuisinart WAF-F10 is one of the best Belgium style waffle irons you can get for the right price. The round shape and versatile performance make it to be easily discernible anywhere as it can also be found in hotels and restaurants.
Your waffles are being prepared with rich fluffiness while keeping the taste fresh and delicious. The maker is also easy to clean with its seamless steel design. They are the dream of every home because it possesses the ample space needed to prepare as many waffles as possible.
With its deep pockets and rotary feature, this can be done in a few minutes.
Performance
This top of the range waffle maker is also effortless to handle, keeps the cooking neat, and the performance-optimized. The maker uses 1000 watts while the handle is specially made for custom baking that keeps the syrups on your waffle intact and perfectly shaped.
There are blue LED lights visible on the body to indicate baking status. With the browning control knob and rotary feature, you can easily customize your baking and also get an even baking on both sides.
Furthermore, Cuisinart gives you all just the right choice, along with a limited one-year warranty.
Pros
Fast and efficient
Durable for long term use
Multiple plates for more waffles!
Suitable steel design for cleaning and washing.
Cons
The turning feature can be a bit of trouble at times.
Quite heavy for outdoor usage
Conclusion
The Cuisinart WAF-F10 is one of the most used and well-reviewed waffle irons by waffle lovers. Kids also enjoy its rotational feature as well as the way it makes the waffles come out thick and yummy. No doubt, it is going to be a valuable addition to your home.
Next up is the 4-unit waffle maker from the BBC2 (The Burgess Brothers). The product oozes top quality in kitchen modernity and has one of the most affordable waffle makers in terms of features and performance. What's new? It comes with its own new recipe, which it is strictly designed for.
You can make any kind of recipe including pancakes and then the Burgess Brothers inspired churwaffle, a combination of churro spices and cornbread waffles. The taste is pure Mexican flavor and gives it a whole new different experience!
Performance
Another striking feature of this maker is the way it is easy to clean with its smooth steel body and simple design. Weighing about 4 pounds, it also has a handle used for portability, and it is perfect for outdoor usage as well.
Despite its non-removable trays, BBC waffle makers are straightforward to use even for the younger folks who can't stop baking.
The product has one of the most durable life cycles coupled with top-notch performance. The plates are deep enough to add some syrup without getting all messy and are positioned in an ideal manner.
Pros
Handy design and professional look
Very portable and easy to use.
Built to make many other recipes. E.g., Pancakes
It is affordable
Cons
The non-removable plates might bot appeal to many in terms of cleaning
Conclusion
The world of waffle making is expanding as consumers love to try new recipes. If you already know that, then it comes as no surprise that the Burgess Brothers have one inspired by their grandmother and built one precisely for it.
The ChurWaffle is one of the best waffle treats out there, and it is time for you and your family to try it.
For those looking for a waffle maker that mostly clicks all the boxes of your shopping list, then the BLACK DECKER should be your next try. Manufactured by Spectrum Brands, this appliance has all it takes to bring smiles to the faces of everyone at home.
Performance
Here, you have three appliances in one unit. The waffle iron is used for many other meal preparations, including bacon, frying eggs, and toasting sandwiches. The flat plate designs and ample grids make this possible and unique, giving you the best deal for your money.
It opens up into two flat grid plates that are exceptionally large enough and non-sticky to cook large and tasty waffles while adding a few toppings.
Also, the waffle maker has one of the best adjustable temperature controls by just the turn of the switch, which keeps your recipe at just the right amount of heat needed. Also, there are little channels along the edges, which helps regulate the amount of oil.
All the attention to detail makes waffle cooking extremely easy.
These machines are very affordable, considering their state-of-the-art features. Also, the indicator lights are there for complete control of your cooking.
Pros
Professional design
Oil draining channels for neat and tidy baking
Large enough grids for extra toppings and extra size waffles
Multi-purpose trays for preparing a wide range of cooking and baking
Adjustable heating for baking preferences
Cons
Power consuming technology
It is heavy
Conclusion
Many reasons make the Spectrum Black Deck an excellent deal for the whole family. It looks like a modern-day appliance with its serious look, and it does not flatter to deceive.
The waffle iron is one of the best multi-purpose machines in your convenience store as users have the golden opportunity to lay their hands on so many other recipes at the same time.
Another excellent choice for waffle making is the BELLA non-stick rotating machine that will inevitably produce healthy, well-made, restaurant-style waffles you have been missing. The device proves to be a real homely treat with its rotational technology and taut design.
You can make the best quality Belgian waffles in no time considering its all-around performance. The appliance offers users the maximum control they need in making waffles that goes in line with their taste and preference.
Performance
It comes with a cooking platform that sits on the 1000-watt heating system underneath and distributes the heat evenly for a perfect result.
The well-crafted control knob, the unique design, the optimized power usage, and the efficiency ultimately makes this a great deal for the most professional waffle making.
Pros
Easy-to-use experience with its one-flip operation
The cooking temperature can be controlled and adjusted to preference
Cooking plates are non-sticky
Other relative recipes can be prepared
Easy to store with its foldable body
Cons
The machine is quite heavy.
Conclusion
The BELLA waffle maker is not only a handy appliance, but it also has the weight and design that makes it perfect for portability. The trays are non-removable, making cleaning and washing almost as enjoyable as usage.
It comes with a comprehensive user manual for maximum experience, and there are non-removable trays that make easy cleaning possible.
Best Waffle Irons – Buyer's Guide
What is a Waffle Maker?
The waffle maker or iron is a simple kitchen appliance used for preparing waffles of various recipes and styles. It comprises two metal plates designed in the form of honeycomb patterns that give waffles their famous shapes and sizes.
Type of Waffle Makers
There are various forms and designs of waffle irons that are meant to give your meal the desired visual form you seek. Below are the major types of waffle makers;
Belgian waffle makers– We start with one of the most popular styles. The Belgian waffle makers produce signature thick and square waffles that are usually fluffy inside and crispy on the outside, giving it a unique taste.
Heart waffle makers– Heart waffle makers give your waffle the heart shape and have become one of the most used because of the uptrend of people wanting to shape nearly every object they can find, even food. Nevertheless, the heart-shaped waffle will always be enticing to kids and heart-warming to adults because it signifies harmony on the dining table.
Square waffle makers– They make thick square-shaped waffles that can also be divided into smaller parts for sharing or design. They are one of the most formidable and powerful waffle irons around.
Ceramic waffle makers– The use of ceramic for cooking meals highlight the fact that they are the best choice for a less-flavored meal, and they are also one of the easiest to clean.
Flip waffle makers– Flip waffle makers are designed to flip around when cooking. This design makes cooking a lot less messy and completely done.
Circle waffle makers– Also known as classic round or American waffle, they are easily identified with their thin, round shape, and they are also one of the most popular.
Factors to Consider when Choosing a Waffle Maker
Just like in the case of purchasing any other product, there is this lingering feeling that just can't go away- the feeling that you might just end up with the exact waffle maker you don't like. There is always a solution to this (pending) problem even before it happens.
The perfect waffle maker must have all it takes to tick all your preferred boxes. It must possess all the features to make your shopping a success by getting the right deal. Before you set out on this quest, let's look at some puff the major criteria to be put into consideration.
This partly depends on personal preference, but let's face it, not all waffle irons are as easy as they claim to be. Yes, some might be light, aesthetically pleasing, flat, made of steel, and so on.
But before you make a decision, consider this- wouldn't you prefer your waffle maker has a temperature control that you can alter with your hand? Wouldn't you prefer removable plates, indications systems, oil drainage, and then low power usage? That's right.
This is a unique function that almost entirely defines a good waffle maker-The Flip. When many waffle lovers encounter sad situations where their meal is not evenly cooked, others that make good research before buying are enjoying a waffle that is crispy with every single bite.
There are some waffle makers that flip, like the Presto Belgium, mentioned above which can flip on its side to make sure you and the whole family enjoy your breakfast to the fullest no matter how quick it is.
Yes, we had to come to this. After all the feast is said and done, the next thing on your mind is cleaning. It might be tough to carry out that task only when you have a waffle maker that is difficult to clean. As simple as that.
There are so many choices in your favorite convenience store that come with non-stick plates and cooking grids that allow you to wipe off the remains with ease. There are others with removable plates so that you can dip directly in the kitchen sink as well.
This is one of the most overlooked criteria. Why? Your guess is as good as mine. When your waffles are done, you can never be able to know without lifting them. It becomes tiresome and sometimes frustrating.
That is why most makers now come with indicator lights that kelps you detect every single status of the baking process.
Most waffle makers with indicator systems come with manuals that users find very useful. This has significantly brought a whole new experience in preparing their favorite recipes.
Then there is the case of personal preference again – some like it crispy, and some love it soft. With your manual booklet and indicator lights, there is no need to worry anymore. It is also an excellent choice for those who engage in multiple tasks in the kitchen.
How to Maintain your Waffle Maker?
It is no news that maintaining your kitchen appliances only ensures the durability and efficiency you expect from them. When preparing, the waffles stick to the grids due to heat and get stubborn to remove after a while.
Not to worry, most waffle maker plates are designed with the right surface material to be cleaned easily while some have removable trays. Do not submerge your waffle maker into the water.
Only use paper towels to wipe the surfaces for oils while sponges and soapy water are best for more stubborn stains too. Also, do not forget to switch off your appliance before cleaning to avoid electric shock.
Waffle Irons FAQs
Can a waffle maker make more than a waffle?
Yes, although this depends on the brand or model. Some waffle makers can also be used to prepare eggs, pancakes, and even bacon.
What is the difference between a waffle iron press and flip waffle makers?
The difference is that the iron press makes the cooking direct while the flip gives you control of the distribution. But you can use less batter for less spillage.
Yes, waffle makers are a very safe kitchen appliance. You only need switch-off after use and avoid submerging into water.
What is the difference between ceramic waffles and non-stick waffle maker?
There is no difference. Ceramic makers use the ceramic material as the primary surface contact with your waffles. It is also a type of non-stick waffle iron.
CONCLUSION
Waffles are an essential meal in our life because they can be eaten conveniently at any time of the day. Quick, delicious, and relatively easy to prepare, they have also become a favorite, further remade into numerous recipes.
The perfect waffle is hardly cooked without the perfect maker, and that's why a buyer needs to know what works for him/her to enjoy a whole new experience of waffle making.
With the review of the best waffle irons and buyers' guide provided above, you shouldn't have a problem picking the waffle maker that works for you.