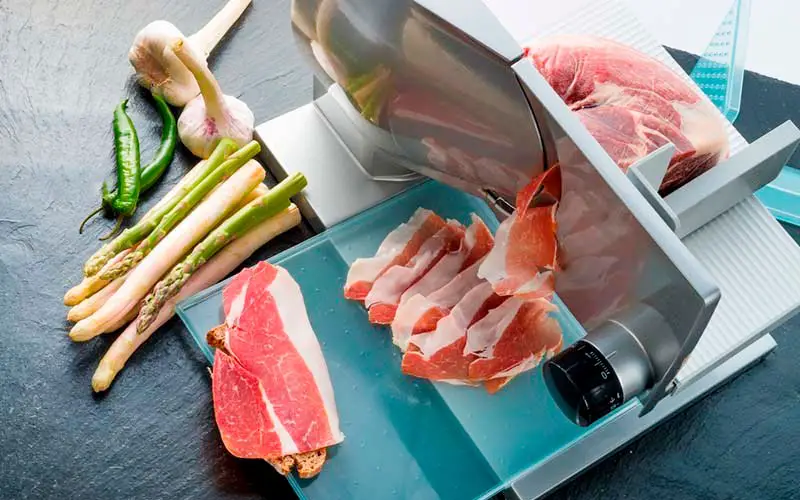 Only meat blokes like me will understand that every day is the best day to eat meat. It's not just Joey who can go to any length for a meatball sub and there's when the best meat slicer can help out. Being both a chef by hobby and a foodie by passion, I understand the importance of the proper presentation of a dish. Having a nice and sharp meat slicer should always be present in your kitchen.
The best meat slicer will help you slice neat and equal portions of meat every time without putting much pressure on the meat. When you try to do the same thing with an ordinary knife, the chances of spoiling the texture of the roast increase manifold.
So, let me save you some time and narrow down the choices to several top meat slicers in case you're planning to buy one too.
Best Meat Slicer of 2020

I can start a war for beef jerky. It's not just a piece of meat cooked in the tastiest and spiciest sauces and spices, it's edible art. This wonderful meat slicer from KWS is adept at slicing thick meats like beef.
Apart from that, it works equally well for cheese, veggies, ham, and other types of meat. It is a mighty and monstrously sharp slicer, suitable for both home cooks and restaurant cooks. The 10′ carbon steel blade, plated with chromium easily slices the tough frozen meat as well.
Each and every slice of the meat will come out equal-sized and thin enough to look gorgeous on the plate. I have also seen many people using it for shaving wafer-thin potato slices with it successfully. Having an electric knife of its stature will help you speed up your cooking time as well. This is particularly beneficial for butchers, expert chefs, and deli cooks.
All its power comes from its 320 Watts motor which yields a great rotary speed of 282r/ hour. It also features an on/off switch for ease of use. Another aspect worth highlighting is its vibration reduction feature. It helps to keep your hand stable to ensure the texture of the meat remains intact.
Pros
Vibration reduction and noise reduction
Cuts ultra-thin slices of meat in the fastest possible time
Corrosion-resistant construction
Can easily cut through the thick meat
Cons
The weight of the slicer is a bit heavy
Final Verdict
Its robust aluminum casing will effectively withstand the test of time. If you run your own deli shop or happen to cook meat too often, this is the ideal slicer for you. Its cutting efficiency is nearly flawless. As far as the maintenance fuss is concerned, that is almost next to zero.
 [This product was reviewed and added on 1st of September] 

There is only so much that a knife can do when it comes to chopping and slicing thick slices of steak.
This is when the Deli meat slicer by Giantex comes in handy.
With its razor-sharp blades and lighting fast electronic action, the Giantex commercial slicer is great for mincing meat, chopping veggies, and sliced thick pieces of cheese.
The 150-volts food slicer comes with a 10-inch blade that can cut through the hardest and thickest of food easily. I loved the semi-automatic controls and the dual hand-free system of the slicer.
My hands are nowhere near the blade and hence, well-protected against accidental cuts that's very common with me otherwise.
Other features of the Deli slicer include a flexible blade cover that can be adjusted to suit the shape and thickness of the razor, an inbuilt whetstone for sharpening the blade and 10-inch blade for a faster and more precise cutting action.
Giantex slicer is considered to be among the largest and heaviest slicers in the market known for its stability and powerful performance.
Pros
Adjustable blade cover
Semi-automatic controls
Dual hands-free system for safety
Built-in dual whetstone
Quite slicing action
Cons
Not recommended for professional use
Quite heavy and difficult to move about
Final Verdict
Given I am only a novice with a knack for preparing fancy food,' I am quite happy with the Giantex 10-inch meat slicer. The heavy-set and silent motor is very stable and user-friendly. The industrial-grade blade is designed to handle everything from meat, bread, veggies, and cheese assisting you in slicing paper-thin deli cuts accurately.
However, I don't recommend the Deli slicer for professional use as it is not suitable for cutting food items in bulk.
 [This product was reviewed and added on 16th of April] 
The KWS 12-inch Meat Sliver comes with a high-quality stainless steel blade. This semi-automatic meat slicer in silver is specially designed for commercial use in the restaurant, commercial kitchen, butcher shops, delis, farms, and even home use.
This electric meat slicer from KWS is equipped with high-quality Teflon blades and a powerful 420-watt motor, making it an impressive and effective slicer. Many functions make the KWS commercial electric meat slicer one of the best trenchers on the market.
In terms of efficiency, this cutting machine is characterized by a cutting thickness of 0 to 0.6 inches and comes with an aluminum alloy base. That is why the quality of this commercial electric meat slicer KWS is what you need for your precious kitchen. It is not necessary to stress yourself when you have this fantastic machine. It's not only affordable but also works well.
This 420-watt model is ideal for consumers who prefer a fully stainless steel cutting machine.
Additional essential features are a double safety mechanism and an adjustable control knob for the thickness. However, if you need thin slices, this may not be appropriate.
The blade makes perfectly thin slices of everything – you can cut the most delicate cheese. In addition, the thickness can be adjusted – you can make the thinnest cheese slices and the meat slices to an inch.
The slicer's blade of KitchenWare Station MS-12N 12" in silver is constructed of high-quality stainless steel, and the body of MS-12N 12" is made of aluminum alloy which is more durable and less likely to corrode.

Pros
Function Smoothly
Durable stainless-steel blade
Dual hands-free system for safety
The motor doesn't heat up and makes noise
Approved by FDA, ETL, and NSF
Cons
Cleaning take can take a while
Final Verdict
This slicer is very sturdy and robust. It can handle larger, denser food easily and has a decent range of slice thickness. It has a slower spinning speed, but still works efficiently and has a design that is made to last a long time.
BESWOOD Premium Best Commercial Meat Slicer Brands
This premium electric knife employs a chromium-plated carbon steel blade which is no less than a beast.
I mean, with its sharpness, it can create history and slice it into a few pieces in one go.
Being an electric knife, you have to exert minimal manual effort to cut pounds of meat, ham, and vegetables.
They come with two whetstones but the best part is, it doesn't lose its edge easily. Although the product is primarily targeted at professionals at steakhouses and restaurants, you can use it at home without a problem.
Its powerful 240 Watts motor lets you finish the job at hand within the shortest possible time. Operating the slicer is a cakewalk but you got to be careful lest you thinly slice your own beloved finger with it. Just push the power switch and the machine will silently yet rapidly turn your big chunk of meat into finely sliced pieces.
Pros
Powerful motor encased inside an aluminum body
Sturdy and durable built
Easy to use
Great edge retention
Comes with top-mounted whetstones
Final Verdict
This is the best all-purpose meat slicer in this segment. It is easily maneuverable, easy to clean up and its high-performance motor will boost your cutting speed manifold. To top it all off, you don't have to break a bank to afford this appliance.
As the name suggests, it is a go-to choice for many gastronomy experts. The appliance is specially engineered to produce super thin meat and vegetable slices at high speed, just the way you see the chefs doing in those cooking shows.
Its 7 inches long, tough stainless steel blade holds the sharpness for days, no matter how rigorously you use it.
The blade can effortlessly deal with a wide range of meat thicknesses' Be it deli bacon, turkey, beefsteak, or cheese, it's 120 Watts motor creates high torque to aid a fast and seamless cutting operation. You can get started with your job just by sliding the On/ Off switch.
One of the best features of this slicer is its big and retractable food carriage. It makes taking care of large meat such as roasted turkey easier and also keeps your kitchen top considerably less messy. The carriage can be locked into its position when not in use to prevent the blade from inadvertently cutting the meat.
Cleaning the slicer isn't a meticulous process either. The blade, thickness control plate, and food carriage are easily removable for quick cleaning. I would strongly advise you to wash the slicer manually. If these weren't enough, you will be also getting a serving tray with it.
Pros
Smooth cutting operation
Devises a high torque motor
Can slice any type of meat
Large food carriage
Cons
The thickness adjusting knob doesn't always work properly
Final Verdict
Chef's Choice 615 is one of the most well-designed and powerful meat slicers in the market right now. I tried cutting a few pounds of frozen bacon with it and the slices turned out perfectly. The tool is small per se but won't give you a hard time using it. If you have a set budget of $200, this one definitely deserves a glance.
BestEquip Best Prosciutto Slicer
 [This product was reviewed and added on 16th of April] 
The BestEquip Commercial Food Slicer is lightweight (weighing only 10 pounds), but it's a dependable meat slicer that helps you smoothly and easily cut cheese, meat, and bread, producing even slices with no shredded edges.
This is one of the best meat slicers that you need for your kitchen. If you are in search of the best meat cutting machine, you can opt for BestEquip Commercial Foor Slicer. You can not only use it for meat cutting but also other food products. It is made of sturdy aluminum and stainless steel. It is, therefore, a sustainable machine that will serve you for years.
The machine is equipped with a safety device. It's powered by a 240 Watt electric motor and comes with a knife sharpening function, and tilt and the trencher offers you a cutting experience of the fastest food.
The cutting machine is made up of durable and high-quality steel. It has a 10-inch stainless steel blade. Moreover, it has built-in sharpening stones to sharpen the stainless steel blade.
It is suitable for small catering companies, meat processing companies, kindergarten, and small réfectoire. This product can be useful to cut beef, pork, lamb, and other meat into pieces. The surface of this sliced meat is smooth, and the thickness is the same. So, it can be perfect for maintaining the quality of fresh meat. The machine is designed to be simple, clean, and free to turn.
Moreover, the knife can be more easily removed, cleaned, and adjusted. Meanwhile, this product is widely used in the kitchen, restaurants, supermarkets, the meat market, and food processing companies.
This machine is ideal for cutting meat, game, lamb, turkey, cheese, ham, bread, vegetables, fruit, and other foods up to 5/8 "(0-17 mm) thick. It is made for commercial use to cut beef, pork, etc. without breaking the structure of muscle fibers.
Pros
Easy To Clean And Disassemble
Smooth Slicer Operation
Cool-running powerful motor
Innovative Safety And Storage Feature
Cons
Unfriendly with Dishwasher
Final Verdict
Overall, this is a very good Meat Slicer at an affordable price. It is sturdy and well-designed with the necessary safety features to prevent any accidents. While it is a little smaller than some of the other models, it can still slice a variety of food.
It is one of the best among new products on the market.
 [This product was reviewed and added on 16th of April] 
KWS Premium Electric Meat Slicer is a great food slicer machine that does a fantastic job when it comes to slicing, and the right thing with it is that it does a variety of foods.
As mentioned, KWS Premium Electric Meat Slicer is an awesome and the best meat slicer that comes with versatile quality and hence making it useful for slicing cheese and fruits among other kinds. KWS Premium Electric Meat Slicer operates at low noise and hence does not bring about disturbances when being used.
The KWS cutting machine is equipped with a 12 "high-quality stainless steel blade. Two built-in sharpening stones help keep the knife sharp, while the ring protection increases the safety of this machine.
This slicer is 100% for commercial use, which means it has a powerful motor that can withstand the heavy use of restaurants, butcher shops, farms, delis, and commercial kitchens demand.
The motor allows you to slice meats, cheese, and vegetables with ease. The blade can even slice through frozen meat without breaking a sweat.
It has a Premium Chromium-plated Carbon Steel blade. The blade is made to last: it is protected from corrosion and requires infrequent sharpening. It is also the USA standard approved by the ETL, NSF, AND FDA.
The KWS slicer offers a rotary speed of 440r/min, and the voltage is 110V.
It has many essential safety features and is exceptionally durable. It can comfortably slice through a wide range of food, from vegetables to tough meats and cheeses.
The only downside with this slicer (if you can call it that) is that it's large and heavy. With that said, most meat slicers, especially quality commercial ones, have this same problem. One of the benefits of having a larger slicer is that you can prepare massive cuts of meat.
The slicer's blade of KitchenWare Station MS-12HP 12" in silver is constructed of high-quality stainless steel, and the body of MS-12HP 12" is made of aluminum which is more durable and less likely to corrode.
The best thing about the KWS commercial electric meat slicer is that it meets all CSA, ETL and CE standards.
KWS does a great job cutting the roasted turkey, hard meat, and the like. It comes with a built-in sharpener to reduce downtime. With the sliding carriage, you can safely cut meat, regardless of size.
Pros
The sharp 12″ blade cuts through most food with ease – even frozen meats
Easy to use and clean
Wide cutting thickness range
Powerful motor
Final Verdict
This heavy-duty slicer is designed to be long lasting and to be able to slice through large quantities of food efficiently. It is powerful while still being precise and quiet when in use, making it an excellent option for a restaurant, deli, or cafe.
 [This product was reviewed and added on 16th of April] 
The KWS Automatic Commercial 1050w electric meat slicer is one of the premium quality models that has become one of the best meat slicers with its great performance and has become the most influential critics of meat jack.
It comes with a high-quality stainless steel blade. This automatic meat slicer in silver is specifically designed for commercial use in the restaurant, and commercial kitchen. This meat slicer features heavy-duty 1050 watts of motor power for industrial applications.
The cutting machine is made up of durable steel and high quality. It has a 10-inch stainless steel blade. Moreover, it has built-in sharpening stones to sharpen the stainless steel blade.
My favorite electric meat slicer is the Automatic Model from KWS electric meat slicer. It is made of aluminum and stainless steel with a powerful 120 Volt motor.
It is relatively large and has a tilted, retractable food carriage big enough to hold entire roasts. The slicer can create slices that range from deli-thin to ¾ of an inch thick.
This model is also easy to clean. The blade, food carriage, food pusher, food deflector, and thickness guide can all be detached for washing.
It is perfect for smooth, fast, and effortless cutting of vegetables, meat in bulk, cheese, and fruit up to a thickness of 0.6 mm (0-15 mm) with the digital scale knob. The 12 "MS-12A also offers a built-in double grinder and ring protector for whetstones, which is more convenient to keep the knife sharp and safer to use.
This meat slicer can be expanded to support solid food so that you can cut huge pieces of meat, cheese, or bread.
Using this device, you can also cut frozen meat with bones as a narrowing, and the knife is sturdy and durable.
Pros
Uses professional quality aluminum alloy blade
Can be used to slice an array of vegetables, meats, fruits, and bread
Various part are removable including the edge for easy cleaning
Come with Teflon stainless steel blades
Motor Power 1.4HP
Cons
High price – affordable only for business
Final Verdict
This model is robust, efficient, and easy to use. The motor is quiet, so using it will be less disruptive.
It is a 100% industrial meat slicer, fully automatic, and does not require a lot of attention.
You may have to keep an eye on the adjuster knob to keep it from moving, but it is overall consistent and is powerful enough to slice through denser food cleanly.
Here's a value for money option for you after a lot of investigation through the nooks and crannies of the vast universe of the internet.
Coupled with an 8.7-inch stainless steel serrated blade, this meat slicer is a beast.
It provides a pusher paddle to help you handle pounds of meat with minimal effort. The thickness range of the blade is simply mind-blowing.
From thick, frozen meat to smoked bacon, it can slide through whatever you throw at it (not literally, though). The powerhouse of this slicer is its 180 Watt AC motor which cranks up a high rotary speed for the faster cutting action.
I have also tried it on cheese and potatoes and faced no issue. It also a perfect tool for precision cutting of all types of vegetables for garnishing purposes. Above all these, what really makes you want to seal the deal its incredible price tag. The functionality is on par with many of its higher-end counterparts, I have no qualms about admitting that.
Pros
Good for cutting beef jerky, bacon, sandwiches, and steaks
Houses a powerful 180 Watts motor
Lightweight and budget-friendly
Comes with a push paddle
Cons
You have to be careful while setting the thickness range of the blade
Final Verdict
This very capable, sturdily built meat slicer under $100 is a great kitchen appliance for home cooks. Setting up the slicer is a matter of minutes. You won't even have to spend hours to clean the product up. As far as the cutting performance is concerned, I have extensively used it for over a week and nothing significant worth complaining so far.
Besteamer Best Home Deli Slicer
Manual meat slicers give you a way better control over the cutting action than electric slicers.
They may not be as fast but if precision cutting is your priority, it is the safest bet.
The product under question this time is one of the most popular products by Besteamer of all time.
Mostly used by butchers, it is specifically designed to handle raw meat. The spiked handle mounted atop the blade provides a firm grip so that the meat does not slip, causing nasty injuries to your finger.
The construction is pretty durable. The stainless steel body can effectively combat rust and corrosion. Although it claims to be waterproof, I would strongly advise you not to overexpose it to water.
This may reduce the longevity of the appliance. Also, note that its special high carbon steel blade is meant for slicing frozen meat only. Cutting smoked or grilled meat will not give you desirable results. I was particularly impressed with the easy thickness adjustment of the equipment.
Pros
Rugged high carbon steel blade
Will last for years if taken care of properly
Excellent edge retention
Cons
Suitable for frozen meat, cheese and vegetables only
Final Verdict
The slicer is pretty safe to use, I have to give it to that. I have used it at a friend's house while helping him cook a sumptuous Easter dinner. You won't have to be a pro chef to cut out paper thin slices of meat with it. The ultra sharp
high carbon steel blade
cuts frozen meat like butter. Granted, the usage is limited but you ultimately get what you pay for, right?
Unichart Best Cheap Meat Slicer
This budget-friendly manual meat slicer uses a top-quality stainless steel blade to do the job.
I was initially apprehensive about the quality of the blade, given its cheap price tag.
Good thing is, I was proven wrong.
It can easily handle a thickness of up to 25 mm. Like the previous product, this is also suitable for cutting frozen meat only.
Other than meat, you can also cut thin slices of vegetables, sandwiches, and cheese with it. The range of thickness it offers is another big plus. The no-slip PVC handles help you have a strong grip on the knife.
It also comes with 10 bags to freeze the meat before cutting and a replacement blade as well. However, I would rather go for plastic wraps than these bags for the purpose.
Pros
Ideal for preparing deli style meat at home
Easy to clean up and operate
Safe to use
Cons
Suitable for frozen meat only
Final Verdict
If you are buying a meat slicer for the first time and not sure about spending a fortune on it, this product is worth giving a try. It holds the edge well, slices wafer-thin pieces smoothly. I could cut around 15 pounds of chicken to prepare a lunch for some guests. It did a great job at helping me do that without breaking much sweat.
Nesco FS-250 Best Compact Meat Slicer
I have been in the hospitality industry for years. I have had the opportunity to work with some of the best chefs in the world.
But I still duly believe there's simply no comparison to home-cooked food.
This Nesco meat slicer I am reviewing is specifically designed to make meal prepping easier for home cooks.
It comes with a detachable, hard stainless steel blade. The 8.7-inch blade is the heart and soul of this slicer. It possesses a serrated edge which is perfect for accurately cutting a variety of meat.
You can seamlessly adjust the thickness up to 16′ using its dedicated thickness control knob. It houses a 180 watts motor which produces enough power to let you slice even pieces of meat with every stroke.
Another great feature is its lightweight. It would almost seem like an extension of your hand, thus boosting your cutting speed without causing fatigue.
Also, cleaning the slicer is incredibly easy. I simply air-dried it. Wiping it with a wet cloth will also work. You can use it for cutting ham, pork, steaks, bacon, and more. I haven't tried it on cheese but you better not do that as well because bits of cheese might get stuck in the teeth of the blade.
For optimal efficiency, let the slicer cool down within 15 minutes or so.
Pros
Best for home cooks
Facilitates precision cutting
Durable
Cons
Not suitable for slicing cheese
Final Verdict
This meat slicer will give you a great bang for the buck if you're looking for an affordable, high-performance slicer. The sturdy blade seamlessly cuts uniformly thin slices of meat with every pass. It is easy to adjust and the stainless steel frame will stand the test of time.
This commercial-grade electric meat slicer from Della is a league of its own.
Its 8.7-inch stainless steel blade not only efficiently handles roasted and smoked meat but also cuts bread, cheese and vegetables.
Its heavy-duty blade will work great on tough meat. You just have to twist a knob to get started with the slicer.
I was initially a bit apprehensive about the slow motor speed. But ultimately, it did a wonderful job at slicing my roasted turkey.
Coming to the look and feel, its lightweight stature keeps you from slowing down after hours of constant cutting. To further reduce the downtime, it comes equipped with a built-in sharpener as well. The sliding carriage helps you safely hold and cut the meat irrespective of its size.
I performed a trial by slicing a 10 pound roasted lamb with it and the results were quite satisfactory. You can disassemble the parts in minutes for a quick clean up as well.
I would especially recommend it for people suffering from arthritis as it does its job well without stressing your arm.
Pros
Easy to maneuver and maintain
Minimizes arm fatigue
Cuts pounds of meat in a short span
Cons
You need to let the slicer cool down within every 10 minutes' interval
Final Verdict
It is professional quality slicer at the budget of a standard meat slicer. Apart from meat, it is adept at finely slicing vegetables like cucumber, potato, zucchini etc as well. You can clean the equipment thoroughly, thanks to the easily removable parts.
Kitchener Best Slicer for Frozen Meat
This universal food slicer draws its power from a 150 Watts belt-driven electric motor. Its heavy-duty stainless steel blade can effortlessly cut thin slices of frozen meat.
You can produce deli-thin meat slices using its easy thickness adjustment knob. It is one of the most portable meat slicers in this segment.
If you don't have a huge kitchen or run a food truck, this compact and lightweight slicer would be an ideal addition to your kitchen.
Not just meat, I have used it to cut cheese, bread, and potato shavings without a hitch. It comes with a large carriage that'll help you work wide big chunks of meat with minimum hassle. One of the biggest perks of this product is the length of the power cord.
It is quite long and doesn't restrict my hand movement, unlike most other electric meat slicers. The die-cast aluminum frame is well protected against rust and corrosion, looks sturdy enough to last for years.
Most of all, sanitizing the slicer isn't a tenacious affair either.
Pros
Easy to maneuver and clean
Lightweight construction
Durable
Cons
The motor power isn't that great
Final Verdict
I have used it quite a number of times for cutting thin slices of beef steak and it made my work easier. At this price, the overall design and features are quite a bang for the buck. If you intend to use a slicer for everyday cooking, this one could be a wise investment.

In case you are looking for some meat slicer only with a low budget available, you will not found a lot of options on the market. We have spent some time to find cheap, but at the same time efficient meat slicer, which provides you with all the basics.
Its blade is made from stainless steel and the edge has perfect retention capacity. In addition, it could be honed just in a minute.
The meat slicer consists of plastic inserts that allow you to adjust the thickness. We like it, because of its ability to slide through the meat easily. In case you like homemade jerky, this meat slicer would be a great option.
One more great feature of this meat slicer, that it can cut frozen meat. Honestly, not every meat slicer can do it. And it is a huge pro for this one considering its price.

Pros
Stainless steel blade with a perfect edge
Can deal with frozen meat
Honing and sharping are really easy
Final Verdict
We've chosen this meat slicer not only for it's price, but also for the quality. For a very tiny budget it is for sure a great offer. Good ergonomically design, strong construction and high-quality materials. Great option to deal with basic job and nice meat slicer to start with.
Best Meat Slicer – Buyer's Guide
Contents:
What Is The Best Meat Slicer?
Top 5 of meat slicers on the market is:
What Is The Best Commercial Meat Slicer?
Probably all companies who produce meat slicer have in their range some commercial grade machines. But from our point of view only have really great commercial meat slicers, and there are KWS (KitchenWare Station) company and Berkel. These two companies have very serious attitude to what they do, and together their history counts over 100 years of business.
In case you want something cheaper, you can check also these meat slicers:
1. Giantex 10″ Blade Commercial Meat Slicer
2. BESTWOOD 10″ Premium Chromium-plated Carbon Steel Blade
Can You Cut Frozen Meat with a Meat Slicer?
In general, we will say Yes, but you have to read instructions before doing it. The reason for that is because not every meat slicer can do it. To cut frozen meat you need not only enough power, but also a good blade. If you know that you will cut frozen meat a lot, then we recommend going to commercial meat slicers.
And just as a reminder, before cutting frozen meat, it is better to check if this meat is boneless. In case there is a bone, be prepared that your meat slicer will face a very hard task and it can probably damage it.
Can You Slice Tomatoes on a Meat Slicer?
Yes, you can cut tomatoes on a meat slicer. Pay attention to the capacity of space beneath the guard. In case you would like to cut big ones, maybe you will need to cut it in half. Meat slicer can cut tomatoes of uniform thickness as a deli.
What Can You Slice with a Meat Slicer?
A meat slicer can slice a wide variety of food. It could be meat, cheese, and even vegetables. In the case of cutting cheese, it should not be very soft. In general, a meat slicer works as a usual knife, but it saves lots of time and produces a uniform and thin slices of exceptional quality.
How Do You Use a Meat Slicer?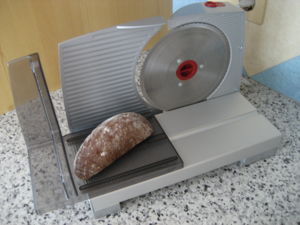 If this is the first time you'll be going to use a meat slicer, you better know how to do that properly. There are different types of meat slicers depending on the user's experience with them.
First, you should always take into account safety. The best solution to prevent possible cuts is to use cut-resistant gloves. Be sure that you wear it before getting started with the real action.
For slicing meat, you need to locate it on the food carriage and then lock it into its position. To lock the carriage you just need to swing the clamp arm.
Before starting, make sure that you have set the desired thickness. To do that you need to twist the thickness-adjusting knob. Then turn on the slicer and cut meat. The best way for it is to rotate the carriage using its handle.
If you're not sure what thickness you exactly want, simply cut a piece or two and decide accordingly. When done, turn off the equipment.
If there's in meat left, wrap it with plastic or paper and keep it in the freezer. Bring the thickness setting back to zero when not in use. Your cutting speed will keep on getting improved with time.
What is the Use of a Slicer?
Ultra Thin Slices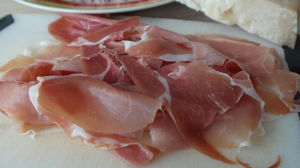 Another well-known name is a food slicer. As it seems from this name, this machine can cut not only meat, but also bread, cheese and vegetables.
However, of course, the main task for it is to cut as thin slices of meat as it is possible.
You will have full control over the thickness of the slices you want, thanks to the thickness control knobs these devices employ.
Even Slices
It's not that it is impossible to cut thin slices with normal knives. However, it is much more difficult to keep the same quality for each time and takes hours and hours of training. For this reason, many people prefer manual or electric meat slicers.
With only few effort and in a short time you will have uniform slices after each motion.
It Is Fast
You don't need a lot of time to cut meat or cheese. A powerful motor and sharp blade will do everything for just in seconds. Finally you have extra time for your family or loveliest serials .
In case you own a restaurant, for sure, you know how it is important to be efficient and save time there, it is possible without losing quality.
Saves Money
Pre-sliced meat does not come cheap
. Plus, being able to butcher the meat right at home lets you use the leftover meat in the most efficient manner.
Reduces Arm Fatigue
With an electric meat slicer at their disposal, they can turn a 20 lb. turkey into thin slices in minutes without feeling any pain. Apart from that, it can also be used for shaving potatoes, cabbage, and fruits.
Safety Considerations
Remember that you will be working with a
razor-sharp blade that rotates at a high speed
. Unless you take proper safety precautions, you will end up slicing your own fingers. To avoid such nasty affairs, wear
cut-resistant gloves
as I had already mentioned before.
In addition, we recommend choosing meat slicers, which have blade guards only. Of course, you can choose others, but it is at your own risk.
Easily removable blades and gauge plate interlock feature ensure you don't injure yourself while cleaning the slicer. Another great feature is safety lock or non-volt release . This feature prevents the start of a slicer in case it is not in use. Meat slicers with such feature require to be restarted each time interruption of power.
Read the product manual carefully, watch Youtube videos, don't try to rush things upright in the beginning. Training, training, and training will bring you success.
How Do You Clean a Meat Slicer?
The best meat slicers come with easily attachable and detachable parts so that you don't have to spend hours cleaning the hard-to-reach spots of it.
Best meat slicers have dishwasher safe parts, as it is very easy to keep them clean. For all other fixed parts use only food-grade sanitizer.
One more thing, lubricate the slicer with
food-grade lubricants
after using to keeps the blade moving smoothly.
How Often to Clean and Sanitize?
Rule number one – always clean washable part and clean other after cutting raw meat.
Rule number two – clean your meat slicer as often as it possible. Ideally after each use.
Retail delis, food truck runners, butchers and restaurant cooks should fully clean the slicer within every 4 hours as per
FDA recommendation
to prevent the outbreak of foodborne diseases.
How to Sharpen Slicer?
It's all about the sharpness of the blade right? You will notice if the blade requires sharpening as it will take lots of time and effort to cut meat or any other food. Of course, we are not speaking about high-quality slices.
Best models have built-in sharpeners. In case it is not your situation then follow the next instruction:
Sharpening stones are the best type of sharpeners for a meat slicer blade. Make sure to disinfect the blade by holding it under running water or with spirit before sharpening it
Once done, attach the stone on top of the slicer blade
Use the sharpening locking knob to securely place the stone on the base shaft. Carefully bring the blade on top of the stone and tighten the knob to make sure the blade and the stones stay in place
Then plug in the slicer and wait for about half a minute. Switch off and let it cool down for a few seconds and then repeat the same process 4 times
Once the sharpening procedure is over, unscrew the parts, bring back the slicer and stones to their original respective positions. Then tighten the knob again
Sanitize the blade once again before using it to eliminate all the debris that may have stuck to it while sharpening
Meat Slicer Blade Removal
First, before removing the blade, disconnect the meat slicer from the outlet. For the second step, prepare a special tool. In case you don't have it, we do not recommend removing the blade by yourself.
In case your meat slicer allows removing the blade, follow the instructions in the manual. For all other meat slicers usually, it is possible to remove only the blade guard. Still, it is enough for blade maintenance.
Make sure the device is unplugged and the thickness range is set to the lowest before removing the blade.
How to Oil Meat Slicer?
Lubricating your meat slicer regularly ensures the blade doesn't catch rust and keeps rotating without a hitch. We recommend to use only food-grade lubricant.
I use nothing but mineral oil to wipe the blade as they don't turn rancid like vegetable oil. Still, the final decision is up to you, any food-grade machinery oil would be enough.
Types of Slicers
One more thing to decide is which type of meat slicer you need. Indeed, there are only two types: manual meat slicer and electric. The main difference is in the power source, but also there some more distinctions.
Electric Slicers
This is the most common type of meat slicer on the market. These meat slicers are very easy to use and pretty much affordable, for that reason they are also the most popular.
You do not need much effort to slice pounds or kilograms of meat in a very short time. The efficiency depends on the motor, but we will cover this topic later.
Manual Slicers
The most simple and budget meat slicers are manual. You need to apply more effort and spend more time to get sliced food, but still, it is a good option in case you need slicer only occasionally.
Features to Look for
Meat slicers have many features to compare, but to make your life easier we choose only the most important. Keep in mind that it is better not to spare your budget for such kind of appliances, as the right meat slicer will last long.
With proper maintenance, it may even last a lifetime. When you're done figuring out which type of slicer will suit your needs the most, consider the below-mentioned factors:
Power
Everything you should know is that high power motors usually used in professional and commercial grade slicers. The greater power allows spinning the blade at a high speed which results in high productivity. Just keep in mind that powerful machines usually achieve high temperature quit fast.
You will have to let it rest for about 10 minutes before resuming the work again. However, that won't be an issue for low-key meal prepping.
Another great solution is to use high-quality food-grade lubricant and to keep track of its quantity.
Blade
This is one of the most important parts of any meat slicer. Meat slice's quality for 99% depends on the size and edge of the blade. The 12′ cutting blades are universally recognized as the ideal blade length for commercial use.
You can choose from a 12′-14′ blade for bulk cooking on a regular basis. For normal use the best option is from 7" to 10" inches .
The blade has to be made from sturdy and rust-proof material like hard carbon steel or stainless steel. Many premium models use chromium-plated stainless steel to sculpt the blade.
Application
Remember that there are lots of different meat slicing machines on the market with different features. Depends on your need it will be better to choose a manual or automatic slicer, 6" or 8" inch blade.
Also, make sure that the slicer doesn't take up too much space on your kitchen top. However, the surroundings should be free of other different appliances to prevent possible accidents.
Durability
To be sure that your meat slicer will work for a long time, keep attention to which materials are used. Usually, the most affected parts are made from plastic. So, keep in mind, less plastic means better durability. The best meat slicers are made from metal, at least major components.
Another important thing is to know what grade materials of the meat slicers have. Your desired materials are stainless steel, which will prevent corrosion and make maintenance easy.
So, you will end up saving a lot of cash in the long run.
To Sum It Up
After a lot of hair splitting and comparing its features with those of the other products side by side, BESWOOD Food Slicer aced the list.
It is a great choice for every home, it is user friendly, not too loud, and very durable. However, if you want something more powerful and efficient for handling tons of meat, Chef's Choice 615 would be your best bet.
In case you are looking for best commercial meat slicer, than we would recommend choosing KWS or one of Berkel's, for example this one.