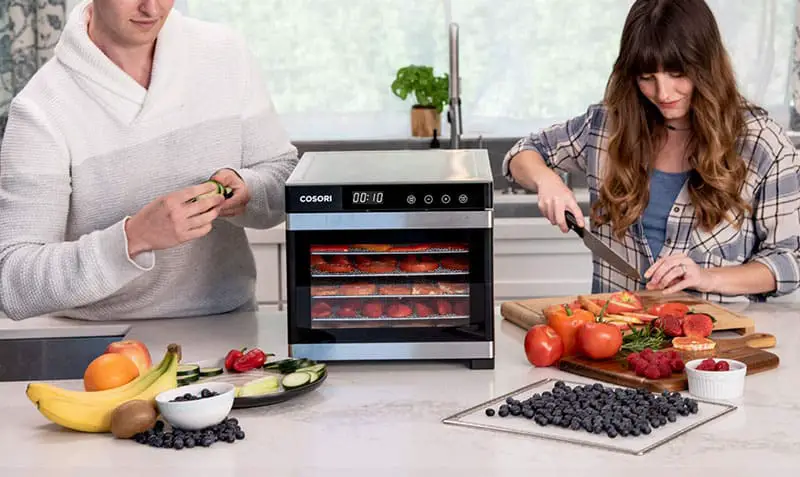 Drying food in the sun or a cool, dry place has been a form of food preservation that has been used for years.
However, it comes with its challenges, some of which are; spoilage of food before it is dried, harmful food as a result of bacteria/ insects perching on it, unfavorable weather, among others.
These challenges tend to discourage several people from preserving their food by drying it, which in turn leads to wastage. Thankfully, there is now a solution to all these problems.
Food dehydrators help in food preservation by extracting moisture out of your food, making bacteria unable to grow in it.
The good thing about food dehydrators is that they are electric; therefore, they can dry your food within a couple of hours, totally eradicating the shortcomings of drying under the sun.

From small, medium to larger dehydrator sizes, we are going to take a deep dive into some of the best food dehydrators you can get this year.
Review of The Best 6 Dehydrators for Food
Looking at this device, you will quickly discover its friendly and straightforward design that gives your kitchen the homely aura it deserves. This product consists of a four-tray system that further underlines its versatility.
The trays are all under six-and-a-half inches, can be bought separately (up to eight), and can easily be assembled in a layered manner.
The body is made of a see-through material that makes it possible for you to optically monitor the drying process to ensure your meal doesn't get burnt. It has one of the most formidable airflow systems in the market with its efficient heating elements and a bottom fan.
Presto 06300 is also an excellent machine for dehydrating fruits, spices, herbs, and vegetables while maintaining the required amount of natural nutrients such as vitamins and minerals. Its compact and portable design also makes it an excellent idea for gifting your loved ones.
Pros
Easy to use, clean and store
It requires no additives or preservatives.
Multiple trays stacking
Multi-purpose dryer for dehydrating different varieties of foods. jerky and vegetables
Power light
Cons
No button for switch off/on. It operates on a plug-and-on system.
Summary
The Presto 6300 dehydrator model has all the necessary features to make your kitchen experience to a whole new level. No wonder it is one of the best-reviewed brands in the market.
It dehydrates at an estimated pre-set temperature of 165 degrees Fahrenheit to produces the best quality results you can find anywhere. The compactness, cool-looking design, aesthetic, and unbeatable price makes this worth a try.
The COSORI Premium Dehydrator Machine operates with up to six stainless-steel trays for accommodating various kinds of food varieties, including fruits, beef, dog foods, jerky, and vegetables. Its design is conventional with its glass door and stainless-steel body, giving it a broad microwave look.
The way it works is closely similar to the dome of the best food drying appliances out there, circulating hot air for removal of food moisture to ensure healthy foods. With the included digital control panel that lets you set the timers for up to 48 hours, this machine is easy to use.
When your device is in operation, it performs silently and efficiently.
The automatic switch-off is also there to preserve energy and to ensure safety when dehydrating. A specialized fan which is usually placed at the back of the machine evenly heat the trays in a simultaneous process.
The body is easy to clean and maintain with a damp cloth while the inner trays can be immersed into water for thorough washing too.
Pros
An easy-to-use digital display
It has six trays for multiple proportions
Multi-purpose appliance for dehydrating different food recipes.
Cons
COSORI Premium dehydrator is a heavy appliance at over 20 pounds and cannot be easily moved from one place to another.
Summary
Using this machine is sure to give you maximum kitchen comfort, exquisite features, and every other element you seek in a modern dehydrator. It is very well packaged and easy to operate and can handle a very long list of food varieties easily.
For those looking out for a killer dehydrator that will sit at that designated corner of your kitchen for many years to come, this is your best bet. It's affordable too, and you couldn't possibly get another better deal.
This is the FD-75A model from NESCO manufacturers that has so much to offer. It is designed as a large cylindrical food flask with a lot of modern features that make operation a cake-walk as well as producing the best-dehydrated food you could ever taste.
The Snackmaster can work for different varieties of foods in just the right amount of temperature for quality results. There is a powerful fan for more than 600 watts of drying power, making them one very fast dehydrating machine.
Also, it has five detachable trays stacked together and extra space for seven, which can be easily assembled. The trays are about 13-inches in diameter and are made of rugged plastic durable enough to serve you for long.
Light penetration can destroy food nutrients, which is why the exteriors are made of opaque material to keep food at its healthiest state. This machine is extremely versatile, and the heating is efficient.
It is also an appliance that is made easy to clean and maintain for durability and maximum value too.
Pros
Great temperature control
Very durable machine for long term use
It has an adjustable thermostat made for different food recipes
Multiple trays for large proportions
Updated recipe booklet
Summary
NESCO manufactures have continued to evolve their inventions, and the Snackmaster Pro is just one of those perfect examples. This is the ultimate complete package for those searching for everything needed in modern kitchen technology.
It is ideal for a large family and worth being included in any dehydrator shopping list.
COSORI Food Dehydrator Machine is a food dryer exclusively made for over 50 recipes, including fruits, meat, jerkies, pet treats, and veggies. It is large, powerful, and extremely efficient with all the useful features you need.
This device draws a modest 450W of power to operate on a touch-control LED display at the façade. It also has an overheating protection function that works perfectly to avoid crispy or burnt meals.
The Machine also comes with five dryer trays that are 13-inches in size and BPA-free with a mesh screen, rolling sheet, manual, among other exciting accessories. With the cylindrical design and included digital timer, this appliance is perfect for kitchen aesthetics and comfort.
Also, the featured countdown timer is adjustable for total control of temperature when dehydrating. Additionally, this machine is ideal for food preservation for more extended periods. With the strict homemade design, the whole family can rely on this product.
Pros
Multi-functional dehydrator
Automatic shutoff and overheat protection
Easy for beginners
Operates quietly
Cons
Not suitable for a small apartment kitchen
Summary
This dehydrator for food is one of the safest in terms of usage and food preparation. It can be used to prepare snacks for both homemade and commercial purposes with its massive capacity.
Also, it is safe to say that for food preservation and maintenance, the COSORI Dehydrator Machine is the next big thing.
The Excalibur is a 9-tray food dryer with enough space to preserve a lot of food recipes for the whole family. It is not just any other large kitchen machine, but one with the necessary features and accessories to make cooking and preservation a breeze.
It features an adjustable thermostat and an efficient 26-hour timer for high-quality preservation of fruits, nuts, snacks, milk, jerkies, and veggies. Also, Parallex Horizontal Airflow is included circulate heat across the trays evenly and dehydrate food faster without rotating the trays.
Pros
Pros
10-years of guarantee
Highly durable machines
Parallax horizontal airflow for even heat distribution and faster hydration
Easy to operate
Cons
It does not have a manual
Summary
The Excalibur Electric dehydrator is an excellent choice because of its capacity and ability to produce quality results that ensure the healthiest foods. There is a 7-inch fan built underneath to keep the heat going and a timer to alert you when your food is ready to be served best.
You could also boost the value of nutrients while operating on a low drying temperature that is affordable and worth every penny. It is a deal that shouldn't be overlooked.
The Ivation Counter Trip dehydrators have not only one of the best features, but also one of the most formidable designs in the kitchen world. This machine features a fan that is mounted at the rear for maximum airflow and even drying.
It is also adorned with an adjustable digital thermostat, and an automatic shutoff timer makes sure that your food gets the required optimal temperature.
Additionally, you will be able to dehydrate a wide variety of meats, vegetables, herbs, and fruits dues to the six adjustable and spacious racks this best dehydrator for food features.
Pros
It is relatively light in weight
Easy to use digital thermostat and timer
Eight temperature levels
Removable and adjustable racks
Cons
The racks' quality needs improvement
Some users complained about the instruction booklet
Summary
This dehydrator will work well for your meat, veggies, fruits, and herbs. It is also a quiet machine that disburses little noise while in operation and prepares rich and quality food recipes.
Food Dehydrators Juicer – Buyer's Guide
How should you choose a Food Dehydrator?
Shopping for a food dehydrator can be quite tasking. Before shopping for a food dehydrator, there are several factors to be considered to get the value for your money. Although your preference should be respected, certain factors should serve as a guide for you while putting your choice in mind.
Some beneficial factors to be considered are:
Circulation of Heat and Airflow.
Before buying a food dehydrator, you need to consider the heat and airflow distribution of the product of your choice.
Naturally, some of your food would be relatively far from the source of heat/air, and if the heat and airflow are not evenly distributed, it will affect the process of dehydrating your food.
When buying a dehydrator for food, it is essential to take note of the level of its temperature. This is because different foods get dry at different temperatures. A lower temperature is best for drying fruits and herbs, while a higher temperature is needed for drying meat for jerky.
This is why you have to make sure that the temperature of the dehydrator you are buying is flexible to enable you to be able to dry different types of foods. The best temperature for a dehydrator should be between 90 degrees Fahrenheit to 165 degrees Fahrenheit.
Flexible Timer
Some dehydrators switch on once it is plugged into electricity and off when it is unplugged from electricity. However, this is not advisable as food dehydration can take hours, thereby increasing the possibility of forgetting, which can lead to the food getting burnt.
However, if there is a timer, you would be able to program it and check on the food regularly. Therefore, before buying a dehydrator, make sure it has a flexible timer.
Size
You have to take note of the space available in your kitchen, as well as the volume of food you would be dehydrating at a go. Smaller models, the vertical ones, especially, does not take a lot of space, but they won't be able to drain a lot of food at once.
This size is suitable for those who do not plan to dehydrate lots of food at once and those with smaller kitchen space.
However, for those who plan to buy in bulk or have a lot of food waiting to be dehydrated in your garden, the larger one would probably be best for you. Before purchasing a dehydrator, make sure to take this into careful consideration.
Noise
As long as fans are in dehydrators, it is inevitable that some models would be noisy. However, some models are louder than others as the decibel unit differs. It is, therefore, advisable to stick with a quiet model.
Sadly, decibel ratings are usually not listed on most models, which is why it is crucial to check up on the consumer review of each model before buying it.
Price
When buying a dehydrator, you would love it to fit into your budget, which is why the price has to be considered before buying it. A dehydrator costs about $30-$300, while the customized one is about $600.
The more expensive ones are filled with different features for more comfortable use, while the ones with lower prices have a limitation on the type of food it can dehydrate, and also costs more for maintenance.
However, you can still get the right model with the right features between $50-$150, which can fit right into any budget you have.
What is a Dehydrator?
A dehydrator is a machine that helps in the preservation of food by drying the water content in the food. This way, bacteria won't be able to grow in the food, thereby reducing the chances of spoilage.
How does a Food Dehydrator work?
A dehydrator contains trays, a heating element, a vent, and a fan. The heating element in a dehydrator helps to increase the temperature to ensure proper drying of the food.
The fan helps to circulate the heat around the food, removing the water content in it, with the tray holding the food to be dehydrated.
What are the Advantages of Dehydrating Food?
Dehydrating your food indeed has a lot of advantages that might not be easily noticed. Most of the time, they are overlooked. However, these advantages, as little as they may seem, goes a long way. Some of them are;
Saves Money: Once you begin to dehydrate your foods, it goes a long way in helping you to save your money that should have been spent on snacking—thereby helping to channel your money elsewhere for a greater good.
Prevents Wastage: There is nothing more painful than seeing your fresh produce from the garden or items you just purchased from the grocery store getting spoilt/wasting away before you have the opportunity to make use of them. Dehydration enables you to transform these items into snacks, thereby lengthening the lifetime of the food and preventing waste.
Preserve Food in and out of its Season: It is common knowledge that dehydration helps to preserve food for an extended period. Therefore, you are allowed to eat/snack your foods that are out of season already. Amazing right!
Healthy Snacking: There is a famous saying that health is wealth. Our health should be taken seriously, so, instead of the sugary chocolate or the salty chips which are harmful to your health, why not try dehydrating some fruits to serve as snacks. This way, you are presented with healthy, sweet snacks.
Prevents Bacteria and Contamination: Bacteria and fungi grow in wet environments. By dehydrating your food, you prevent your food entirely from getting contaminated.
Prepares You for Emergency: When you have dehydrated snacks on you, you would be able to last long in any situation you find yourself without being hungry.
Longer Shelf Life: Once you dehydrate your food, it will be able to last longer. In fact, dehydrated foods can last up to a year.
Types of Food Dehydrators Available
Dehydrators fall into two main categories; vertical and horizontal food dehydrators.
Vertical Flow Food Dehydrator: This is also known as stackable unit food dehydrators. Its source of heat is situated either at the top or bottom of the dehydrator. This type is very affordable; however, the heat is not evenly spread. Although the fan in most models helps with this, it is only suitable for fruits and vegetables and not meat. It is, however, essential to note that it is expandable as it permits buying more shelves to add to it and does not take much space, making it very easy to store.
Horizontal Flow Food Dehydrator: This is also known as shelf tray food dehydrators. It is more like a regular oven as its source of heat is situated at the back. Although they are more expensive, they dehydrate evenly, making it the right choice in dehydrating meat especially. It is also effortless to use, and you can again try complicated recipes on it. It is, however, essential to note that they are larger, thus, needing a bigger space to store.
Tips on How to Dehydrate Your Food Successfully
Some healthy tips on how to successfully dehydrate your food are listed below:
Before you engage in dehydrating your food, make sure you do extensive research on food safety. This is necessary to prevent foodborne diseases.
Dehydrating food requires practice and patience. As a beginner, you must start with more straightforward recipes first.
Avoid dehydrating overripe foods. When you want to drain a particular food, ensure that the food is fresh and at the peak of its season.
To ensure that your food dries evenly, cut your food into equal slices. Using a mandolin slicer can help you achieve this.
If the noise from dehydrator fans disturbs you, try making use of it at night, or better still, use it in a room that has a door.
It is better to put your dehydrator in an isolated place that is not moist to prevent the unpleasant smell that foods like onions and mushrooms release when dehydrating.
Make sure to spray a mixture of lemon juice and water on fruits before dehydrating them. It helps to prevent brownness.
Ensure you spray the trays with a light layer of cooking oil to prevent the food from sticking.
Try to make use of lean meat when making jerky, to stop the fat from releasing an offensive odor.
Blanch your vegetables before putting them into a dehydrator, to retain their color after it is dehydrated.
Before making use of a new dehydrator, ensure you read the user's manual first.
Frequently Asked Questions About Food Dehydrators
Is It Safe to Use a Plastic Food Dehydrator?
Yes, it is entirely safe to use a plastic food dehydrator. However, it is recommended to look for Bisphenol A (BPA) free food dehydrators when shopping for a plastic food dehydrator.
This is because BPA, which is mainly found in plastic products, can hold up some human hormone structures, which can be a little bit harmful to health.
Is a Dehydrator Better Than an Oven? Why?
Although an oven can be used to dry foods, it is better to dry your food using a dehydrator. For one, a dehydrator has a more specific temperature and airflow control than the oven.
To successfully dehydrate foods, the temperature needed is 90-165 degrees Fahrenheit, which is too low for most stoves. Also, an oven does not have the means of air circulation, which is required to evenly dry foods.
Additionally, foods dried in a dehydrator has a longer shelf life than foods dried in an oven.
Can any Food Be Dehydrated?
The list of foods that can be dehydrated is endless. Different kinds of foods ranging from fruits to vegetables, to potatoes, to herbs, to nuts, to meat, to eggs (for egg powder), to flowers (as potpourri) can all be dehydrated.
Make sure to search for fantastic dehydration recipes on the internet, and you would be amazed.
How Long Does Food Dehydration Take?
The amount of time needed to dehydrate foods depends on several factors like the dehydrator you are making use of and the food you intend to drain. Nevertheless, food dehydration is expected to take about 6-12 hours.
Vegetables and mushrooms can be ready within 6-8 hours, while stronger foods like meat take a longer time.
What else can you use a Dehydrator for Apart from Drying Food?
Contrary to popular belief, a dehydrator is not only useful in the area of drying foods. The design of the appliance determines how versatile it can be.
A dehydrator can be used for a lot of things like preparing yogurt, proofing bread dough, drying grains for flour, preparing homemade treats for dogs, producing potpourri, producing paper, drying seeds, among others.
Conclusion
Food dehydrators are easy to use, and they help in producing healthy snacks for everyone, including dieters. Therefore, food dehydration is a habit that should be cultivated by everyone irrespective of your diet or budget.
Thankfully, you can be able to purchase the best dehydrator for food with the right features that aren't too expensive among the numerous dehydrators available.
When you think of spending some money on a new dehydrator, it is essential to note some critical features to make that shopping a success. You also need to put health issues into consideration.
Drying your meal before serving also means that you are taking away unwanted chemicals in the form of moisture.
Look out for heating elements, electric fans, and tray proportions as they are some of the essential elements that make up a great food dehydrator.