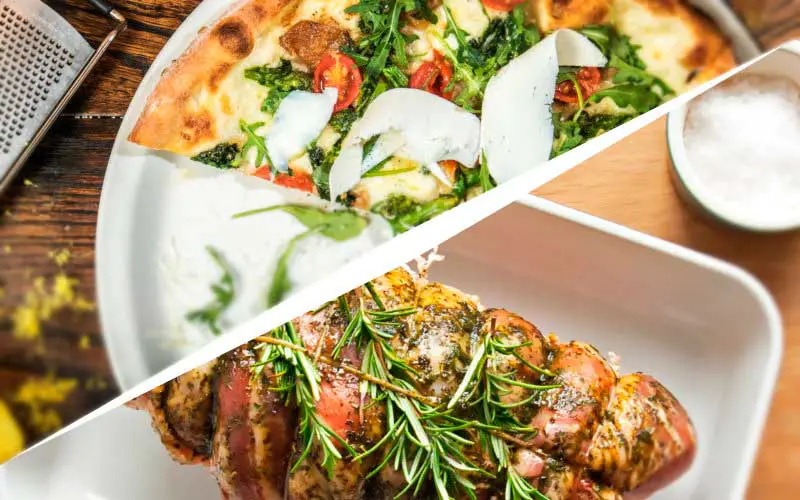 Whether baking or roasting, we always want to ensure that our food is cooked correctly, and this means using the right appliance. There is nowhere this is more applicable than when purchasing an oven. Which is the best way to go, convection bake vs convection roast, convection or roasting?
Well, not many people are aware of the difference between these two types of ovens, but understanding them can save you money and the confusion as to why your food is always burnt, overcooked, or undercooked.
Convection ovens and roasting ovens certainly don't work the same way and it's only by knowing their differences that you are able to pick the right type that will cook your food to your satisfaction.
Read on as we break down and compare convection bake vs convection roast and offer our insight on some of the best models to consider and what to look out for when evaluating different models out there.


The Breville BOV900BSS is a feature-packed, do-it-all convection oven. It's a truly versatile, and advanced cooking appliance. You can toast, dehydrate, air fry, and even slow cook with this single oven.
Cooking Performance
The Element IQ functionality is one of the top highlights of this Breville oven.
It facilitates uniform distribution of heat inside the oven, thereby you get an evenly cooked meal. It consists of 6 independent heating elements, 4 above and 2 below the food.
They adjust based on the selected cooking function and/or the temperature you set. Together with the PID temperature control, the oven is able to deliver precise and stable temperatures.
Therefore, you consistently get a properly cooked dish.
More Cooking Control
The convection fan of this Smart Oven Air oven works at two speeds, regular and super fan speed, both of which give you even much better cooking control.
When you choose air frying or dehydrating, the unit automatically runs at high speed. More hot air is continuously circulated inside the oven and the food is cooked evenly and much faster. It will as well boost the roasting of the food.
The other functions run on lower fan speed and everything gets browned and cooked the same.
Customize Cooking Modes
You can run two cooking modes back to back on this even. If you have a steak and want to cook it such that the outside has a nice browning while the inside remains soft and juicy, you can program the oven to broil it on high heat which seals in the juices, then switch to lower temperature to bake it and finish the cooking.
Final Verdict
In short, this is a great multi-cooking appliance that I would highly recommend to anyone out there looking for a convection oven. The unit is simply designed to ensure everything gets cooked uniformly.
A "Rotate Remind" feature is even there to alert you to turn the pans halfway during the cooking process. Everything works properly and operating the unit is not challenging at all.

Pros
You can cook each dish precisely and get great results every time
Has a large capacity capable of roasting a 14 pound turkey
Offers up to 13 pre-programmed cooking modes
You can set temperature from between 80oF to 480oF
Beeps when cooking. You can turn this off or control the volume
Cons
It's quite large and might take a good amount of space on the countertop
Can get a bit noisy especially when the fan is running at high speed mode
The Breville BOV845BSS is a medium-sized convection oven but has all the functionality that you would find on a high-end appliance.
It strikes a good balance between quality and value money which is one of the reasons it stands out as one of the best medium-sized convection ovens in the market.
Great Design and Materials
The BOV845BSS is a solid oven. It's made of stainless steel all around and even the included roasting tray and boiling rack are heavy duty.
Combined with the bold handlebar and thick knobs, the whole unit is very sturdy and feels quite durable with a nice, overall "industrial look". It's an oven that will serve you for years before it finally breaks or wears down.
Great Cooking Performance
The oven heats up quickly and cooks far more uniformly compared to most other models within its price range. It uses the efficient Breville's Element IQ technology.
The 5 quartz heating elements inside the unit move heat where it is needed most when it's needed to ensure a precise and more evenly cooking process for the food you are preparing. Each element adjusts automatically depending on the setting you choose and it doesn't take too long to heat up to the required temperature.
The inbuilt fan which makes up the convection function does so well in circulating the hot air inside the unit. Therefore, it heats up faster and the cooking time is short too due the continuous circulation of the hot air all around the oven.
If you have the habit of forgetting or leaving your food unattended, then you will like the fact that the machine automatically turns itself off once the food is ready or the time has elapsed.
Final Verdict
Generally, the Breville Smart Oven Pro is a well-built unit, one that can last years. The best part though is that you get even distribution of heat when cooking hence great results at the end. This is a great option for anyone looking for a medium-sized oven for doing small cook ups or preparing food quickly.

Pros
Cooks far more uniformly
Feels and looks durable
Comes with a heap of pre-set cooking functions
Intuitive and easy to use controls
Fairly bright interior light provides clear visualization of the contents inside
Features an auto-reject rack which makes accessing your food much easier
Cons
Might not fit a 9 x 13" pan
Gets too hot to touch
If you are looking for a large, affordable oven that can make entertaining family and friends with that perfect roast simple and effortless, then this Oster CKSTRS20-SBHVW roaster is an option you might want to consider.
Large Capacity
This is a large cooking roaster designed and built to cope with large turkeys.
It's got an oval shape with a 22 quart capacity, together which create enough room to hold and roast a whopping 26-pound turkey.
If you often cook more dishes and your traditional oven is not enough, then you can use this as your second oven. It's convenient and will save you time.
Cooking Performance
Not only can it hold a massive bird, but the end results after roasting or cooking is great. When roasting a turkey, the outer edges come out crisp and golden brown. The variable temperature control allows you to adjust the temperature between 150oF to 450oF.
You can prepare almost anything with it, from the cake, bread, to sauce, soup, chicken or even big steaks. The oven can bake, roast, and slow cook, it offers all the functions you would find on a regular oven.
Heat distribution is uniform and this has been largely facilitated by the enamel-in-steel roasting pan that it comes with. The self-blasting lid does well too in recirculating moisture in the roaster and preventing heat from escaping.
It will speed up the cooking time and also save you energy.
There is a warming setting on the roaster to help keep your roast warm and fresh until when you are ready to serve it. No need to transfer it, you can just keep it in oven until serving time.
Final Verdict
To sum it all, there is really very little to hate about this Oster oven. It's a large electric roaster that's solidly built and designed to offer almost all the functionality you would find in a regular oven. If it's large capacity and performance you are looking for, but don't want something expensive, then I would recommend you check out this unit.

Pros
Large enough to accommodate generous portions
Energy efficient with even heat distribution
Simple design and controls makes it easy to use
Variable temperature control
Cleaning is a breeze plus roasting pan is removable too
Cons
The outside and cover handle have poor insulation hence might get very hot
What's the Difference? – Convection Bake VS Convection Roast
What is Convection Cooking? – Convection Roast vs Convection Bake
Convection cooking involves the use of a fan to continuously circulate hot air throughout the oven cavity. The built-fan moves the air around the oven spreading the heat more thoroughly and evenly which not only speeds up the cooking process but also facilitates more uniform cooking compared to traditional ovens where the air is stagnant.
What's the Difference? – Convection Bake VS Roast
What differentiates convection bake from convection roast is basically how the heat gets applied or supplied while the fan is working. In convection bake, the baking process is almost similar to a regular oven.
The device uses heating elements both at the top and bottom parts so as to provide more uniform heat to the food. The air circulation is minimal to allow the food to cook or bake thoroughly. It's ideal for making cakes and bread as it ensures you don't end up with a crunchy shell and an unbaked center.
In convection roast, on the other hand, the fan and the broil elements are actively used during the cooking process. The broil elements heat the air while the fan circulates the air around the oven. It circulates the air on the bake as well as the broil elements as needed so as to control the heat.
Convection roast utilizes both the circulated air and the stagnant heated air to cook or roast the food and that's why it often produces a browning on top of a roast with a thick outer shell.
It's the perfect function for roasting a turkey or any meat because it retains more moisture and the meat gets evenly cooked than when using a regular oven. You get a delicious, moist turkey.
Why Should You Invest in a Convection Oven? – Convection Roast vs Bake
First off, convection ovens cook 30% faster than conventional ovens thanks to the fan they have which helps circulate heat throughout the oven. It ensures a much quicker and efficient heat transfer while still keeping the temperature stable.
Secondly, meals cooked in convection ovens often turn out much better compared to ones cooked in conventional ovens.
The air circulation inside convection ovens facilitates a more balanced and uniform distribution of heat which ensures consistently even cooking.
You will rarely end up with partly over – or undercooked spots while using a convection oven.
What to Look for When Purchasing a Convection Oven – Buyer's Guide
Like many appliances, you need to be a little vigilant when buying a convection oven to ensure that you get the best model your money can buy. There are certain key factors that you need to keep an eye on and this include:

External Size of the Oven
Choosing the right convection oven starts by considering both the external and internal dimensions. Basically, convection ovens come in many different sizes and as such you need to first establish the place you are going to put your oven and how much space you have.
Once you've established that, then you can cross-check the dimensions of the available space with those of various units. You want to make sure here that you pick a unit with measurements that are slightly lesser than the space you've allocated.
There you should be enough free space on all sides when you install the unit so that it doesn't pose a fire hazard, get damaged, or end up damaging something else.
You want to keep in mind too that in most of these ovens, the door comes down. Therefore, you have to have enough room so that the door doesn't hang off too much.
Internal Capacity
The next important thing to consider is the capacity. The internal size of an oven will greatly influence the amount or size of the meal you can cook inside it. Here your choice will majorly depend on the kind of food you expect to cook and how many people you are going to serve.
If you going to use it to prepare large meals like roasted turkey, chicken, pizza, bread, or cake, then you will need a large capacity oven. The best options would be units with 22 quarts capacity or higher. If you need it for preparing basic meals or don't have a large cooking demand, then a small capacity unit is a good option.
In addition to this, pay attention to the number of racks the appliance comes with. Look for models with multiple racks because the more they are, the more spacious the oven is plus you will be able to cook more or different food at the same time.
Some models like the Breville BOV845BSS above also have auto-eject racks which partially pop out once the door is opened. If you can invest in such a model the better because they not only offer sufficient space for cooking, but also make it easier to remove the food.
Heating Elements
While convection ovens are known to be fast, effective, and overall sufficient, they are not all built equally. There some that might not be able to properly cook an entire turkey simply because the heating elements are not up to par.
Therefore, if you are going to roast meat a lot which often tends to require higher heat, then you will need to pick a unit that features strong enough heating elements so that it's as efficient as possible.
The fan plays a major role, but the more the heating elements the better. You will be able to program the unit such that it's able to produce the required heat to cook your food properly and furthermore, more heating elements help to ensure that the oven performs well every time.
Cooking Modes
Most modern convection ovens come with various cooking options or rather preset cooking functions. For the best cooking experience and also to make your job much easier, you should go for a machine that has more cooling options.
Roasting, toasting, slow cooking, baking, pizza are just a few of the cooking functions you should look for if you want a multipurpose convection oven.
Having a machine will also help eliminate any guesswork in your cooking especially when you are not sure about the correct settings for a particular food you want to cook.
Visibility of the Interior
There are some foods that you just can't leave in the oven to cook without your supervision, especially when you get a unit that does not feature a timer or auto shut-off functions.
For example, when melting cheese or broiling a steak, you may not want it to overcook and if the interior of the oven is not visible then it would be difficult to see how the food is doing especially at night.
Therefore, for you to easily monitor the cooking process, you should consider units with doors that feature big glass windows and have interior lights.
This will offer great visibility even at night and allow you to supervise the cooking process with much ease. Almost every modern convection oven comes with interior light and a glass door.
Controls and Ease of Use
The purpose of any cooking appliance is to simplify the cooking process and this means that it should be easy to operate too. The controls must be straightforward so as not to cause inconvenience in any way.
All convection ovens basically have their own control panel design. There are those that utilise digital controls while others have dial controls for controlling the functions. Although your choice here will depend on your personal taste, you should ensure that the unit you are buying has settings that are easy to understand.
They are those that tend to have many additional settings which can often end up over-complicating operations.
Therefore, you might want to avoid such models especially if you are mostly going to use the basic cooking functions.
You might also want to consider units that have convection settings so that you get the opportunity to decide whether to use the fan or not. If you like experimenting and exploiting different cooking recipes and ingredients, then you should also look for a unit that will allow you to set precise temperature and time.
Convection bake vs Convection roast – Final Word
When it comes to purchasing a convection oven, your primary needs, budget and space should be on the forefront. If you are all about performance and versatility, then the Breville BOV900BSS is the way to go.
If you want something that's a bit more high tech and can yield excellent results, then we would recommend going with the Breville BOV845BSS.
For those looking for simplicity and large capacity, you will love what the Oster CKSTRS20-SBHVW has to offer. However, these three are not the only options out there. There are many different models on the market.
However, whatever option you go with, make sure it's the right one for you and that it will address all your cooking needs without breaking the bank.