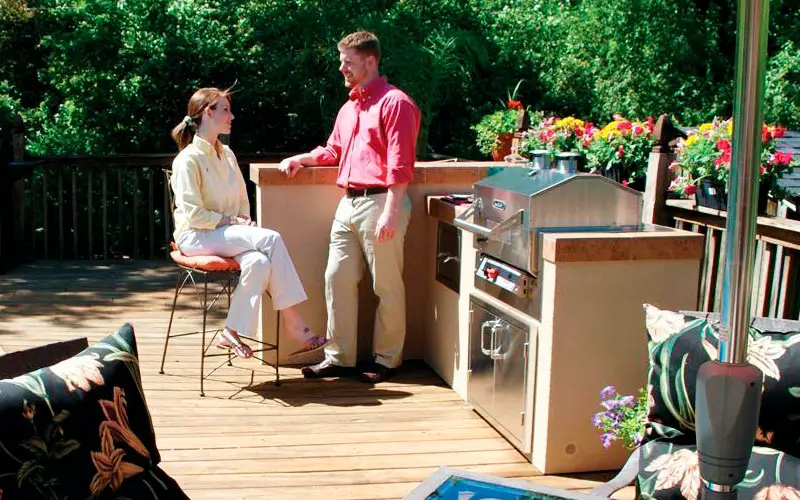 Holland Grills were able to turn to nuts their owners. All because of its fantastic job and results. But unfortunately, the Holland Grill company run out of business this year (2019). Lots of grill lovers regret and I too. But the end of one story is the beginning of another one.
I used this moment to get me acquainted with other grills that have close features to Holland Grills. What are that features? Let's see below. Just let me mention for those who still want to read especially about Holland Grills – you always can read my original Holland Grill Review at the bottom of this page, press here.
Great Features of Holland Grills
Lots of people became Holland owners because they were looking for a grill that will cook perfectly without much attention to the grill.
This grills had such features as:
Fixed Temperature Setting
Indirect Flame Cooking
Wood Chip Tray – let use the grill as a smoker
Option to move from propane to natural gas and back
Guarantee of NO flare-ups
Smart made an aluminum drip pan
Awesome durability
Sure there are some others. This is only what I remember from my grill. So, during the search for the new grill, I tried to find any with the same features, at least – half of them.
Weber is a well-known grill company, and it was my first option to look on. They have Summit series, which is a fantastic grill, but according to the price, I stopped at Genesis II. It is on the same price level as Holland grills were.
Features
Compare to Holland Grill, this Weber has several similar things. As an example, griddle and cooking style. Weber Genesis is a classic grill with direct cooking but has massive stainless steel rod and flavorizer bars which helps to spread the heat and makes possible to cook closer to indirect style if needed.
Another similar thing is the smart and easy to use dip tray, which also helps to prevent flare-ups.

Consider temperature settings, Weber is above the Holland grills. Holland grills got the only option – ON/OFF, without the possibility of quick-changing the temperature.
Weber doesn't have a fixed temperature rate. If needed – you can use the thermometer to control the temperature or what is more useful – Weber iGrill3. But it has the option to influence temperature quickly because of infinite control burner valves. It was so lacking in Holland grills.
Better than Holland Grills
Above, Weber has a smart design; this grill is very comfortable in use. Handles, storage system, tool hooks, tuck-away warming rack – all these things seem to be nothing, but they are so useful.
Separately, it is necessary to highlight a simmer. A small thing, but good. Fuel level indicator is genius. I don't know why nobody invented it before. It is so simple and so useful.
And don't forget about iGrill ready to mount feature. Yes, you have to buy iGrill separately, but it worth it.
Sum Up
I didn't mention great burners, 48 000 BTU output, solid stainless steel, Weber's durability, and 10 years of warranty because for Weber it is a common thing and also it is the reason why it was my first option to look at. Weber has always proved its high quality and serious attitude. So if you are looking for a perfect grill for a reasonable price – it could be.
Other grills are very close to professional grills, or they are professional grills. All three are a huge step in grilling. These grills could be exciting for someone who is looking for the best grill ever made on earth and wants to buy the grill for the rest of the life.
Napoleon is another well-known company, not so famous as Weber in States, but really popular in Canada because it is from Ontario, Canada.
First, you have to know that this grill is proudly made in Canada and has a limited lifetime warranty. It is super durable.

The grill produces 99 000 BTU output, has 5 main burners and extra infrared burners. The temperature control became very easy and effective. In addition, it has a great distribution of heat, because of dual-level stainless steel bars and its 9.5 mm stainless steel grids.
As Holland grill, Napoleon has a smoker option, a smart solution of a drip tray, and exceeded quality.

Sum Up
What is better than Holland Grills? In one word, – everything. This grill totally blew my mind. Rotisserie, excellent temperature control, searing, useful lights, ice bucket with cutting board. Impossible is possible. I can write a lot about this grill, but it worth to try once.
DCS is not a well-known brand for many grill lovers, but we will fix it. DCS traditional is a professional grill for an outdoor kitchen at a high, but reasonable price, which not everybody knows.
I added this grill to my review because of its burners and grids. This grill is at one moment a classic grill, but with fantastic heat distribution, that makes it possible to use for indirect grilling.

This grill puts you in control of up to 89 000 BTU per total power. That power lets you choose the precise heat you need from a low and slow 300° up to an intense 1100°. Low temperature is excellent for smoking. Yes, this grill has a dedicated smoker tray with a direct 3,500BTU burner.
The indirect cooking reached by a layer of ceramic rods, which provides intense yet even heat. It gives a consistent grilling surface, with controlled heat rather than direct fire.
Besides this grill has rotisserie, lights, a removable drip pan, which is located in a slide-­out tray to allow easy cleaning.
Sum Up
To sum up, this grill stands on top of all the usual grills. To serve you for years, it has exceptionally high quality and durability. It is covered by the ultimate 2 years warranty for all parts and a lifetime warranty for main components.
Hestan grill is not only about the high-quality grilling and fantastic results, but also about the design. If you are a sophisticated person and know what great design is, this grill is for you.
The result in charge is Trellis burners which are patented by Hestan, with ceramic infrared burners and diamond-cut grates (5/16″ stainless steel). All together it gives more excellent heat coverage and precision control with superior heat distribution.
For the additional heat distribution and taste added high-performance variable ceramic infrared sear burners and flip-to-clean radiant tray with ceramic briquettes, which generates smoky flavor from drippings.

Hestan also could work on natural gas or propane, the conversion is quick and doesn't take too long. You need only the conversion kit, which sells separately.
For those who are looking for the grill to use it on high attitude, Hestan has a solution. The high altitude kit is available for this grill.
There are still lots of features that make this grill an excellent choice for the whole life. Lots of small and useful solutions as stadium lights, lovely drawer, wheels for use movement, and of course whisper-quiet rotisserie.
Sum Up
This grill is on the top level of all grills, it is another level than Holland grill. Of course, the price also is higher, but this grill has a lifetime warranty and will serve for the whole life. Dozen of useful features and great design makes this grill a unique piece of grill art.
First Published Holland Grill Review
The sun is up, the birds are chirping, nature is awake, and the grill has been cleaned up while being positioned unto the deck. It is that fantastic time of the year once again – the grilling season.
Unfortunately, it's also the time of the year when most of us discover that the old grill probably won't make it for long – nonetheless till Thanksgiving. Don't get scared, we got you covered.
We have explored different types of grills in our Holland Grill Review, and in conclusion, we've helped many readers in picking out the Holland Grill type, which matches their specification.
This model was made due to the success of the liberty grill enhanced in value and qualifications to give them a completely different high-end grill. The stainless steel Independence Grill is one of the most costly and solidly built grills through our Holland Grill Review.
Description and Design
The Independence grill is said to be expensive but just as the name implies it is the guarantee to pay itself off as it is built to be used for a very long time. The aluminum, cast iron, and stainless steel components ensure the product's durability with proper care. This gas grill will last for a really long time.
Most components of this gas grill do come with a lifetime guarantee e.g., cast iron burners. The rest of the gas grill is under more than one benefit from a generous warranty. The company provides its users with a lifetime of high-quality grilling experience.
The cast burner is among the most powerful burners made by the company with about 20,000 BTU. This makes the action of absorbing and distribution of heat excellent.
The cast iron burner makes adequate preparation for the user with as much power to fully utilize the 400 square inches cooking area.
Thanks to the company using a new method in technology, they provided no chars and no flare-ups. The independent is one of the best gas grills because it is convenient and easy to use. Closing the lid ensures faster cooking.
One difference the independent gas grill has over another gas grill on this list is its smoke tray. Also, the aluminum tray helps a lot to collect all excess grease and food debris making maintenance easy. With the independent, the user won't regret using it.

Features
The company ensures no flare-ups for free and better grilling.
This model comes with no-rust aluminum sizzle tray for longer use, rotary spark igniter for easy lighting.
This model also features a lid thermometer, deluxe control knob, front panel to hide LP tank, condiment tray for easy grilling, stainless steel towel bar handle, and stainless steel cooking grill with a lifetime guarantee.
It also comes with two adjustable smoking trays to add a smoky flavor, one-year parts warranty.
Pros
Condiment tray for convince
No-rust aluminum sizzle tray for longer use
Rotary spark igniter for easy lighting
One year parts warranty
Two adjustable smoking tray to add a smoky flavor
Cons
No direct flame
Not cheap
Final Verdict
I highly recommend this product even though it does not come off as pocket-friendly. If you want standard and professionalism, I advise you to go for this grill to get features that only a high-end gas grill can have. The absolute winner of our Holland Grill Review
The Apex represents the new types of grills from the Holland company. It is made out of stainless steel for durability, longevity, and top performance. The cabinet design is construed with an access door, which makes it easy to get to the LP tank. With this grill, you can get a storage space for your barbecue tools. The Apex comes with automatic temperature control, which is set to 400 degrees every time.
Description and Design
The Apex gas grill stands as a unique gas grill that could enrich any user's backyard. Due to its stainless steel construction, this grill proves to be impervious to rust and reliable for long term use. This particular model has been on sale for a very long time, and the company cannot pull it out soon because its users seem to love it.
The Apex grill is easy to use, looks authentic, and is packed with a whole lot of features. It uses indirect heat cooking ability, in which the heat is evenly spread across the surface of the meat.
The Apex grill has an iron burner shielded by stainless steel. The cast iron burner provide 14,000 BTU. The mixture of stainless steel and the cast iron burner ensures you get good results anytime you grill.
The Apex grill has a neat aluminum drip pan which prevents flare-ups by collecting excess juices/grease.
The Holland company built the Apex to be easily maintained as all you can do during a clean up is to wash the drip pan. To make sure the grill can cook better the Apex is equipped with smoke vents positioned on the hood.
Due to the spectacular airflow involved, you don't even have to flip over your meat to get the heat from all sides.

Features
This Holland grill features automated temperature control, which automatically set the temperature to 400 degrees every time you want to cook.
Features smoking and slow cooking by adding water to the lower temperature, the Apex grill boasts of a wide bar-style stainless steel handle for easy movement and lifting.
It has stainless steel cooking grids, it is guaranteed for a long time.
Stone side shelves which are safe for direct food contact and wood chips drawer for the smoke.
It has a rotary spark ignition system which can make lighting easy.
This Holland grill boasts a classy look with a smooth powder coated textured steel cabinet, and it is very easy to clean.
It has simple front door access, with a utensils store space on the door.
Pros
Lid thermometer
Durable
It cooks food evenly without turning it
It has built-in shelves
The grill pan in this grill eliminates flare-ups
It has a 14,000 BTU cast iron burner
Cons
Limited temperature control
It has no direct flame
Final Verdict
I recommend this grill. Although it is one of the cheapest gas grills made by the company, this factor does not affect its durability, authenticity, and it's basic function. Users have reported using this gas grill for years. This is Value for Money Pick in our Holland Grill Review
The liberty gas grill made by Holland Grills gives you all the performance and quality you need from the brand. This is one of the solidly built grills that is provided by the company. This grill is made in the USA, and it helps all Americans cook and grill their food with as much taste as possible.
Description and Design
The Holland liberty gas grill is one of the cheapest gas grills made by the company, but it still comes with unique features. With the liberty gas grill, the manufacturer guarantees no flare-ups.
The company itself has worked over the years to create a patented no flare-up mechanism. Apart from its reliable and durable nature, this grill is gorgeous as well.
This model is made with an iron cast burner that is accompanied by a stainless steel deflector plate. Just like the high-end models, the liberty grill distributes its temperature evenly. It also comes with an aluminum drip pan, which makes the product not only prevent flare-ups but collect excess grease, oil, and drippings.
With the help of the aluminum pan, it can also put back the juice into the meat, increasing its flavor. The aluminum firebox and the stainless steel lead are both powders coated. This part of the grill also helps it retain heat while improving durability and reliability.
Liberty is perfect for a variety of food preparations such as grilling, baking, slow cooking, and steaming. The liberty grill has dual smokestacks under the hood that guarantee sufficient airflow. Ventilation is a primary requirement to make sure the food is reasonably cooked. This model comes with a single temperature setting of about 400 degrees which can be said to be the significant downside of this model.
Features
The Holland liberty grill is built on four steel legs giving it sturdiness and rigidity.
It comes with a rotary spark ignition system and powder-coated aluminum bottom shell for long life.
The liberty grill also features stainless steel deflector plate, aluminum sizzle tray, and a cast iron burner with a lifetime warranty.
It also comes with a steel expanded metal cooking grill, which can last for a really long time, two large wheels for easy mobility, and rigid handles for more grip.
Pros
It has a solid construction
Features a sizable cooking area
No flare-ups
20,200 BTU burner
Versatile cooking statione
Features a perfect warranty deal
Cons
It has limited temperature control
Assembling take time
Final Verdict
I highly recommend this product, especially if you want the basic features of a standard grill at the possible lowest amount of money.
The Freedom grill by Holland is one of the strongest and value-priced models; it can be able to withstand rough use. This model was made based on the success of the liberty grill. Based on the liberty grill, the company added some basic features, which were suggested by the users.
Description and Design
The Freedom grill is an excellent model with a simple and functional design, has no much different from the rest of Holland's lineup.
It is durable, good in quality, and able to be trusted.
This model has two caster wheels for natural movement, and it also features two chimneys for proper ventilation. It is one of the strongest grills made by the company due to the fact it's made from cast iron, aluminum, and stainless steel. It also features 20,000 BTU and wit this feature. There won't be any problem with grilling any kind of meat and vegetables.
The durable cast-iron comes with a lifetime guarantee because of the flame-detecting housing and the stainless steel plate. The side-shelf brackets, the wrapper, and the support pillars are all made from aluminum, just like the body end panels. In other words, they are made from powder-coated cast aluminum.
Also, the heavy-duty, powder-coated aluminized steel increases its durability. Also, because of its high quality built, it definitely proves why the price is high.
Definitely, the Holland company included its signature non-rust aluminum sizzle tray to help collect extra juice and drippings, prevent no flare-ups, and fuse the juice back into the food, increasing its flavor and giving the food taste.

Features
This is one of the most durable models made by the company, and the company assures no flare-ups for comfortable and better grilling.
This model is made with no-rust aluminum sizzle tray for a lifetime guarantee, the rotary spark for easy lighting.
It comes with a bottom shelf and aluminum lid for long life.
The Freedom grill also features two adjustable smoking trays to give the meat a smoky flavor, a condiment tray for easy grilling, a stainless steel towel bar handle, and a lid thermometer.
It also ensures a cast-iron burner with a lifetime guarantee, 5-years rust through guard for absolute peace of mind, and one-year parts warranty.
Pros
20,000 BTU cast-iron for easy grilling
Bottom shell and aluminum lid for long life
Two Chimneys for proper ventilation
400 square inches cooking area
It's durable and reliable
Generous guarantee
Final Verdict
I recommend this product because it comes with all the features you would find in a specialized gas grill. It comes with a no-rust aluminum sizzle tray and a lifetime warranty for specific parts.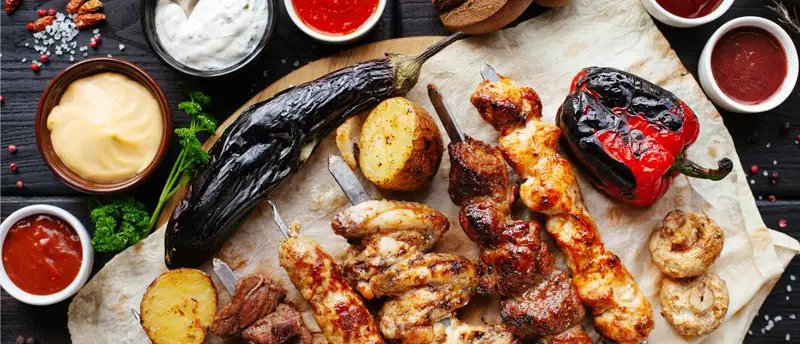 Holland Grill Review – Buyer's Guide
I hope this Holland Grill review has been very helpful to you. Right now, we are not only going to talk about the specific aspects of these Holland grills, but we are going to speak generally about these products and the factors to be considered when getting one.
Also, in the latter part of our Holland Grill Review, I will choose which Holland grill I found to be the best amongst the grill and why it's the best.
Grilling is an essential part of the American experience, so the Holland company has worked so far to make this experience to be palatable and enjoyable for every user. This company offers a wide range of gas grills, but how can we know which one to go for?
Contents:
Cost
The Holland company considers its user's pocket. This is why they produce more budget-friendly models with basic features. You can spend a couple of extra $$$, depending on your financial status to get a more expensive grill with more features.
Most of the high earned and budget models have signature features such as aluminum trays and cast iron burners.
If you would like more complex features like temperature control, you might have to pay more for it.
Portability
Before you buy a Holland grill, you should have made a plan on where you will use it. You might really love the grill, but you dislike backyard cookout. Grilling is an enjoyable thing to do, but portable grills are said to be very small to feed a crowd.
A medium sized grill with wheels will be perfect for your backyard.
Materials
Stainless steel and cast iron are the two most common materials used in the production of Holland grills for some components, cast aluminum and aluminum are made use of, the grill grate should be coated with porcelain or enamel.
One of the advantages of cast iron is its ability to retain high temperatures.
Capacity
About 200 square inches of grilling space is said to be enough for two people. A grilling area of about 400 – 440 square inches is more than enough for an American home.
However, the more expensive models come with a warming area side tables and other features that can make grilling convenient.
How do you cook on a Holland grill?
Nothing beats a Holland grill for making delicious and tasty food. The key to cooking with a Holland grill comes down to effectively managing the heat with about 14,000 to 20,200 BTU burners you will find on Holland grill stoves, you will have a lot of high temperatures to deal with.
We advise that you use up to medium heat with your Holland grill to keep it in good shape.
Holland Grill Review Tips:
Always make sure you preheat your Holland grill on medium heat for about 10 minutes if you want to grill
When it comes to searing use high heat for a short period of time, the rest of the cooking time, cook hot and fast using medium heat, and if you want to cook slowly or to keep prepared food warm, cook with low heat
With the Holland grill, you can create direct and indirect heat zones, with high heat on one burner and low heat on the other. This will make it easier to manage how your meat cooks – if your meat cooks quickly, you can carry it over to the indirect heat zones side
If your food is thicker than ¾ inches, you can close the lid to have a fantastic result. If the food is less than ¾ inches thick or you are searing your meat leave the lid open to get a maximum result.
Can you smoke on a Holland grill?
Yes, you can definitely smoke on a Holland grill. You will get an incredible real wood smoke flavor with the grill. Holland grill ensures you have delicious grilled meat and vegetables.

Where are Holland Grill made?
It is said to be true that most grills are made in China or some foreign country, but the Holland grill is made in a small town called Warrenton GA in America. Raw steel goes in from one side of the factory, and it exits through the other part of the building packaged as a Holland grill product.
How long does it takes to cook a steak on a Holland grill?
To cook a steak on a Holland grill takes about 30 minutes at room temperature. When you place your steak on a Holland grill for 12 minutes flip sides and grill the other side for 12 minutes till you get your satisfaction.
How hot does a Holland grill get?
The Holland Grill is created to grill as at 400 degrees thereabout. It gets hotter a little during summer and a little cooler during the cold season. This is the reason why grilling with Holland is enjoyable and fun during the summer.
How to clean a Holland grill?
If you want your Holland grill to last for a very long time, it is vital that you maintain and clean it.
Here are some tips in which you can properly clean and care for your grill:
Wipe your Holland grill grate before each use
Leave the food or grease on your grill grate after you finish grilling to provide a protective layer for the next grilling
To clean any Holland grate, heat the grill for about 15 minutes on medium until it stops smoking. Scrape the grill with a grill brush
You can dip the water in the brush to help loosen food particles
Holland Grill Review – Conclusion
If you've decided to purchase a Holland grill, there are so many tips and tricks you can learn to get out of this product. My recommendation includes all the gas grills listed in the above review. Every Holland grill is made to almost perfection.
Personally, I would go for The Independence Holland Grill because I wish to get all the features preloaded in the product. If by any means I am on a budget, I would go for The Apex Holland Grill.
If you've got a Holland grill, make sure to take good care of its burner, check it often to ensure that the grill spot isn't blocked. If in any scenario they are, use a thin wire or a pipe cleaner to remove the blockage while doing that carefully, also don't forget to service the igniter to make sure the grill can have a good spark.