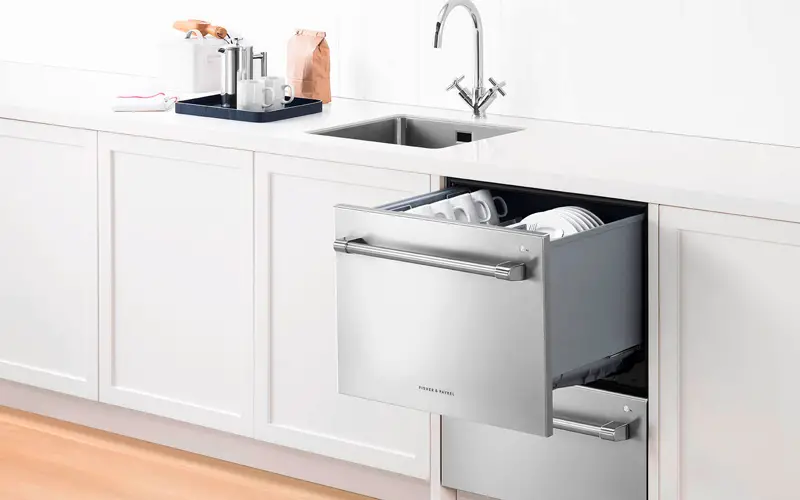 Hand washing dishes can sometimes be more of a burden – from applying detergent and rinsing with water to drying, the whole process can be so dwelling.
The dishwasher is one of the top innovations that have made washing your dishes hassle-free. It acts as a robot that carries your washing process in one swipe. It adds water at a warm temperature, drains away from the dirty water, and even comes with timers and regulators for optimum performance.

To get the most out of this innovation, this article portrays some of the best, modern dishwashers you can find in the market today. So, read for our dishdrawer reviews and buying guides to make the best buying decision.
The Fisher Paykel DD24SAX9 is a 24-inches dishwasher that comes out of the box with size dimensions around 22.6 x 23.6 x 16.1-inches and a weight of 120 pounds. It has a stylish appearance due to its lustrous stainless steel material construction.
The construction makes the dishwashing machine resistible to stains and humidity. It comes with quality features such as an ergonomic recess handle for opening and loading in the dishes. The dishwasher does not come with lots of vibration due to its quiet operation at a tone of 45 dBA.

The presence of a smart drive technology allows the dishwasher to respond timely to load changes in the machine. This unit comes with six wash cycles along with a Fan-assisted drying technology, which gives your dishes an excellent dry clean wash. Embedded within the dishwasher are two cutlery baskets and cup racks for fitting cups and cutlery items separately.
This also extends the loading capacity of your dishwashing machine. One real advantage of this device is that it's energy-efficient and gives you enough savings on power. It only operates on 120 volts and 15 amps. Overall, the machine comes with a limited 2-year warranty which covers body parts and labor.
Pros
It features an excellent cleaning power with six wash cycles.
It has a durable feel.
The sound quality of 45dBA makes the dishwashing unit have a noiseless operation.
The presence of fan-assisted technology lets your dishes dry faster for quick use.
The presence of the Ergonomic recess handle allows for effortless loading of dishes and cutleries.
Energy-star certified.
Cons
It does not come with a variable spray pressure.
It cannot steam wash
Verdict
The Fisher Paykel DD24SAX9 dishwasher is the best definition of an eco-friendly dishwasher with reliable performance. Through all dishdrawer reviews you won't find any other brand except Fisher and Paykel that has soo quiet dishwasher.
This is the Best Value DishDrawer in our DishDrawer Reviews.
Are If you are looking for an ergonomic and lightweight dishwasher, the Fisher Paykel DD24CX7 may be all you need. Being a drawer-type dishwasher makes it strictly ergonomic with ease of opening and closing. It comes with size dimensions of around 22.9 x 23.6 x 17.9 inches.
A weight of 60 pounds confers portability on the machine and allows for positional adjustments. When it comes to construction, the dishwasher is made entirely with stainless steel that gives it a lustrous look and at the same time, confers durability on the machine.
Also, seven place settings are included to accommodate 12 plates for a wash. The product allows nine wash cycles and an option of an Eco-friendly water cycle system for a maximum clean wash. Internally, the dishwasher features adjustable racks, cup racks, and cutlery baskets with flexibility able to fit in different sizes of dish items.
Delay start functionality is also included, and this gives the machine a longer shelf life. Also, embedded in the dish drawer wash is a fantastic kidney-like built filter system to get rid of food particulates or debris more cleanly.

The maximum working temperature of 163oF generates enough heat to sanitize your dishes by getting rid of germs and tiny particulates. However, different temperatures also exist for specific wash needs. What's unique about this product is the energy-saving feature. A feature such as a three-stage flood protection system resists heavy water pressure and prevents overfilling of the reservoir.
An energy star rating guarantees you efficient savings on power and reduces your energy costs in the long run. This product comes with a 1- year warranty.
Pros
It has a versatile nine wash cycles.
A filter system in the dishwasher help gets rid of food waste and debris.
Temperature condition of 163-degree Fahrenheit.
It features adjustable height racks.
It is Ergonomic, lightweight, and compact.
It is Energy efficient.
Verdict
If you are looking for the best definition of a versatile dishwasher, this product featuring more washing options with nine wash cycles may be the answer. Also to consider, this is the most affordable dishwasher in our DishDrawer Reviews.
The Fisher Paykel DD24DAX9 is a built-in Double dishwasher that delivers quality and Eco-friendly wash. It comes with product size dimensions around 23.6 x 22 x 32.3 inches and a weight of 114 pounds. It is exclusively constructed out of an Ezkleen stainless steel material that assures, which assures one of lasting durability.
The stainless steel material also confers a bright color and luster. This dishwasher features 14 place settings, which are enough capacity to accommodate utensils in a family-sized home. It comes with six wash cycles in the form of half load, delicate wash, quick wash, normal, rinses, and eco-friendly wash.

The different wash cycles vary based on the kind of ash you want. A noise level of 45 dBA ensures that the dishwasher delivers a noiseless sound. With this dishwasher come different types of indicators such as the fault indicator to notify one of the leaks or electrical faults and rinse aid when your plates are in the process of rinsing.
It has a fan-drying assist mechanism to help keep your plates dry after use. Like typical models of Fisher Paykel, the dishwasher features an Energy star certification that assures savings on energy usage. Also, the product comes with a 2-year limited warranty.
Pros
The presence of 14 place settings in the dishwasher allows for more capacity.
It features a noiseless operation at the sound quality of 45 dBA.
Offers six exclusive wash cycles, including an eco-friendly wash.
It offers savings on energy consumption.
It is highly durable and has a stylish appearance.
Cons
It may be costlier than other standard dishwashers
Verdict
The Fisher Paykel DD24DAX9 being a double dish drawer dishwasher, shows it has more capacity to wash dishes. You will find it suited for use in a family home. Also, we have to mention that this is the most affordable double dishwasher in our DishDrawer Reviews.
The Fisher Paykel DD24DAX9N double dishwasher is one with a combination of intelligent washing technology and reliable performance. It comes out of the box with convenient and easy to use controls. It comes with overall size dimensions of around 40 x 26 x 24-inches able to correctly fit into a Kitchen cabinet.
In terms of internal capacity, the dishwasher offers a 14 place setting. It comes with a weight of 120 pounds, which is quite substantial. A genuine construction with a stainless steel finish gives your dishwasher an excellent luster and able to preserve its quality for an extended period. The dishwasher is ergonomic in that the doors are easy to open like any other Kitchen cabinet.

Loading the dishwasher comes easy with features like a flexible cutlery basket, adjustable racking options, and folding tines to accommodate different size options of kitchen utensils. It supports a full and half load for guilt-free washes on your utensils. The dishwasher generally supports six wash cycles. It has a quiet operation with a noise level of 45 dBA. It runs on a smart drive technology, which allows the slow release of water for a maximum wash.
The presence of a flow-through detergent dispenser prevents clogging of the dishwasher with detergent remains and keeps the dishwasher void of dirt particles. A fan drying assist keeps your dishes wash dry after a thorough wash. It comes with an Energy-star certified rating that guarantees you save on power consumption. Lastly, the product features a 3-year limited warranty on parts and labor.
Pros
It has a digital control system.
It comes with an ergonomic handle for easy loading.
Smart drive technology in the form of the brushless motor allows for smooth spraying of water-based on the selected wash cycle.
It comes with more rooms for independent washings
Energy star ratings utilize power efficiently.
Cons
It still requires pre-rinsing before actual loading into the dishwasher.
Some customers complained about the price.
Verdict
The Fisher and Paykel DD24DAX9N features easy to use, and ergonomic controls with smart drive technology and fan assisted, which you can rely on for your guilt-free washes. This is the Best Choice DishDrawer in our DishDrawer Reviews.
Just like any other model, the Fisher Paykel has excelled in delivering an exclusive product with a lasting finish. This feature is well integrated into their dishwasher, which comes with a stylish stainless steel finish that confers enhanced durability. It is a semi-integrated double dishwasher with overall dimensions around 40 x 27 x 26 inches and weighs no more than 110 pounds.
Coming at 115 pounds makes the product a bit weighted, but still portable. It features a 14 place capacity for independent washings. For whatever type of wash you want to make, the dishwasher features nine wash cycles, including an Eco-friendly wash option.

It comes with a delay start technology to ensure a proper start-up operation. Internally, the dishwasher has an adjustable and flexible racking option to load in utensils (pots, plates, and cutleries) of varying rives wash sizes. A Smart Drive Wash functionality exists in the form of a unique brushless motor that acts as both water and drains pump for maximum and superior cleansing.
An excellent filtration system in the type of a Kidney Filter and over-molded filter plate keeps it void of debris that could have accumulated over time on dirty dishes. It comes with an Energy-star certification that guarantees its savings on energy consumption.
Pros
The presence of a quick-drying property allows dishes to dry faster.
Stainless construction gives the dishwasher a pleasant look.
It is efficient in dispensing water.
It comes with an Energy star rating.
It features a delay-start technology.
Cons
Requires a pre-rinsing of dishes before loading to the dishwasher.
Verdict
This is probably one of the best dishdrawer dishwashers with the best filtration technology. It washes your dishes faster and consumes less amount of energy power. By the way, it is one of the latest models from Fisher and Paykel.
This is the Premium Choice DishDrawer in our DishDrawer Reviews.

DishDrawer Reviews – What to Consider When Buying a Dishwasher
Buying a new dishwasher comes with a whole lot of considerations and sometimes will require careful planning based on actual needs. Therefore to make the best buy you may need to consider several factors which we collected in our DishDrawer Reviews:
1. Sound Level:
You probably won't like a dishwasher that gives out much noise and disturbs the comfort of your home. This can't be said of older versions of dishwashers that give out rumbling noises while washing your dishes. The sound rating of a typical dishwasher is measured as dBA.
A dishwasher with a rating of 60 dBA and above will exclusively give a rampaging noise while washing. However, if you desire a noise-free dishwasher, then consider looking out with a sound rating of 45 dBA or less.
2. Interior Capacity:
The interior capacity of your dishwasher is the paramount and most important factor to consider when buying a new dishwasher. This is a base for determining the number of dishes that can be placed in the dishwasher. A typical 24-inch dishwasher is recommended for family use as it has the capacity to hold to 12-14 place settings, unlike other small compact sizes, which are only suited for personal and are used occasionally.
3. Washing Cycles:
The latest models of dishwashers come with more options for wash cycles. This washes on the kind of washes you need and the kind of wares you want to clean. While some models of dishwashers have seven wash cycles, some only feature nine wash cycles. In all wash cycles, do ensure that whatever dishwasher you are buying has an eco-friendly wash cycle feature.
4. Budget:
A point to note is the fact that most modern-day models of dishwashers don't come at a cheaper rate at all. Even brands such as the Bosch or Fisher Paykel dishwasher don't come at a low price overall. The price only varies based on the models of the brands. However, you can always go for the best option well-suited for you.
5. Kitchen Cabinet Integration:
As unimportant as it seems, getting an exclusive dishwasher requires that the outlook fits with the kitchen cabinet exterior. Having something like this improves the style of your kitchen and allows you to focus on other items that require attention.
6. Extra features:
Buying the best option of a dishwasher requires you to check out for additional features and functionalities, which aids extra comfort with its usage. Features such as Wi-Fi wireless allow smartphone connectivity to the dishwasher for increased seamless control and notifications.
The presence of energy sensors keeps you in charge of saving your energy usage and gives you the option to run small loads. An extra feature in the form of Disposers (at your dishwasher bottom) helps remove food debris, so you don't have to prewash before loading to the dishwasher.
7. Energy Saving Feature:
When purchasing a new dishwasher in the market today. Always look out for seal-like Energy certification. A dishwasher with Energy savings is the best option you can always opt for. Many of the dishwashers currently in the market today come with more wash cycles and efficiency with more demands on energy usage.
Therefore getting one with energy-conserving abilities will indeed be the best option — features such as a delay start functionalities for metered energy usage.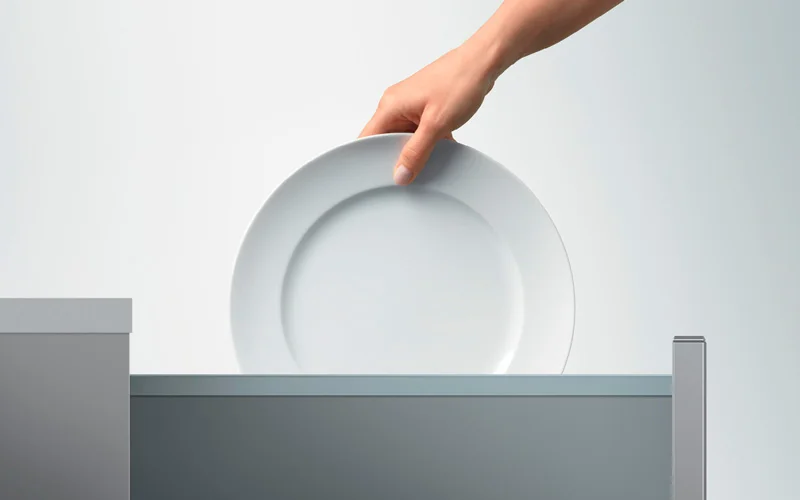 DishDrawer Reviews – FAQ
1. Are Fisher and Paykel dishwashers any good?
The exclusive features offered by these models of dishwashers make them the best option to use in the market today. Although there are few differences in the way, most buyers consider them to be. Some may like the fact that it helps save on electricity, others might consider the half load washing ability (without bending) the best option.
However, whichever one you choose, one could agree that the fisher Paykel model is indeed versatile as the delivers 6-9 options of wash cycles, energy-efficient, have a large capacity, and a lustrous yet durable appearance.
2. What is the difference between a built-in dishwasher and a drawer dishwasher?
A built-in dishwasher refers to a typical dishwasher that is permanently installed in the home, and they often come in sizes that take a lot of space.
Whereas a dish drawer dishwasher is a type typically built to resemble a counter-top cabinet and comes with more ergonomics. It also the best use in areas with less spacing.
By the way, there is also countertop dishwashers available on the market.
3. What is a dish drawer dishwasher?
A dish Drawer dishwasher, which was firstly innovated by the Fisher and Paykel brand, is a typical dishwashing machine with a design similar to a filing cabinet you often found in the kitchen. They are one of the best dishwashers best suited for use in kitchens that have small spaces as they can fit in next to your cabinets. They are Energy efficient, and they use less amount of water too.
4. Do dishwashers use a lot of electricity?
The question depends on the model of dishwasher been used. However, recent models of dishwashers are more efficient when it comes to energy consumption.
Older versions of dishwashers would use up to 10 gallons of water per load and use up to a high power rating of 1.27 kWh, which on frequent usages could cost an average of 6 dollars a month. An energy star dishwasher such as Fisher Paykel could cost 0.38 kWh of electricity per hour at the cost of 2.9 dollars a month.
5. Does the dishwasher use more water?
Of course, when compared to the handwashing method, dishwashers do seem to use a lot of water since it is constantly spraying water on the dishes.
However, this can't be said for most energy star dishwashers. With the handwashing method, you could use up to 20 gallons of water per load, but energy-efficient dishwashers use far less than that amount for cleaning. Therefore most quality dishwashers out there use less amount of water to clean up your dishes.
6. Is it difficult to install a dish drawer dishwasher?
Installing a dish drawer dishwasher is quite challenging to do on a personal basis. For easy installation, you may need to employ the expert hands of a professional plumber to help set your drain connection. You may also need to secure a local permit from authorities to modify installation in your home.
To install, you need materials like a Measuring Tape, a set of screwdrivers, and channel locks. You will also need the help of a skilled electrician to help install a 110-volt electrical outlet under your sink so you can direct the right amount of power required by your dishwasher.
DishDrawer Reviews – Conclusion
Cleaning dirty utensils can be such a strenuous task to accomplish. That's why you need a dishwashing machine. You can either choose the option of having a freestanding dishwasher, dish drawer dishwasher, or a built-in dishwasher.
None the less, you, one with the best quality, have a large capacity and a varying wash cycle. Such type of dishwasher will mean a dish drawer type. This article has itemized different upgrades of Fisher and Paykel dish drawer dishwasher along with a review to make the best selection suited for your use.
What do you think about our DishDrawer Reviews? Please comment!