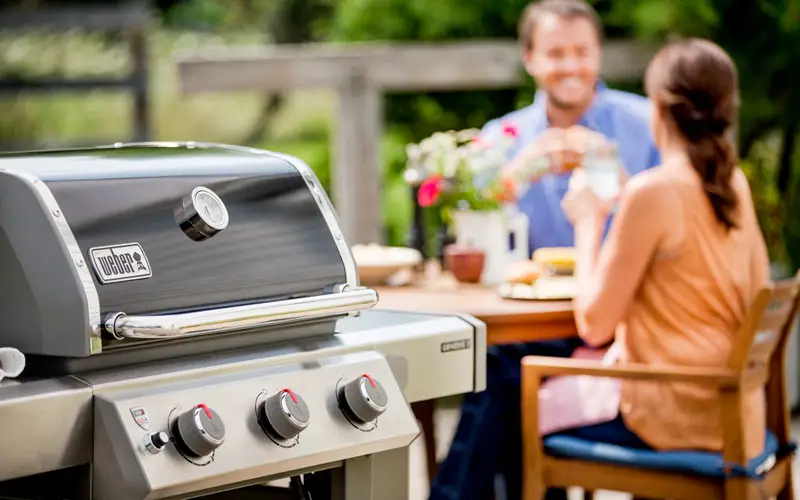 If you enjoy having a barbecue with friends and family then, it's possible you've invested in a good barbecue grill, or at best you want to use it for as long as possible, regardless of what you paid for. So, what's the best way to protect your grill?
Most people barbecue grills are either stored inside or left outside which requires frequent cleaning before the next use. You can prevent this by investing in a grill over. Grill covers not only keeps your grill clean but also saves you the time of cleaning whenever you're in need of fixing your delicious barbecue again.
However, these covers are made out of three different materials: Polyester, Canvas, and Vinyl. Polyester is the most common being lightweight, easy to clean, dry faster, and is chemically treated to sustain all weather conditions. However, its durability is considerably low.
Canvas covers are made of heavy-duty materials that you'll find in tents and awnings. It's the best of these materials because when treated it can offer waterproof and fireproof advantages. Even though they have better durability, and they usually cheaper.
Vinyl covers provide the best protection during rainy seasons and snow. Despite being highly waterproof, its durability is a challenge. Then if you want to get a vinyl cover, we recommend you opt for thicker versions.
Now that you understand different materials let's look at the best top ten effective covers that will worth your investment.


Homitt's grill cover can protect your grill no matter indoor or outdoor. It does strike a right balance between its affordability and durability.
Design and material
Its build quality is above par. The whole cover is made from heavy-duty 600D Oxford fabric material. The Velcro straps on the sides are positioned beneath the grilling platform and two handles on either side of the inclined section that protects the grill lid.
Homitt is designed with a standard shape that's comparative wider at the bottom relative to the top. It also comes with its storage bag, a grill cleaning brush, and a cooking thermometer.
Performance
Being made from heavy-duty fabric, it protects your grills through all the seasons. On top of that, it also prevents the grill from insects, which is really important for gas grills. By the way – here is our review of Best Gas Grills Under $200.
The Velcro strap keeps the grill cover secure against wind blow. The storage case is meant to keep it clean and safe when not in use. The handles are the best feature for easy movement.
When it comes to cleaning and maintenance, just hose it with water and let it dry, however, pay more attention to the Velcro straps and handles. This grill can last you long-time protection.
Compatibility
This barbecue grill cover is 58-inch fits most gas grills brands. It can cover Weber Genesis, Jenn Air, and Brinkmann making it convenient for every household.
Pros
Easy to clean and maintain
Has a storage bag
Comes with one grill brush and a cooking thermometer
The cover is waterproof, rip resistant, dustproof and insect proof
Wide compatibility
Cons
Fades over time when exposed to too much sunlight
No air vents for air circulation
Final Verdict
All in all, Homitt BBQ grill cover is a good quality cover that comes at a reasonable price. Generally, the Homitt well built to last you longer. I would definitely recommend it. Absolutely worth every penny. It comes with a warranty for 12-months and 100% 60 days money back guarantee.
If you are looking for a weather-resistant grill cover, Simple Houseware is the best heavy-duty, 58-inch large enough to fit common gas grills.
Performance
Simple Houseware is made from 600D polyester fabric a thick heavy-duty material size 58- inch which ticks all the boxes of durability. The polyester material is treated to provide waterproof during rainy seasons, dust-proof, rip-resistant, weather-resistant, and UV resistant.
It can be used throughout the seasons with a guarantee of lifetime protection of your grill. In regards to cleaning the cover, spray with water and let it dry in the sun.
Design
It's built with two side handles for removing the cover whenever you want to grill or clean. Also, on the covers, it comes with 2 wide fasteners straps on both sides. These straps ensure you get a strong, secure hold on the grill and keep it in place from the wind.
Pros
Waterproof
UV- resistant
Dust-proof
Thick material which offers tear resistant
Adjustable to fit most common grills
Quality guarantee in terms of durability
Cons
Lack of air vents which releases trapped moister
Final Verdict
I would definitely recommend this cover compared to other covers that are more expensive with a low-quality guarantee. It easily fit right over most popular grills offering lifetime protection.
It's a genuine product from a highly rated manufacture worthy your inexpensive investment. However, the one-year warranty makes simple houseware cover an attractive purchase based on consumers reviews.
When looking for a premium grill cover that is manufactured using high-quality materials and innovative features for protection overall seasons, the KingKong 7105 is your best fit.
Design and Material
The KingKong 7105 has a perfect design that fits the Weber Spirit 210 gas grill with both sides collapsing. It is highly recommended that you follow the Weber model provided instead of the dimensions as there may exist variations measured by different methods.
This BBQ cover is made of deluxe heavy-duty material. The fabric used is 100% polyester to ensure protection from harmful elements.
Performance
When thinking about functionality, the KingKong 7105 is among the top grill cover brands. It is made of strong materials that make it highly durable. The grill cover is dust resistant, waterproof, rip-resistant, and weather resistant. It is also easy to clean and maintain.
Quality Guarantee
Before making any purchases, quality should always be a key feature to consider. This grill cover fits securely onto the grill with a form-fitting design and large Velcro straps. Also, it comes with extra barbeque tools like tongs and a brush. It also has a generous 3-year limited warranty.
Compatibility
The Kingkong is meant to fit Weber Spirit 210 gas grills. However, it's not fit for Weber Spirit II E-210.
Pros
UV protection
Generous warranty
Protection in all seasons
Pliable and breathable design
High-quality material
Easy to clean
Cons
May not fit Weber Spirit II E-210
Final Verdict
I would recommend that you buy the KingKong 7105 as it is one of the leading grills covers in the market today. It is made of high-quality materials with great features and can offer grill protection overall seasons.

If you are looking for a gas grill cover designed for real-life utility, then, you should consider VicTsing. It is made to be used around the home and outdoors as it's manufactured using durable materials that protect it from forces of nature.
Material
The VicTsing grill cover is made of durable, heavy-duty materials. The material used is a 600D polyester fabric which is dust-proof and weather resistant. This grill cover has been made to ensure your grill is protected from elements of forces such as sand storms, rain, sun, and wind.
Performance
This grill cover is made of hydrophobic material that is mainly responsible for repelling water. It has reinforced stitching and bound edges to shield it from cracking. Also, it has been made using a UV protection design to offer exceptional resistance to sunlight.
The fitting and removal of the VicTsing gas grill cover are effortless. The grill has well-made double handles that help cover securely and remove easily.
Also, it comes with a convenient side magic tape that helps tighten the BBQ cover and shield it from being blown off while the Velcro closure straps secure the cover around your grill.
Compatibility
The VicTsing BBQ cover is widely compatible with various grill brands of up to 60 inches. This grill cover can fit brands like Holland, Weber, Brinkmann, Char-Broil, and Jenn Air. It is thus recommended that you properly check your grill's dimensions for proper fit.
Pros
Water repellent backing
Wide compatibility
UV resistant
Convenient straps and handles
It has a carrying bag for storage
Refuse to rip
Cons
Lack of air vents
Edges get tear over time
Final Verdict
I would recommend this to anyone looking for grill cover for real-life use. It has a pretty look and is carefully and thoughtfully constructed.

UNICOOK heavy-duty barbecue gas grill cover is a viable option if you are looking for an inexpensive cover. It both guarantee the quality and value of money which is one of the reasons it stands out as one of the best-upgraded material covers.
Material and design
UNICOOK grill cover is made from a unique fabric that is fade resistant with a vinyl coating. The new upgraded material is waterproof, resistant to UV light, doesn't tear easily, or crack on temperatures below sea levels.
It is combined with handles and straps sewed on both sides of the cover. It's designed with a mesh air vent at both sides which is a unique feature on this cover compared to others.
Performance
UNICOOK cover doesn't fade easily under strong direct sunlight as other grill covers do. The special fabric is soft but sturdy giving your grill all-weather protection and guaranteed durability.
The attached fabric handles provide an easy fitting and taking off of the cover. In addition to that, the handles can be used for hanging when not in use.
The cover is considerably shorter than other covers in our list since the original plan was not cover the wheels of the grill. This feature is useful as it allows easy movement of the grill with the cover on and also prevents ripping during extreme cold.
During windy seasons UNICOOK 1.5-inch heavy-duty fastening straps at the bottom edge to keep the cover secure from being blown off.
The mesh air vents at the sides allow air to circulate, releasing moisture which prevents mildew from forming on the grill. Cleaning the cover, you simply hose water over it to clear dirt hen you can remove stubborn dirt with a damp cloth and mild detergent.
Pros
Mesh air vent for complete air circulation
Offers protection against sun, dirt, snow, and rain
Easy removal and fitting of the cover
Velcro straps secure the cover from wind blows
Durability
Easy to clean
Final Verdict
I would highly recommend this cover especially if you have a low budget plan. There's nothing wrong when it comes to UNICOOK BBQ cover, and the structured air vent is a great deal breaker. Expect it to sustain even strong sunlight without a slight fade. Moreover, the cover comes with a 90-day 100% money back guarantee and a one-year warranty.

If you are looking for an extra-large BBQ cover for your grill, the Patio Watcher is one to go for. It is made of heavy-duty material and is compatible with many grill brands.
Design and Material
The Patio Watcher BBQ cover is a large BBQ cover of 71 inches. It has been structured with a universal design that fits most brands and styles of outdoor BBQ grills. Some of the brands that are compatible with this grill cover include Brinkmann, Holland, Weber, Jenn Air, and Char-Broil. It is highly advised that you measure your grill correctly before making purchases.
Performance
The functionality of this grill cover is just remarkable. It has two structured air vents that are lined with barriers to minimize mildew, condensation, and ballooning winds.
Also, it is made of durable woven polyester that has a water-resistant undercoating and a water repellent coating on top to keep your grill dry.
This BBQ cover comes with reinforced padded handles that make it easy to remove. The hem cord with a toggle is also available to allow for adjustments to get a good tight custom fit.
Pros
Great material for rain and snow
High quality at lower cost
Brand compatibility
Convenient air vents
Padded handles
Hem Cord
Cons
It does not entirely cover the wheels or bottom legs
Final Verdict
So, wherever you are looking for a BBQ cover that is large and widely compatible with various brands, then, the Patio Watcher is the most recommended.

Most grill owners will have their BBQ grills sitting at the deck, porch or back patio all year round. This makes the grills exposed to various forces of nature that could damage your grill. Therefore, if you want a truly weather-resistant grill cover, then, the Tadge Goods BBQ Cover is your best option.
Design and Material
This grill cover is crafted with weather-resistant 600D oxford fabric. The fabric is responsible for repelling heat, sun rays, wind, snow, rain, and any other element that might damage your favorite outdoor cooking tool.
Its material is colorfast and has been designed to block UV light and resist fading.
Performance
The Tadge Goods BBQ cover is highly durable. It has a PVC coating on its oxford fabric that makes it a heavy-duty grill cover. These properties make the grill waterproof, tear-resistant, weather-proof, and sun-safe.
Securing the BBQ cover is effortless. It comes with wind-resistant strap fasteners as well as convenient pull handles on top and bottom — these help in tightly securing the BBQ cover to prevent it from being blown off by the wind.
Compatibility
When it comes to brand versatility, this one has a wide range of compatible brands. It fits most charcoal and gas grills from the following brands, makes and models; Weber, Holland, Brinkmann, and Char-Broil.
Pros
Brand Versatility
Trusted Warranty
Weather-resilient
Rip Resistant
Durable Stitching
Cons
First-time users may find it difficult securing the bottom straps
Final Verdict
This product is one that we can recommend for almost everyone. It is large enough to fit most BBQ grills and also compatible with many brands.

This is a perfect offer that you should invest in if you want to protect your grill from harsh weather conditions. However, if you also want a touch of stylish look while covering the grill this cover is worth your money.
Design and Material
The Gardelle fabric is woven from a polyester material with strong bound seams which are tightly stitched hems. The covers come with handles air vent and padded handle on either side.
It's not designed to cover the wheels of the grills; instead, they've attached straps. There's also a single pocket along the top part of the cover and not designed to cover the wheels.
Performance
The grill cover is both water repellent and resistant suitable even during heavy rains. The air vent reduces air condensation inside the cover and wind lofting.
The padded handles make sliding of the cover quickly and conveniently. Its elastic hem allows you to adjust the cover to fit your grill as you wish.
The pockets at the top are suitable for storing all your grill accessories. The interior bound seams are for the strength and durability of the cover. In regards to windy weather, the click-close straps snap over the wheels securing the cover.
It's not designed to protect against UV light suitable for areas that don't experience strong sunlight.
Compatibility
Classic Accessories grill cover comes in different sizes ranging from 38-inches to 80-inches. its shape will fit almost all popular grills including Weber, Brinkman, Jann Air, or Char-Broil. However, you're advised to measure the size of your grill for a perfect fit.
Pros
Attractive design
Compatible with most grill brand
Wind resistant
Durable
Waterproof
Final Verdict
Above all, we will recommend this cover if you are looking for stylish and yet long-lasting protection against your grill. The great thing about it is the 3-year extended warranty. However, if you stay in strong sunlight areas this might be a poor choice, look for UV resistant cover.

Grillman grill cover is manufactured by a well-known brand popular for its grilling and other barbecue appliances. They're built to last for longer therefore suitable for those people who need a lifetime investment.
Design and Material
The Grillman cover is made from PVC lined up Oxford heavy, durable materials with an extra-wide design. It features adjustable Velcro straps on each side which are easy to use.
Performance
It's a standard size cover made from durable material to protect your barbecue grill against rain, snow, tear, and fading. It sustains all weather conditions for a long time. The adjustable Velcro straps are attached to secure your gas grill from being blown away in the strong wind.
It doesn't absorb solar heat either. This cover is built with super-heavy material meant to last a lifetime.
Compatibility
Grillman cover is manufactured in standard size and extra-large design so that it can fit all different sizes of popular barbecue grills brands.
Pros
Design in standard size
Waterproof material for guaranteed durability
The PVC lining renders it tear resistant and also fade resistant
Protect your barbecue grill from the all-weather condition
Lifetime guarantee
Cons
Can get bleached easily
No air vents
Final Verdict
Who doesn't want a lifetime investment with a guaranteed replacement in case of tear or fading? Grillman is a highly recommended cover for all-weather conditions and can cover whatever BBQ grill brand you have.
It's built to offer lifetime protection so in the event of damage contact the manufacturer for a replacement.

Not all grills are gas grills when it comes to Weber 7176 grill cover it's built for 22-inch charcoal grills. Charcoal grills also need protection against the pouring rain, cold snow, and scorching sunlight. If you are looking for a charcoal grill cover, then Weber 7176 got you covered.
Design and material
It has a round design to fit 22-inch charcoal kettles. This cover is made from new and improved heavy-duty polyester fabric.
It only fitted with one strap on the side near the bottom edge of the cover.
Performance
The material is lightweight and breathable in all weather conditions. The fastening strap provides extra support and holds which make the cover gain a fitted appearance to withstand strong winds. The fabric is treated for UV protection and water-resistant to ensure long-lasting protection.
Pros
UV protection
Water resistant
Affordable
Standard size compatible with common charcoal kettle
Cons
Fitted with only one strap which doesn't offer stronghold during strong wind
Final Verdict
Weber 7176 charcoal grill is suitable for those people looking for a small standard cover at a low price. The material is thin and might be useful if you are looking to protect the grill against rainwater.
Best Grill Cover – Buyer's Guide
Contents:
Why do you need a Grill Cover?
This is the most commonly asked question on the internet. If you've invested a generous amount of money on your grill, you'll probably want it to last you a lifetime.
It's common in many households to keep your grills outside. Therefore, they are exposed to different weather conditions that can damage your grill. This and many reasons highlighted below gives you a better sense to wake up and get you some grill cover.
Protection from hail storms, snow, sunlight light and thunderstorms
This is mother nature that can't be controlled, but you might control it from damaging your grill. Water doesn't only damage your grill with rust but also acts as a breeding ground for insects and other small animals. Having a grill cover can provide long-lasting protection against these natural atrocities.
Increases your grill durability and efficiency
By covering your grill, you not only protect your grill from external elements but also add more to its lifespan and efficiency of use. These covers ensure your grill is clean and in good condition throughout the year.
The covers also reduce the chances of wear and tear which means the grill keeps its functionality for a long time without spending too much on repairs.
Protection from harmful elements
Mold and mildew tend to form on the grill if left uncovered and not in use for a long time. These covers will form a barrier to unwanted viruses and bacteria that wish to destroy your grill.
What to look for before investing in a Grill Cover?
Before you even think of purchasing a grill cover, the first thing to consider is what kind of grill you own. Is it a charcoal or gas grill? Is it a cart-style or a kettle like? Is it an independent grill or built into a wall or cupboard? Or do you own a common standard gas grill?
Once, you know the answers to these questions you are safe now to look at different elements to look for before you make a purchase.
Size
This is one of the most critical factors. First, you need to know the size of your grill in order to get the idea of how big or small you need your cover to be. Make sure you get the right side cover that is not too tight and not too loose.
A tight cover might give you a challenging time when fitting it on the grill or even might not fitfully. However, the loose one is easy to fit but can lead to the formation of mold or mildew.
Consider a close fit that will keep moisture out at the same time reduce the chances of being blown away by the wind.
Material
Since you'll be using your grill for BBQ a lot, then you'll be removing and fitting the cover on the grill over and over.
Due to frequent use, the cover will be exposed to harsh elements throughout. Therefore, you desire your grill cover made from high quality, durable and heavy-duty material. Earlier on we talked about different types of materials which include: polyester, canvas, and vinyl.
Look for durable stitching and heavyweight material. Most covers are made from polyester, but they vary in thickness. Dernier expressed as 'D' is used to measure the thickness. The higher the numerical value before D, the thicker the material. A fairly good cover should be at least 600D.
Fastening Straps
A well-designed cover should have any tie-downs be it Velcro or snaps which will offer secure hold of the cover. It guarantees you protection against wind and reduces the chances of your BBQ blown over.
How important is the look?
If the outlook design is essential to you, then you have a lot to choose from. After all who wants to look at an ugly large cover in the yard? Looks are subjective, so we can't advise on what to or not buy. However, keep in mind to not waste money on a great color cover that fades away. Consider those with UV protection.
Waterproof and UV resistant
Whether in dry areas or the rainy season water is the number one enemy of your grill. There are several heavy-duty waterproof covers that can sustain even extreme storms. A water repellent grill covers guarantee more durability than the one without.
Most of our BBQ grill are outside therefore exposed to direct sunlight and UV rays. Without protection, your cover will fade over time as a result of strong UV light.
If you consider having your cover looking new throughout without fade, go for UV resistance. Also, keep your grill away from the exposure of direct light.
Warranty
Your grill cover will be exposed to harsh elements that might destroy its quality and durability. A good quality BBQ grill cover should come with a reasonable warranty. In most cases, a no warranty product implies low quality so be careful not to invest in a no warranty grill cover.
Frequently Asked Questions
Should I cover my grill?
Yes, we recommend getting a cover for your grill and cover it to protect it against harsh environmental elements.
How do I clean my grill cover?
Most grill cover is easy to clean. Hose the cover with water until all the dirt is removed then let it try. In case of any stubborn dirt such as bird droppings, stains you can remove with a damp cloth and mild detergent.
Conclusion
Investing in a grill cover makes perfect sense for almost all BBQ grill owners. It's a great way to extend the durability and efficiency of your grill keeping it decent for easy grilling.
There are so many various grill covers to choose from having both similarities and differences. For this reason, we have compiled the top 10 best grill covers in the market to select from. Not all covers will work for your grill, and it's important to know what you are looking for before spending your dollar.
We hope this review provides useful information necessary to help you find your best grill cover. We recommend any of the covers on our list if they can suit your grill needs.