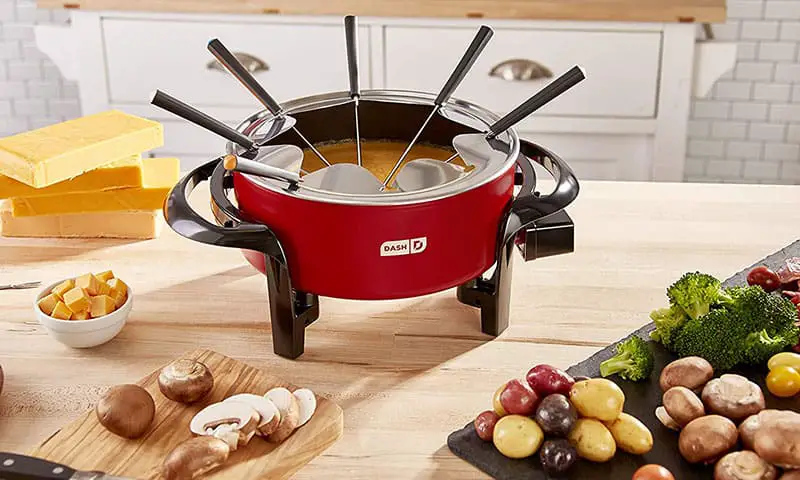 Making the best fondue meals requires a reliable Fondue pot. These pots come with the unique ability to help simmer that fondue meal to a savory taste. They exist in different forms based on a heat source and meal type, which are cheese, chocolate, Electric, and metal fondue pot.
However, for the best fondue meal preparation, you need the best electric fondue pots. They have proven to be fast and can simmer your fondue in no time. And now, we will be reviewing the best Electric Fondue pot you can use in preparing your favorite fondue today.
We do respect your time, so let's cut the chase and get straight to the point.
Best Electric Fondue Pots: Reviews and Comparison
Build and Design
With the Nostalgia LSM400 fondue pot, you get the best outdoor experience within the confines of your home. Its body parts are constructed with stainless steel contributing to its high quality and durability. This product has a size dimension of around 14.75 x 14.75 x 6.25 inches.
It weighs 4 pounds, making it suitable for heavy-duty fondue meal preparation.
This fondue set appears as a heater surrounded by a lazy Susan compartment tray to help spin and share food. With this set comes 4 stainless steel roasting forks for picking food from the pot.
Capability and uses
This electric fondue comes with a no-open flameless heater to help heat up or roast marshmallows, cheese, and chocolate on tabletops.
Extra Features
No open flame
Compartment tray for tabletop spinning
Safe heating source.
4 stainless steel roasting forks
Pros
Heats food quickly
Easy to clean
Well organized to serve a meal on tabletop
Cons
Not the best for making marshmallows.
Verdict
The Nostalgia LSM 400 Electric Fondue pot is fast and efficient in making your favorite fondue. It is the best alternative to toast when you don't have a fire.
Build and Design
If you need the perfect Electric fondue streamlined to making chocolate, then Deluxe Dual Chocolate Melting pot is the right choice. It features two cooking pots for meeting chocolates simultaneously. This Electric fondue comes portable with a size dimension of 11 x 8 x 9 inches and weighs 3 pounds.
The Electric Fondue's interior is made up of stainless steel, and it's non-sticky to cook up favorite chocolate treats. The best part is that you get 7 chocolate molds and fondue forks for the convenient melting of chocolate.
Capability and uses
For the ultimate heat regulation, the Deluxe Dual chocolate melting pot features a heat regulator thermostat to provide the required heat for warming chocolate. The Pot set is removable and easy to carry for easy pouring, dipping and drizzling.
The presence of molding trays allows you to make your treats in different forms.
Moreover, the presence of a metal cooling rack will enable you to keep your treats in a perfect form for consumption.
Extra Features
9 unique molding trays
12 recipes for melting and drizzling.
Metal cooling rack
Thermostat regulator for heat control
Pros
Highly safe to use
Durable and long-lasting
Fast and efficient in cooking
Cons
It can only be used for making chocolate fondue.
Verdict
With the Deluxe Dual Chocolate melting pot, you can never go wrong with melting the best sweet, savory chocolate fondue.
Build and Design
AiCOK Electric Fondue Pot is the perfect fondue set for serving treats at intimate gatherings. This pot features cool-touch handles for convenience in carrying. From its outlook, you get to see an electric fondue set with size dimensions of 9.8 x 9.8 x 7.8 inches and weight around 4.53 pounds.
Most of its body parts are durably constructed out of stainless steel. This Electric fondue set is accompanied by a detachable splash guard for safety against splash and burns. Now, a fork sander within the electric fondue pot prevents forks from slipping into the dish.
With this Electric Fondue, you get 8 forks with designated color coding for proper identification.
Capability and uses
It comes with a 3-qt capacity able to accommodate 12 cups of chocolate and melted cheese. With this fondue pot, one can always adjust temperature settings to warm or melt food at the required temperature.
This makes it possible to prepare different dishes like Chocolate, Caramel, Cheese, and many other sauces.
Extra Features
Cool touch and comfortable handles
12-cup (3-quat) capacity
BPA-free
Dishwasher safe
Pros
Presence of thermostat that regulates heat
The pot interior is non-sticky and easy to clean.
Comfortable to carry while hot
It comes with a large capacity for use in large gatherings
Cons
It uses a minimal temperature not fit for meat fondue.
Verdict
The AICOK Electric fondue pot is one that puts safety in mind. It best serves to make both cheese and chocolate fondue.
Build and Design
The Cuisinart CFO-3SS electric fondue maker is the right fondue set to make an outdoor party lively. Its dimension is 6.12 x 10.50 x 7.00 inches and comes at a lightweight of 1 pound. This product comes with a non-stick interior that ensures food items don't stick to the pot.
Its part is built of stainless steel, which contributes to the durability and makes it easy to clean. What's more? The set comes with 8 fondue forks for picking or dipping food items in the pot.
Capability and uses
This fondue maker comes with a capacity of 3-qt, which allows you to melt/warm the desired amount of food items. The presence of an 8-setting temperature probe that operates at 1000W provides optimum heat for cooking food.
With the Cuisinart CFO-3SS electric fondue maker, you can always melt or warm chocolate, cheese, broth, or oil.
Extra Features
Dishwasher safe.
Temperature probe.
BPA free parts.
Stainless steel fork ring (which is easy to clean)
Pros
Adjustable temperature modes for making different varieties of fondues
Wide pot opening to provide even heat for cheese fondue
Easy to clean
Cons
Short power extension cord.
Verdict
Cuisinart CFO-3SS Electric Fondue maker has the best temperature settings for providing optimum heat for fondue preparation.
Build and Design
If you need an electric fondue suitable for serving large groups, then the NutriChef chocolate cooker is your best fit. It comes with size dimensions of 10.1 x 8.9 x 6.6 inches and weighs 3.2 pounds. The countertop bowl is non-sticky, and it's made of Teflon to prevent food items from gluing.
This fondue set comes with 6 forks for dipping and picking food items from the pot. The dipping forks come earmarked with different colors for proper identification. It includes an electric base that has a power cord 3.3ft long for a maximum extension from the power source.
Capability and uses
The cooking bowl for the NutriChef countertop cooker comes with a 2.5-qt capacity for warming food ingredients. As an advantage, the countertop bowl can be removed from the electric base. With this electric fondue, you get a heater that operates under the power of 800W to generate optimum heat.
Also, you can warm up chocolate, cheese, and fruit items that require minimal temperature. You can also use for warming broth, vegetable, and meat.
Extra Features
Cool to touch handles for lifting
Resistance to high heat
Presence of rotatory temperature control to generate optimum heat
Long extension cord
Pros
This electric fondue pot is easy to clean.
It can simmer fondues quickly
Durable body construction
Cons
It sometimes take long to warm up when switched on
Verdict
With the NutriChef countertop chocolate cooker, you can always prepare fondue for entertaining your guest. It is also your greatest companion on a camping expedition.
Build and Design
If you need an Electric Fondue pot with maximum savings on energy, then ALDKitchen will be your best choice. This Electric fondue pot speaks of fine craftsmanship and premium design. The design comes in a compact, portable, and convenient form.
Furthermore, the ALDKitchen Chocolate melting pot features a top-notch quality construction made from stainless steel and an aluminum pot. Overall, this melting pot has size dimensions of 9 x 6.5 x 6 inches and weighs 4.1 pounds.
Capability and uses
This melting pot is mainly designed for melting chocolate to make delicious sauces with fruits, nuts, and bread. It features a heater that is highly efficient as it operated under 40W power. It comes with a tank of 1.2 Kg for use in the efficient warming of your favorite chocolate flavor.
The heating plate allows for rapid and uniform heating of your favorite chocolate flavor and works under voltage of 110V 60Hz. Using this fondue pot requires a connection to a power source, turning-on the button, and rotating the knob for temperature adjustment.
Extra features
Lightweight design.
2 kg of solid capacity
Manually controlled
Temperature range of 30 – 85 oC
Pros
Highly efficient in energy use saving you power costs
A good quality heating element
Portable design
Durable stainless steel construction
Cons
The on/off switch is not of good quality
Verdict
When you use the ALDKitchen chocolate melting pot, you get more savings on your electrical bills.
Build and Design
The Dash Electric fondue set is the perfect accessory for any fondue party. With it, you can make the best savory and sweet-tasting fondue meal. From its appearance, you get to see a compact and portable electric fondue with size dimensions of 13.3 x 16 x 5.8 inches and a weight of 4.9 pounds.
Its intuitive design makes it the perfect gift to give your loved ones on special occasions.
Furthermore, the pot features a PFOA-free non-stick interior for easy cleaning. The presence of 8-color coded forks allows for easy dipping of food items into the pot. The color-coding allows for easy identification of fork types.
Capability and uses
The Dash Electric Fondue set has a 3-qt capacity to accommodate fondue for large parties. It is embedded with a 1000W heater to provide the optimum heating temperature.
This Electric heating source features an adjustable temperature knob to provide different temperature range to cook the cheese, chocolate, oil, and other food items.
Extra features
15+ Recipe books
Fondue fork rack
1000-watt power heating element
Removable temperature knob
-Reinforced thermostat for heat regulation
Pros
It comes with a thermostat with a wide temperature range
Color coded forks for proper designation
This Electric fondue pot comes with the capacity to serve a large family
Cons
Not suitable for heavy-duty use
Verdict
You should purchase the Dash Fondue set if you need one with proper temperature regulation.
Buyer's Guide
Best Electric Fondue Pots – Buyer's Guide
How to pick the perfect Electric Fondue Pots
Material construction:
The material construction determines the pot's durability, heat absorption, and how easy it can be cleaned. For most Electric Fondue pot types, there are materials such as stainless steel, Teflon, or ceramic.
One of the best pots you can get is the one constructed with stainless steel because it conducts heat faster and also durable. The best part is that the stainless steel pot is easy to wash.
Temperature Control and range:
You will make the best choice if you opt for an Electric Fondue pot that has a temperature control feature. With such a type of Electric fondue pot, you can cook different varieties of food items at their required temperature. Such Electric fondue pots will have a temperature range indication.
Safety features:
Look out for features that could guarantee your safety in cooking on fondue pots. One such feature is a splash guard that prevents oily food items from splashing or burning your skin. Also, ensure the parts are detachable for it to be dishwasher safe.
Non-stick coating:
When picking the best Electric fondue pot, do ensure it comes with a non-stick coating. Such a non-stick coating provides an avenue for cooking foods without leaving sticky food items or greases behind. Such an Electric fondue pot will be easy to clean.
Capacity:
When picking your best choice of electric fondue pot, you do need to consider its capacity. The capacity, in this context, refers to the size and depth of the pot. If you need to make fondue for parties, you do need a larger pot. Smaller fondue pots are best used in a family setting.
What is a Fondue Pot?
The fondue pot is best described as a cooking utensil consisting of a pot attached to a portable heating source (electric heater or cooking fuel). The pot is used to heat melt cooking ingredients to an optimum temperature.
With fondue pot, you can prepare cheese, chocolate, toast bread, fish, and meat fondue.
What are the types of Fondue Pots available?
Fondue pots come in varying types depending on the kind of food to cook and level of heat required: They are;
Electric Fondue pots: This is one of the most reliable fondue pots that resonates well with any beginner. It comes with an electric heating element that requires plugging into a power source to make use of it. The best types of electric fondue pots are made from stainless steel. They also have a non-stick interior surface, which makes them easy to clean.
Metal Fondue pots: This type of pot is used to prepare fondue that needs high heat. Although you can use them to prepare cheese fondue, this type of fondue pot is explicitly made for meat and seafood.
Cheese fondue pots: These typical pots come with a wide opening for dipping food items. The wide opening allows for evenness in heating as cheese requires constant temperature. Also, the heat source (whether gel, electric, or alcohol) should be adjustable.
Chocolate Fondue pots: This form of fondue pot are often smaller than other types. One such type is the Deluxe Dual Electric Fondue pot. They make use of tea light in maintaining optimum temperature.
Uses and advantage of Fondue Pots
You do know that fondue pots help in making a delicious fondue meal for the sole purpose of entertainment. Now, there are many more advantages and use associated with the use of fondue pots;
You can use a fondue pot to keep food items warm.
Placing a fondue pot on your dining table could serve as a center of attraction.
The fondue burner (if detachable) can be a great way to toast a marshmallow or make smores.
The use of fondue sets serves as a great way to eat food in healthy portions
A fondue pot is a great company for making appetizers on a camping trip.
How does a Fondue pot work?
A fondue set usually comprises of a pot and heat source. The old form of fondue pot makes use of a burner often filled with gel-base fuel or alcohol to supply heat. However, we now have fondue pots, which makes use of electricity.
The heating element supplies heat to keep a fondue pot hot. This pot then conducts the heat transferred to the food item to cook appropriately.
How to make fondue
Making fondue is a fun way to entertain and provide appetizers for your family and guests. There are many types of fondue, we have cheese fondue, chocolate fondue, and meat fondue. For this illustration, let's consider the cheese fondue:
To make cheese fondue, you need a handful of ingredients like corn starch, garlic, white wine, kosher salt, crusty bread, tomatoes, and Dijon mustard. You can make a typical cheese fondue through the following easy steps:
Mix shredded cheeses with corn starch in a bowl.
Add garlic cloves to the fondue pot by rubbing all over the inside. Ensure the fondue pot is well oiled and cleaned beforehand.
Heat up the fondue pot and add wine to simmer.
Pour in the mixed shredded cheese and whisk constantly, then allow the cheese to melt completely.
Then add in mustard and stir till the fondue bubbles for 3 minutes.
Put in salt and pepper to season adequately.
You can dip in your crusty bread and tomatoes or pour them over to enjoy a tasty meal.
Tips for maintaining a Fondue set
To maintain a Fondue pot, you need to keep the following tips handy:
Ensure you put oil on the interior surface before you apply heat.
Always wash immediately after cooking with the use of hot water and dish soap.
Avoid cleaning the interiors of the pot with abrasive objects.
Ensure the fondue set is completely cool before moving it.
Frequently Asked Questions about Fondue pots
Can I use a chocolate Fondue pot to make cheese fondue?
A chocolate Fondue pot cannot be used for making cheese fondue due to its small pot size. To make cheese fondue, you do need a fondue pot with a wide mouth opening. This wide opening ensures cheese gets evenly heated to prevent it from solidifying.
What is the difference between chocolate and cheese fondue pots?
The only difference between chocolate and cheese fondue is their size. The cheese fondue pot is much broader than a chocolate fondue pot. Also, with a cheese fondue pot, you get an even heat distribution, which is on the negative for the chocolate fondue pot.
How many fondue sets do I need?
The number of Fondue sets you need depends on the purpose you want it for. If you need a fondue pot for family use, one fondue pot is okay as there are types that permit up to 8 dippers. However, if you need to throw a big party, then you would need more fondue pot set for convenience.
Which Fondue pot is the best?
With any of the Electric fondue pot reviewed, you can make the best tasting fondue for your family and guests. These electric fondues come with their peculiarities. However, they are all fast and efficient.
Among them, we choose the Cuisinart CFO-3SS to be the best as it is efficient, and it can be used in preparing different fondue types.