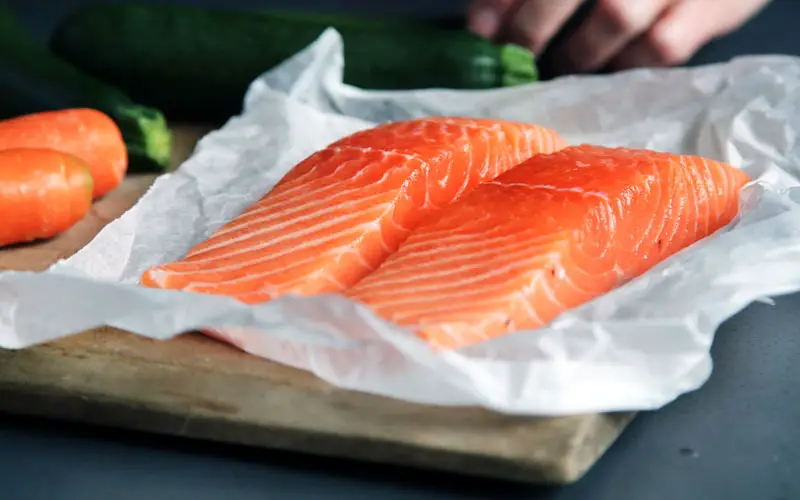 When cooked and stored properly, Salmon is a healthy and delicious fish that is consumed all over the world. That is why it is extremely important that one checks for signs of spoilage when taking the time out to cook it.
Throw away the salmon leftovers which haven't been refrigerated properly or which are older than a couple of days. Here we highlight a few ways in which you can check if your salmon is fit for consumption.

How to tell if Salmon is bad – Checking Raw Salmon
Before cooking, always check for any bad odor that the fish might have. If it has a pungent ammonia-like or fishy smell, the salmon is probably spoilt. Salmon that is fresh only has a mild scent.
Furthermore, salmon that has gone bad has the presence of a milky white texture on its surface. If there is an opaque film developed where the white, translucent skin should be, you should probably throw it away.
You can also check whether or not the salmon has gone bad by checking its raw consistency. If, while handling, it feels like the fish is breaking up, it is not fit for consumption. Fresh salmon is firm and holds together nicely.



If you have purchased the salmon with its head-on, check for any eye discoloration. Fresh salmon generally has clear, bright eyes with a dark pupil in its center. The eyes should also be slightly bulging out. If you see its eyes are sunken, it has most probably gone bad.
Another way to determine the freshness of Salmon is by checking the coloring of the fish. Fresh Salmon has a bright pink to orange color. If it is pale or dull in color, it is most likely spoilt. A fine line running through its skin is also another indication of its freshness.
Lastly, if you are still in doubt, check for the "best before" date on the packaging. Though it doesn't provide a definite prediction, it still gives one a good idea as to when it might go bad.
Checking if leftover is fit for Consumption
Leftover salmon that has a malodor should be thrown away immediately. A strong, foul smell is a clear indication that your leftover salmon has gone bad.
At the same time, if it doesn't have an appetizing smell, it is best not to consume it. Another way to know whether or not leftover salmon is fit for consumption is to check for consistency. If it doesn't have a flaky, thick texture, and instead has some sliminess to it, throw it away.


It is also not recommended that you leave your salmon at room temperature for more than a couple of hours. This is because bacteria can grow if the salmon is not refrigerated properly.
Always note the time when you cook or order your salmon from a restaurant and when it is refrigerated. Throw your salmon away after a couple of days regardless of whether or not it has spoilt or not.
Hope it was useful and don't forget to check our Easy Salted Salmon Recipe.