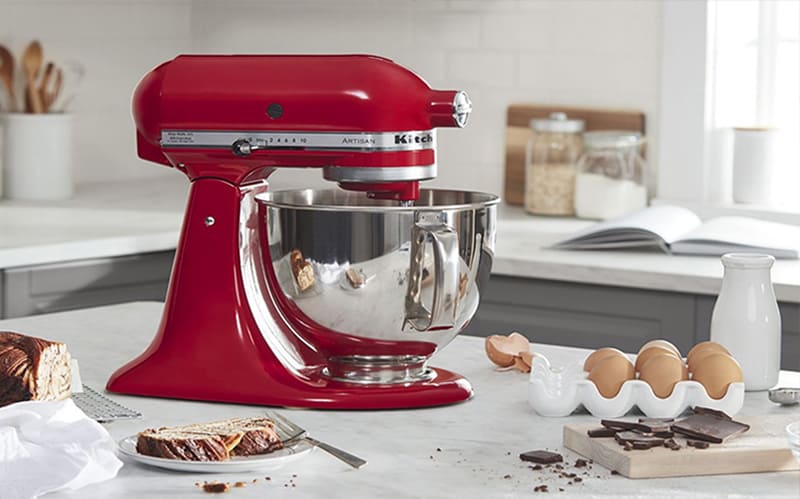 Do you need an intuitive way to mix your baking ingredients? Then you need the best offer of a mixer. However, it can't be just any mixer, but a stand mixer. With the best stand mixer, you can mix your baking ingredients efficiently and take time to do other tasks.
The best part is that you can knead, shred and whisk different food items.
There are a lot of available stand mixers out there, and our comprehensive review, along with a buying guide, will help you choose the best option. These best stand mixers will accommodate all your baking needs today.

Let's dive right in;
Power and Speed
The KitchenAid KSM150PSAC boasts of an efficient 10-speed suitable for fast mixing. With a power capacity of 250 watts, you can stir a thick dough with fewer constraints. With a slow start, the feature prevents splattering a flurry of flour from the initial operation.
Build and Design
This stand mixer comes as a tilt-head design, which allows quick access to the bowl with the ability to adjust the agitator's head. It comes with a 5-quart bowl capacity, which is enough to mix dough fit for making 9 dozen cookies and 5 loaves of bread.
This bowl is constructed of stainless steel material, which confers durability and an easy to clean feature. This stainless steel bowl comes with a comfortable handle for carrying.
With a power hub, you can always replace the attachment meant for intuitive mixing. What's better? This stand mixer unit includes 15 attachments, including a coated dough hook, flat beater, 6-wire whip, and 1 piece pouring shield.
Usability
KitchenAid KSM150PSAC showcases a unique mixing action, and it's powerful enough for stirring any baking recipe. This stand mixer unit can be used for kneading dough and whisking the egg.
Pros
Presence of slow start feature for uniform mixing
A large bowl capacity to accommodate your food recipes
Presence of power hub for use with different attachments
Easy to clean after use.
Cons
Not too powerful motor capacity
Some customers stated
Our Verdict
KitchenAid KSM150PSAC Stand Mixer affords you a versatile range of speed options to properly mix your recipes.
Power and Speed
The Aroma stand mixer features a powerful motor that generates 660 watts of power for propelling the agitator. The best part is the motor operates with low noise of 76dB. The Aroma Stand mixer comes with 6 optimized speeds suitable for making a vast range of recipes.
Build and Design
The aroma stand mixer comes with a tilt-head design that allows one to easily install and uninstall the mixing bowl. The bowl is constructed of stainless steel and has a capacity of 6.5-quart to accommodate all your kitchen needs.
Also, there's a stainless steel belt embedded for the purpose of decoration.
The presence of a blue LED indicator shows when the stand mixer is in operation. The motor is essentially built out of copper and has a durable ABS housing. An Anti-slip pad on the stand mixer gives you assurance for safety.
Usability
This stand mixer is the best for making cakes, pastries, and waffles. You will find this stand mixer a suitable blend for making dough without messing the tabletop platform.
Pros
Construction from die-cast metal confers durability
Powerful and efficient to use
A well-extended cord length
Large mixing bowl capacity
Cons
Some users complained about the speed range, claims it too fast at the lowest speed setting.
Our Verdict
If you need a mixer that is fast and can handle a wide range of recipes, then the Aucma stand mixer will be the best fit.
Power and Speed
The Dash stand mixer is your best plug for mixing sweet and savory food items. This compact mixer comes packed with a 250-watt motor that helps the mixer to work smoothly. It also comes with 6 different speed options from a low whipping to a high one.
The stated power and speed help knead or beat baking ingredients uniformly.
Build and Design
Dash Stand Mixer comes with a stainless steel bowl that has a capacity of 3-quarts, which is enough for small-size mixing. This stand mixer comes with other attachments, including 2 dough hooks for kneading, 2 mixing beater, and a recipe book for mixing guide.
The tilt-head design allows you to eject the mixing bowl without causing a mess.
Usability
With Dash Stand mixer, you have the perfect Kitchen appliance for mixing ingredients meant for making frosts, cream, and doughs.
Pros
Lightweight build
Quite versatile to use
It comes in a superb quality
Features a small footprint design
Cons
Some users claim difficulty in adjusting the head tilt
Our Verdict
The Dash stand mixer comes as a compact-sized mixer suitable for family use. So if you need a basic, no-mess, stress-free mixer, the Dash stand mixer is your best call.
Power and Speed
KitchenAid Professional comes with a 10-speed ability that allows one to mix uniformly from a slow speed mixing to a high one. The motor that helps propel the stand mixer to work comes with a power rating of 550 watts. At this speed and power, this mixer is fit for mixing a more dense dough easily.
Build and Design
This Stand mixer has a bowl-lift design, which helps raise the mixing bowl to a mixing position. This mixing bowl is a highly polished stainless bowl that confers outstanding durability. This stainless steel bowl feature handles for ease in lifting.
With this stand mixer, you have a power knead spiral dough hook that allows you to knead a 20% denser dough than other models of KitchenAid stand mixers. The presence of a pouring shield in this stand mixer will enable you to add the butter, dough, or cream you need to mix without splattering.
Usability
The motor of the KitchenAid Professional 600 stand mixer is quite powerful to help knead a dense amount of dough in 10 minutes.
Pros
Extremely versatile.
Dishwasher safe except for electric parts
Highly powerful and durable to use
Bowl-lift design for an appropriate adjustment
Cons
The mixing attachments for this stand mixer are not dishwasher safe.
Our Verdict
This stand mixer comes with heavy-duty capacity, and it suitable for use by professional bakers who bake a lot.
Power and Speed
Cuisinart SM-50BK stand mixer can handle the toughest of all mixing tasks as it comes with a motor power of 500 watts. This stand mixer also lands you a precision mixing with a 12-speed option.
Build and Design
The Cuisinart SM-50BK stand mixer has a large bowl capacity worth 5.5-quart to accommodate your mixing needs. This product allows easy access to the mixing bowl with its tilt-back head design.
Structurally, this stand mixer is constructed from a Die-cast metal, which confers some level of durability to the kitchen appliance.
The presence of a splash guard on the stand mixer makes the countertop mess-free during mixing activity. It comes with a variety of attachments, which include a flat beater for mixing butter, a dough hook for kneading, and a chief wish.
With a power hub outlet, you can make use of this stand mixer with other attachments like extruder, Pasta roller, meat grinder, and many others.
Usability
With a stand mixer like Cuisinart SM-50BK, you can nicely wipe eggs or cream. This stand mixer can also knead the dough for making bread. A slow start feature on the stand mixer is best applied for even mixing of flour.
Pros
Lightweight to carry
Gives a mess-free operation when in use
The presence of a splash guard prevents the splattering of food recipes while mixing "
Consists of an Easy control dial for proper speed adjustment
Cons
Some users claim that the stand mixer unevenly mixes the dough and some other mixes.
Our Verdict
This Stand mixer is suitable for anyone who needs a lightweight stand for average-size mixing.
Power and Speed
The Hamilton Beach Classic hand/stand mixer comes with enough power to handle different types of baking mixtures. This mixer features a power capacity of 290 watts, which helps drive the mixer's motor. When it comes to speed, the Hamilton Beach classic has six-speed settings for uniform mixing.
A Quick burst feature that comes with this mixer provides extra power and speed while the stand mixer is in operation.
Build and Design
This stand mixer comes with the main unit built from brushed stainless steel while the stand and turntable are made of plastic. As a 2-in-1 mixer, you can easily detach the lightweight mixer from the stand base for mixing versatility.
This 2-in-1 mixer features a large stainless steel bowl of 4-quart, which can accommodate your cooking recipes. The presence of a bowl rest feature prevents messy drips all around your kitchen workstation.
On the last note, this hand/stand mixer comes with a versatile range of attachments, which include Traditional beaters, whisks, and dough hooks.
Usability
This mixer can be used either as a hand or a stand mixer. To attach the mixer, you need to place the holes underneath the mixer on the stand hooks and press backward till it locks in.
A shift and stir bowl lever allows movement of the turntable along with the mixer to help whisk, whip or knead your mixing ingredients uniformly.
Pros
The mixing tool can be used independently since it's easy to detach
Lightweight body
Large stainless steel mixing bowl that can accommodate a family recipe
Makes less noise during operation
Cons
Not the appropriate mixer for kneading dough due to low 290-watt power
Our Verdict
If you need a stand mixer with more versatility in use, then the Hamilton Beach stand mixer will be your best fit. This mixer doubles as a stand and hand mixer depending on whatever you want to use it.
Power and Speed
Bosch MUM6N10UC Universal Plus stand Mixer is a heavy-duty stand mixer that comes out of the box with 800 watts of motor power. It features a 4-speed capacity along with a quick pulse functionality, which gives one the ultimate ability to uniformly mix any recipe you desire.
The power and speed for this stand mixer are German-engineered to effectively mix the toughest of all doughs up to 15 pounds.
Build and Design
The Bosch MUM6N10UC Universal Plus stand Mixer is a lightweight stand mixer attributing to the presence of its motor under the bowl. It includes a sturdy 6.5 quart capacity of a mixing bowl able to accommodate your baking recipes.
This mixer has a unique bowl design that removes the need to adjust the mixing head to add ingredients and prevent the spread of mess around the workstation. Beneath this stand mixer, you will find 4 suction cups that act as a safety measure to secure the mixer in place.
In terms of construction, this stand mixer is essentially made of plastic and features internal metal parts. The presence of a removable drive shaft in this unit ensures its easy cleaning ability. A splash cover on this stand mixer to prevent splattering while in operation.
It also features an array of heavy-duty attachments such as a 6-cup capacity blender, meat grinder attachment.
Usability
One of the most significant advantages of this stand mixer is its uncompromising lightweight appearance. This stand mixer can mix up to 26 cups of flour with less strain. It features a high-speed belt transmission that automatically detects the maximum load of the recipe being mixed.
Based on the attachment provided, this stand mixer is capable of grinding meat, pasta making, shredding potatoes, and many other uses.
Pros
Allows for stress-free mixing
It comes with a large capacity for use on a commercial scale
Lightweight
Compactible with a wide range of attachments
Cons
Some customers complained about noise generated
Our Verdict
You need a Stand Mixer like a Bosch MUM6N10UC stand mixer to mix a large number of recipes either in the kitchen on a commercial scale.
Best Stand Mixer – Buyer's Guide
Things To Consider When Choosing The Best Stand Mixer
You need enough bowl capacity to help mix a large number of baking ingredients. However, the bowl capacity is not equal to being efficient. That's because a larger bowl capacity is only required for a large mass of food items. It won't be the best fit for mixing small batches of cream or butter.
Therefore, choose a stand mixer based on a proportionate size.
The power determines the extent to which the motor of your stand mixer can work. If you are preparing a quite dense dough, you will need a stand mixer with more than 400-watt maximum power. Always go for a stand mixer with a high power-rating for use on a commercial scale.
A low power stand mixer is suitable for use in a family setting.
There are two types of mixing mechanism for stand mixers, which includes the spiral and the planetary mixing. The spiral mixing mechanism is associated with bowl-lift mixers in which the bowl rotates while the head remains static.
A stand mixer that utilizes spiral mixing has more power for mixing heavy dough. On the other hand, planetary mixing, which is associated with a tilt-head mixer, allows for more versatile use, such as blending and whipping.
Look closely at the number of attachments a stand mixer that comes with a unit. This shows the extent to which you can make versatile use of such a stand mixer. You are in the best position to maximally utilize a stand mixer that has more attachment than any other.
What are Stand Mixers?
A stand Mixer is a mechanical Kitchen appliance best use in mixing food ingredients for baking. This Kitchen appliance works when propelled by electric power to a gear mechanism. Unlike hand-held mixers, stand mixers feature powerful motors that help direct power towards efficient mixing.
Furthermore, a typical stand mixer consists of a bowl locked into the appliance along with other attachments. These attachments could either be a wire whisk for whisking eggs and cream, a flat beater for butter, and dough hooks useful for kneading.
The stand mixer is best used on a home or commercial scale.
How does a Stand Mixer work?
Stand mixers come with embedded motors that help drive the rotatory device for making a proper stir. However, stand mixers are of different types, and they have different mixing actions. There are stand mixers that stir baking ingredients through rotation of the bowl, also known as spiral mixing.
The other principle involves the rotation of the mixing device known as planetary mixing.
For spiral mixing, the spiral-shaped agitator or mixing device remains stationary when plugged into a power supply. Planetary mixing is where the mixing bowl is made stationary while the mixer or agitator rotates over the baking ingredients.
For any type of mixing, the stand mixer works once the current is supplied to the motor, which in turn propels the mixing action.
Types of Stand Mixer available on the market
There are only two significant types of stand mixers available in the market today. This includes;
Tilt-head: This type of stand mixer utilizes the planetary form of mixing. For this type, the head tilts back from the mixer's base that comes with a stationary bowl attached to it. They often come with a bowl capacity of 3.4, 4.5, and 5quarts.
Bowl lift: This type of stand mixer is observed to have a bowl that sits on the arms of the mixer (no attachment to the base). They are usually the type with substantial capacity from 4.5 -8 quarts. It utilizes the spiral form of mixing in which the bowl rotates, and the head of the mixer is stationary.
Best Brands of Stand Mixer to go for
When it comes to getting a top-quality and durable stand mixer, you need to look for the following brands. These brands provide the best quality product, and they make no difference with stand mixers. They include;
Kitchen Aid
Bosh
Cuisinart
Tips for using a Stand Mixer perfectly
To get the best experience from a typical stand mixer, you need to keep some mixing and preparation tips handy.
Always start using your stand mixer from the lowest speed before increasing
Scrape down mixture remnants from the side of the mixing bowl to ensure uniform mixing
Use the appropriate attachment for the right tasks. For example, a flat beater is useful for beating, creaming, and mashing food recipes.
Ensure you keep to par with maintenance practices such as wiping and cleaning before use.
How to care for Stand Mixers
The use of a hand mixer for a long while dictates you take proper care and maintenance of the unit. This entails keeping in line with some basic maintenance tips while using a hand mixer.
Do ensure that there is enough clearance or space between the bottom of the bowl and the mixing attachment. However, ensure it's not far apart either to account for proper mixing.
Operate the stand mixer at a slow pace before increasing the speed once you start using it.
Regularly clean up the stand mixer with all attachment removed to help clean out dirt clogs
Do cultivate the habit of lubricating moving parts of the Stand mixer occasionally to reduce friction.
Whenever you clean the stand mixer, ensure the unit is unplugged from the electrical supply.
Why do you need a Stand Mixer?
You need a stand mixer for versatility when it comes to mixing food ingredients. A basic stand mixer comes with three attachments, namely a beater, whisk, and dough hooks for different mixing tasks. A beater attachment on your stand mixer allows you to mix cake batters and frostings.
Also, a flat battery will enable you to blend in other savory ingredients into butter without hand contact.
Thanks to a whisker attachment, you can use a stand mixer to help whisk eggs to a fluffy outlook. What's better? You can knead any kind of dough you desire. All these mixing techniques can only be done efficiently with the use of a typical hand mixer either at home or in the baking industry.
Frequently Asked Questions
What is the cost of the best stand mixer?
There are different price variations when it comes to buying the best stand mixers. These variations solely depend on their capability, durability, and how versatility. However, do expect to get the best premium looking stand mixer at a price range of $300 – $500.
Does the use of a stand mixer have a limit?
The use of a stand mixer comes with its limitations. For instance, you can't mix over stiff ingredients as this will overload the motor and cause burnout. Also, each unit of stand mixers has its maximum capacity limit and wattage generation.
The best way to often work around these limitations is to keep to the instructions related to power, capacity, as stated in the user's manual.
Conclusion
You can never go wrong with selecting the best stand mixer for your mixing needs. From our comprehensive review, we have Bosch MUM6N10UC Universal Plus stand Mixer as the best stand mixer. You should buy this stand mixer if you need a large bowl capacity to accommodate your mixing needs.
What's better? This stand mixer guarantees stability while in operational mode and can be used for denser mixing tasks.