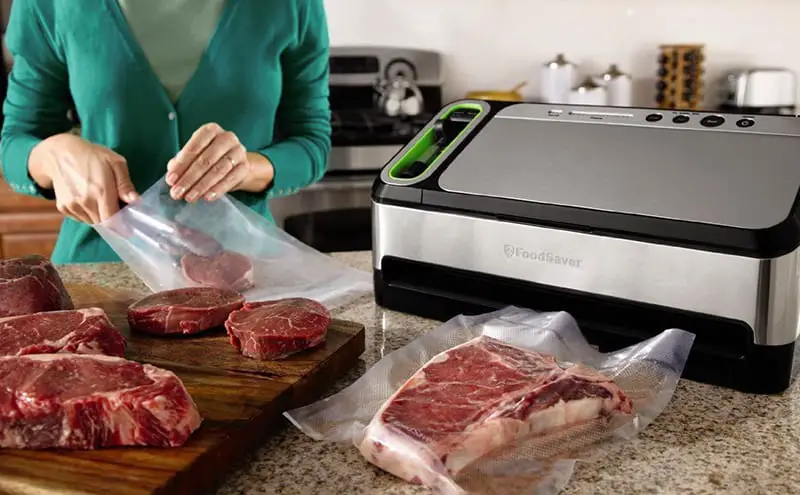 The best way to save money is to purchase in large quantities, especially for seasonal foods. However, if the food begins to spoil before it is used, it will result in the wastage of both the food and the money spent on purchasing it.
A vacuum sealer eradicates this problem by expelling air from the plastic bag the food is kept in, making it last 3 to 5 times longer than regular preservation.
We have gathered the top 6 vacuum sealers that can efficiently do the job. Read on to learn about them and also other useful information that can help you make the right choice and also get the best out of a vacuum sealer.

Best Vacuum Sealers Review
Intrigue vacuum sealer helps preserve the freshness of your food and creates more space either in your freezer or the cabinet. This model helps to protect the food from air and freezer burns.
It has a separate design where you can separate the top lid from the bottom for easy cleaning.
Also, it can seal dry and wet foods correctly with its dual sealing mode.
Additionally, this product is very versatile and super convenient to use in the kitchen at all times. Besides, it comes with an easy-to-use indicator light and a user-friendly operator. An improved heating wire, air vent, and multipoint detection and protection are also included.
The stainless-steel panel makes cleaning very easy. This best vacuum sealer seals within 6 – 10 seconds, with 10 – 20 seconds between each seal.
Who Should Buy This?
Working parents who need to store baby food
Those who buy in bulk
Those who need more storage space
Key Features and benefits
2 selectable modes for sealing. The type of food you want to seal will determine the mode you will select
Separated design that makes it possible to remove the lid at the top and clean the machine easily
Pros
Very durable, compact, and lightweight
Quality construction
Operation is easy
It can vacuum seal any food
Cons
Does not sometimes suction the air out as it should
This is one of the best vacuum cleaners that is portable and operates automatically, and also useful for zipper bags, containers, and canisters. This vacuum sealer has an automatic bag identification that can seal any container and keep your food intact for an extended period.
It enables the sealing of marinated foods within minutes rather than hours.
Also, the product allows you to determine the amount of air that should be expelled from the food, to prevent the squashing of delicate items. It also helps seal foods with liquids without drawing them into the vacuum.
Although it is widely believed that the machine works better with the bags provided by the company, your food would not lose its originality if you use another bag.
Additionally, this model helps to extract air from bags and jars to prevent spoilage, which in turn helps you to save a lot of money. Bag storage and a cutter are included to help you fit the bag to whatever size you want.
Who Should Buy This?
People who seal liquids a lot.
People who store food in containers.
Features and Benefits.
Fully automatic operation – It uses unique technology to determine the bag and food type before sealing it up.
Waterproof heat seal – It takes out all the air from the bag before using heat to generate a watertight seal that blocks all kinds of moisture, air, and frost.
Retractable portable sealer – This is used for zipper bags, canisters, containers, jar sealers, and other accessories.
Pros
Vacuum seal zip bags, jars, containers, and canisters perfectly
Five-year limited warranty
Detects moisture automatically
Offers very consistent sealing
Cons
The automatic scanner prevents impromptu decisions.
The Geryon vacuum sealer is very useful in sealing bags with textured sides since the sealer is very flexible. Its small size makes it easy to store, carry about, and reduce the level of noise it makes while still maintaining its function.
Also, it is very efficient in sealing and keeping many items well despite its size. The heat-sealing element makes sure that the freshness of your food is retained for a very long time. This product has an indicator light to alert you once sealing is completed.
It also assists in extracting air from containers and jars, respectively, and is very easy to store anywhere.
Additionally, this product is not so expensive when compared to other vacuum sealers. Regardless of its price, it is very versatile and performs numerous functions just to preserve food. A starter kit is also attached to it when purchased to let the user get accustomed to it.
It is operated with a button that helps the vacuum get the job done once the food is placed in the machine.
Who Should Buy This?
People with little storage space
People with little budget.
Features and Benefits.
Soft-touch digital buttons, indicator lights, and the control center at the top of the panel are all easy to use.
Durably constructed and easy to clean units – The way it is manufactured makes it very easy to lift the lid and clean it up after every use.
Six food settings to meet all sealing needs
Multi-layer material heat – this help to seal your food, prevent freezer burn and keep air out
Pros
Very sensitive and efficient
Durable heat sealer
Suitable for sealing wet and dry food
It is not complex to use out of the box
Cons
The machine does not always hold while sealing
The Food-Saver FM2000 is very easy to use as you need to put the food in the bag and leave the rest of the work for the automatic sealer. It is effortless to maintain since you can just remove the drip tray and place it in a dishwasher.
This model is straightforward to store as it is more efficient and very portable. You can use this kitchen appliance to seal jars and bottles.
With the automatic censor that detects bags very quickly, this best vacuum sealer is efficient and prevents bag wastage when sealing. It is versatile and convenient to use in the kitchen since it lets you plan what to cook ahead.
Also, the machine assists you in achieving your goal of saving more money, as you can buy both snacks and foods in bulk, at a cheaper rate, and keep them for about 1 – 3 years.
It is not only ideal for the preservation of food but also the preservation of important papers or photographs from any form of liquid. The bag rolls that come with it are also very safe for sous vide.
Who Should Buy This?
People who prepare sous vide
Those who hate wastage
Features and Benefits.
Reduces bag material used – It makes use of about 40% less bag than other vacuum sealers.
Accessory hose – Helps in vacuum-sealing containers.
Removable drip tray that collects debris and excess fluid
Pros
Dishwasher-safe drip tray
Food bags and rolls are added to the package.
Suitable for light use
Cons
It is not suitable for heavy use
Nutrichef vacuum sealer, just like any other best vacuum sealer, preserves food three to five times longer and fresher than regular bags. It is not only notable for its portable size, but also its versatility and quietness while working.
This machine has two sealing options – dry and moist, suitable for sealing foods with liquids and dry foods. It can draw out about 12 liters-per-minute and can close a compact packed food within four seconds.
Additionally, the Nutrichef vacuum sealer is packaged with five average vacuum bags and one huge bag roll as part of the starter kit, and they are both waterproof and reusable. It is also economical and fast with its simple electric plug-in design.
Besides, this top-of-the-range vacuum sealer is suitable for storing baby food and, again to reseal wine, oil, and vinegar.
Its temperature can go up to 212 degrees Fahrenheit, and its sealable bags are very friendly to the environment. Although it is tiny and light, it can suit any color theme in your kitchen.
Who Should Buy This?
Those who are allergic to noise
Those who love recycling
Features and Benefits.
Reusable and waterproof sealing bags – The reusable and waterproof sealing bags provided by Nutrichef goes a long way to preserve the freshness, taste, aroma, and color of the food sealed. The material used to produce these sealing bags are very safe and durable and helps prolong the food's life.
Easy to clean and resistant to stain – This product makes it very easy for you to clean the sealer regularly. Regular cleaning of the vacuum sealer after us is necessary to keep the machine durable and to kill bacteria.
Pros
Very quiet during use
Faster and economical
Increase food shelf life effectively
Fully automatic and straightforward to use
Cons
The drip tray cannot be removed
This model is not only small, but it is also very light and portable and can be stored easily. The two seal settings make sealing very easy to do, as it protects soft foods from crushing quickly. It also has no problem with closing dense foods like meat.
Besides, the one-handed power of this best vacuum sealer makes it easy to lock the lid with just a turn instead of using both hands.
This model is also very harmonious with handheld sealers and other appliances. The handheld sealer can be attached to this vacuum sealer with the accessory hose in the machine. It is produced specifically to prevent burns, and the vacuum port is also easily accessible.
The drip tray can be removed, making it easier to clean droplets of food liquids.
You can operate this machine with just a single touch, and it has an extra-wide sealing strip to make sealing easier. Once you fill the bag with the food you intend to close, you need to place the bag into the sealing channel and press the button to vacuum seal.
It only needs 20 seconds to cool down between seals and also meets up to UL and ETL safety measures.
Who Should Buy This?
Those who mostly vacuum seals soft foods.
Those who want to get rid of freezer burns when food is sealed
Features and Benefits.
Extra-wide sealing strip – this helps in reducing wastage of bags and supplies heat for a waterproof seal
Handheld sealer – for sealing zipper bags, canisters, and containers within a minute
Pros
One-touch operation
Reduces bag waster
Provides extra-tight seal
It is versatile
Cons
Some users complained about its durability
Best Vacuum Sealer – Buyer's Guide
Why Should You Buy A Vacuum Sealer?
A vacuum sealer is necessary for everyone, especially those who prefer bulk buying. It is prevalent for people to put food into a plastic bag before placing it into the refrigerator to prevent spoilage. However, this method is not as effective as using a vacuum sealer.
Here are some reasons why a vacuum sealer is an excellent necessity in households:
Decrease oxygen in stored food – Excess oxygen in a packed food can lead to early spoilage of the food. This is because oxygen helps to encourage the growth of microorganisms, leading to molds and yeast development in food. However, a vacuum sealer helps eliminate this problem by reducing the level of oxygen in packed food. This is done by taking out the air in the plastic bag and sealing it up with a hermetic seal.
Easy to Store – Vacuum sealers make it easy for one to store food for a long time. Once the air is out of the bag and sealed with a hermetic seal, keeping food becomes 3 – 5 times more efficient. Also, the quality of the food will remain excellent for a long time, be it frozen or dried food.
Features to Look for When Purchasing A Vacuum Sealer
Before purchasing a vacuum sealer, it is necessary to take note of some factors and features that will match your requirements. Listed below are essential components to take note of before purchasing a vacuum sealer.
Size – The size of a sealer is a crucial factor to consider. This is because the size determines how heavy it is and how easy it would be to move around in case you plan to store the machine elsewhere.
Settings – When shopping for a vacuum cleaner, it is necessary to take note of the settings of the vacuum cleaner of your choice. Vacuum sealers with dual settings have a significant advantage, while those with automatic settings are exceptional for operating with a single touch.
Cleaning Ease – Cleaning helps a lot in the maintenance of a machine. Therefore, choosing one with a removable drip tray and seal bars that are easy to clean is better.
Bag Storage – When you have a vacuum cleaner that stores bags, it makes it easier to vacuum-seal your food. This is because the sealer will cut the bags without the need to place them bags on the sealer.
How Does A Vacuum Sealer Work?
As discussed earlier, a vacuum sealer helps preserve food by extracting the air(oxygen) from a bag or container to reduce spoilage, especially for bulk purchases. It also works well in preserving foods placed in the freezer, like fruits, meats, and vegetables.
As a matter of fact, fresh meat that has been vacuum-sealed can be kept in the freezer for about three years without losing its freshness. Ensure you blanch your vegetables before vacuum-sealing and throwing them into the refrigerator.
Anytime you plan to make use of frozen food, ensure you take the food out of the bag before defrosting it. Doing this reduces the risk of food poisoning created by a bacterium called Clostridium botulinum, which grows in environments with low oxygen.
How to Use A Vacuum Sealer?
When using a vacuum sealer, you should follow the manufacturer's instructions. Regardless of that, make sure you follow these simple steps when using a vacuum sealer:
Put the food into a plastic bag or a roll of the vacuum bag.
Make sure you have enough space in the bag, preferably four (4) inches from the top. If there is not enough space in the bag, the vacuum sealer will not be able to expel the air out of the bag. Once the air is not removed, the bag might not be adequately sealed, which can lead to food contamination.
Once the food is secured in the bag, switch on the appliance, and allow it to heat up.
When the machine is heated, place your food into the deck of the device. The device would then expel the air and seal the bag tightly. In some cases, the machine would glitter or echo once it is closed.
It is important to note that vacuum sealing helps to preserve food only in the environments it is stored usually.
What Are the Types of Vacuum Sealers?
Before choosing a particular type of vacuum sealer, you need to take note of your requirements. There are three types of vacuum sealers, each with its specialty. They are;
This is the most prominent type of vacuum sealer, which can be used in large quantities for various types of sealing. Although they cost more, they are very versatile and perform better than other vacuum sealers.
They expel more air than other vacuum sealers, and they are the best for sealing liquids or food with juices. Due to their cost and weight, they are better to use commercially.
This is best to use at home occasionally. Although they are not as versatile as the chamber vacuum sealer, they don't cost as much as it and are also versatile and easy to use in their way. They are not heavy and do not need a lot of space, the best to start vacuum sealing with.
They help in packing meat, bread, nuts, cheese, and almost all homemade food apart from liquids perfectly. External vacuum sealers work well with any kind of plastic bag.
In case you need a vacuum sealer for minor jobs, and you need to take it along with you while going out, this is the best one for you. They are very portable and simple to use since you can use them with a rechargeable battery or plug it into electricity.
They are not so expensive, and you don't need much space to store them. It uses a unique bag and seals the bag before expelling air out of it.
Tips to Maintain A Vacuum Sealer
Maintenance is an essential factor that helps determine any machine's sustenance. Once a device is not maintained, its durability decreases, which would, in turn, affect its service life. To maintain a vacuum sealer, you need to follow a specific routine.
The first part of a machine to be maintained is the body.
After making use of a vacuum cleaner, ensure you use a wet sponge to get rid of dust and spots.
To clean a drip tray of the juices from food, use a rag, or wash with soap and water if it is removable.
Also, ensure the seals and welding bars are clean at all times.
When cleaning the vacuum sealer, make sure any form of liquid does not go into the suction pipe so as not to affect the sealer.
Vacuum Sealer FAQ
Can I Seal Liquid with A Vacuum Sealer?
This depends on the type of sealer. A chamber vacuum sealer has no problem with sealing liquid foods. However, sealing liquid-rich foods with an external vacuum sealer is not really attainable. Although some models have a marinate button on its panel, a canister has to be used with it.
The only way to seal liquids using an external vacuum sealer is to freeze the liquid before sealing it up.
Can I Reheat My Food While Inside A Vacuum Seal?
Yes, foods inside a vacuum seal can be reheated since a vacuum sealer not only makes it easier to store food but also to cook and reheat it. However, there are particular instructions to take note of.
It is better to reheat oily foods with a microwave. Therefore, use microwave-safe vacuum-sealing bags when sealing oily foods. When reheating dense foods, boiling is the best option, which is why a boilable vacuum-sealing bag should be used when sealing dense foods.
However, if the food is frozen, remove it from the vacuum-sealed bag before defrosting it. This way, you lower the risk of suffering from food poisoning.
Can I Vacuum Seal Any Food?
A vacuum sealer can be used to pack practically any food with ease. However, there are few foods that either need to go through a process before they can be sealed or cannot be sealed.
Vegetables, for example, need to be blanched before vacuum sealing it, to get rid of the enzymes that reduce the color and quality.
Meanwhile, foods like garlic, mushrooms, and unpasteurized/ soft cheese should not be vacuum-sealed due to a bacterium in it that grows in an environment that lacks oxygen. Ensure that the temperature of any food you seal is at least at room temperature.
This is because a food sealed while it is still hot is at risk of nurturing bacteria.
Do I Need Special Bags for Vacuum Sealers?
Although external vacuum sealers work well with any kind of plastic bag, there is a bag that works best with it. The textured mesh bag helps the machine to have a firm grip on the bag, which makes vacuuming and sealing easier. The chamber vacuum sealer works better with smooth textured bags.
Conclusion
Any of the best vacuum sealers mentioned above is the next machine you need on your kitchen counter if you are looking to preserve leftovers or get into sous-vide as a home cook.
With the multitude of vacuum sealer option begging for your attention in the market, the buyer's guide provided will help you make the ideal choice that meet your kitchen needs.