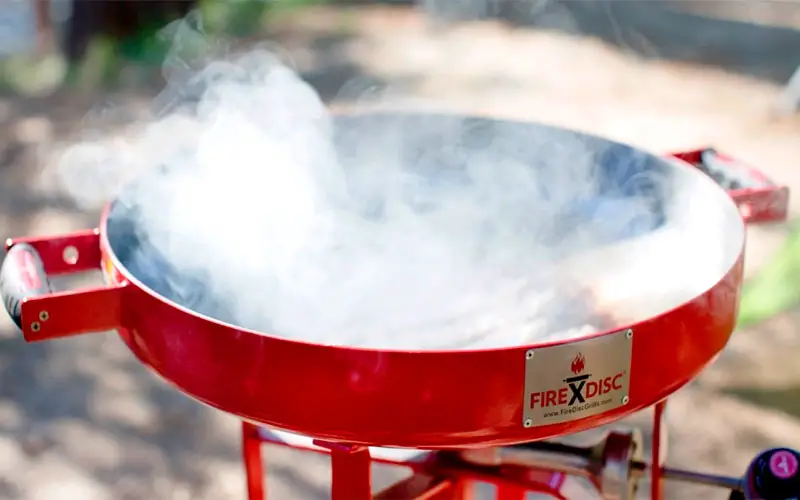 A gas grill is a piece of item that provides a convenient way to cook food over the fire. In short, they provide an alternative in preparing your meals and barbeques without the need for smoky Campfires.
Now, one of such Gas Grills is the FireDisc Gas Grill. The Fire Disc Gas grill provides an affordable, convenient, and clean means of cooking your outdoor meals. It revolutionizes your outdoor cooking experience.
Want to know more about the Fire Disc? Read on our Fire Disc Review!


Looks and Impressions
Fire Disc Gas Grill could be the right choice of a summer cooking gadget. This is because it can easily be assembled or disassembled and can save a whole deal in cooking outdoor meals. To cap it all it is a clean and safe means of cooking outdoor meals.
The characteristics of being flexible and durable is also a game-changer for this Gas Grill based on its 3-piece stand design and material construction.
Unboxing this product, you get to see some disassembled components such as; a heavy disc built in a concave shape, 2-piece interlocking steel-like stand with a regulator ( to be attached to a single gas burner). Setting up is a matter of resting the heavy disc on the 2-piece interlocking steel stand.
One impressive feature of this Gas grill is that it comes with some other essential accessories such as an Ultimate cooking weapon (large cooking spoon), a Frying spoon, a Fire Disc wind element, a propane tank, and a low-pressure hose adapter.
Features
The ultimate cooking weapon is in the form of a large-sized spatula featuring a dished blade that is designed to work well with the FireDisc cooker. It is majorly used to flip steaks and direct food to receive the ultimate heat for grilling. This ultimate cooking weapon has a long stand and is constructed out of stainless steel and a rubber-molded grip that insulates against heat.
The Frying spoon is one over-sized deep dashed blade essentially used for deep frying on the Fire Disc cooker. It is also constructed out of stainless steel material and drains oil well due to a deep drain technology.
With the use of a wind element, you can protect the Fire Disc Grill from the wind. The wind element ensures that you keep cooking even during windy wrath. This wind element material requires no special installation and still sets securely in place. It can be folded easily for easy storage and comes with hinges with stainless steel pins.
Propane tanks are cylindrical-like storage materials for storing propane in its liquid form, and it is directed to use in Fire Grills. They can either be mobile or stationary. Propane tanks come in different size dimensions depending on the capacity of propane you need.
So what is their use for a FireDisc Gas grill? The propane gas stored in a propane tank is a source of fire for grilling food recipes (Such as steaks or venison). Connecting this accessory to the Fire Disc Gas grill requires that you make use of a low-pressure hose adapter of good quality that can prevent any form of an accident such as burns, scalds when grilling.

Design and Material construction
The Fire Disc gas Grill consists of a concave disc made to look like a disc plow only that it has a flat, concave surface area. It also consists of two collapsible 3-piece stands nested together and with a Gas regulator attached in between. Almost all parts of the Fire disc grill is made out of stainless steel material.
The stainless steel material offers an anti-corrosion feature that keeps the grill durable. The concave disc is designed to be circular and constructed in a concave form, so it has different heating patterns. The center of the disc is the aspect that receives the highest heating temperature and can be used for grilling.
While the sides of the Fire Disc with varying heating zones can be used for conventional warming and cooking, the Disc like concave plate comes with side grips that is well secured with stainless steel lock tight screws. The Disc grips consist of a constructed rubber-like material that serves as a fire retardant.
Underneath the Disc plate is a reliable burner that generates the heat for cooking your food recipes. The burner is powder-coated internally to conduct and promote more heat. The Stands of Fire Disc comes with an adjustable mechanism.
Extra Features and Performance
Mobile-Friendly and versatile
Take this Gas grill anywhere you go. With this impressive feature, you can carry it on your next camping trip. This is possible as it comes with collapsible stands and requires no technicalities in setting up.
Corrosion Resistant
All thanks to its Carbon steel construction the Fire disc is fully protected from the effect of elements such as water and excessive heat. Fire Disc being resistant to corrosion keeps it assured of longer shelf life or durability. This also allows you to cook, grill, and steam your outdoor meals regularly for as long as you want.
Easy to clean and maintain
The fire Disc gas grill is one that is quite easy to maintain. In cleaning the gas grill, you only need to use water and a piece of paper towel. Even when you burn a food item, you do not need to use detergent or any bleaching chemicals. All you need is to heat some amount of cold water, allow it to cool, and pour away; then you get your gas grill clean again.
Fast heating
The Fire Disc is made of a non-ceramic premium Carbon steel material. Now, one unique feature of stainless steel is that it is highly resistant to heat. Despite this fact, the Fire Disc gas grill, all the same, promotes fast heating. This stems from the fact that the disc is powdered coated internally to generate as much heat as possible while still regulating to prevent burns. Also, the Flame burner is powder-coated, and this ensures a proper promotion of heat suited for heating.
Cooks Large Volume of Food Recipes
FireDisc gas grill comes with an ample surface area around a diameter of 22 inches which gives enough room to place all cooking essentials in the desired heating zones.
Propane Fueled
FireDisc gas grill is entirely fueled by propane gas from a propane tank connected to the low-pressure gas regulator through a low-pressure hose.
Seasoned effect
Elongated cooking with the gas grill over time enhances the flavor of whatever food you are cooking. With this Gas grill, you can enjoy the smell of sizzling, juicy steaks.
Flexible stand
It comes with leg stands that can easily be bent to one's desirable position.

Fire Disc Review – How to use
From unboxing your FireDisc gas grill, there are some details you need to pay attention to when it comes to its usage. They range from lightning and seasoning to cooking.
In using the FireDisc, follow the steps below:
Unboxing
From unboxing, bring out the components and wash the FireDisc with soap and water. Beware, this is the only time to make use of soap on your FireDisc.
Rinse with water and then dry it.
Assemble the components by intersecting the interlocking legs, then attach the burner and gas regulator.
Connector screw in a propane Canister directly (if it's a small size) or use a low-pressure adaptable gas hose for a big size propane tank.
Once that is correctly done, you can then light by placing the flame over the burner and turning the knob safely to the appropriate cooking temperature.
For safety reasons, ensure you keep your face and hands from direct contact with the burner at all times. Also, ensure you are using low heat.
Cooking
You then season the Fire Disc by adding 1- 2 tablespoons of cooking oil. Then use a paper towel with the help of a pair of Kitchen tongs spread the oil over the entire surface. For whatever reason don't use your hands. Remember you are still heating.

Note: Seasoning is done to prevent rust and keep food from sticking to the surface. Furthermore, it enhances the flavor of your food recipes.

Get another clean piece of paper towel, attach to the Kitchen tong, and dry-wipe the oil thoroughly from the disc surface.
Turn off the heat and allow the disc to cool. This process breeds a lot of smoke. To reduce smoke sprinkle coarse salt on the Disc surface.
Process 6-8 can be done repeatedly 2-3 times to ensure adequate seasoning.
After final cooling, wipe dry and begin the cooking process.
To cook, add a small amount of cooking oil and Light up the burner again.
Add your food and adjust to the optimal temperature. Since there are three concentric heating zones, you can cook in the center and warm around another perimeter. When it comes to cooking Veggies and meat, it is advised to cook meat in the center and veggies in the Second zone.
Cleaning instructions
It is always important to clean the Fire disc once after use. Why? Cleaning sets a maintenance culture and keeps it durable. Cleaning the FireDisc is like cleaning a cast-Iron skillet. There is no special form of cleaning for Fire Disc gas grill; all you need is a universal element known as water and a paper towel to keep dry.
To clean follow these simple steps:
Allow the fire disc to cool once after use.
Then disassemble the parts of the gas grill.
On cooling, scrap out any food remains from the Disc with the use of cooking accessories or any other non-abrasive tool.
Rinse with water, Drywipe disc with a clean paper towel.
In the event of severe burns, allow to cool for some time and then heat up successively for a while.
After heating, pour cold water onto the Fire Disc and then bring to boil for 10 minutes.
You can then turn off and re-cool. Once done, dump off the water.
After cleaning take the extra care of adding a little quantity of cooking oil to the fire disc. This is done to prevent surface corrosion.
Store in a cool, dry place.
If you are not going to use it for a long while, ensure you disassemble the three sections and keep in a dry box.
Benefits
The Fire Disc gas grills allow for multi-purpose cooking as it comes with three concentric heating zones. Which means there is a place for cooking and conventional warming of food. For instance, food recipes such as steaks/venison can be cooked at the center and veggies can be warmed at the perimeter.
There is no tool required to set up save for burner installation.
It can be used conveniently for an extended period since it is made out of stainless steel construction.
Cooking with the Fire Disc gas grill adds flavor to your outdoor meals.
FireDisc gas grill can be used on any surface (even or uneven) since it comes with a flexible stand mechanism.
Drawbacks
One Red Flag with this product in our Fire Disc review is its heavy duty construction that contributes adversely to its heavy weight of 59 pounds.
It is quite expensive too. Although on considering its features you will consider it price worthy.
Final Verdict
The final verdict of our Fire Disc Review is very short – FireDisc is a great product that brings you a lot of fun and well-cooked food. No matter where are, at the backyard of your or at the bank of the river, you can use it everywhere. It is the very simple and effective grill.
Fire Disc Review – Frequently Asked Questions
By the way, if you want to read some more Fire Disc Review, you can find it here.

Contents:
What is a Fire Disc cooker?
A FireDisc cooker is the ultimate solution to cooking outdoor meals. It is a portable propane cooker that can be used to boil, sear, fry, and blacken any food recipe.
It is a cooker most notably used in an outdoor environment. One last thing to note is that cooking with a Fire Disc cooker gives your food recipe a flavored taste.
How long will my Fire disc last?
Trust me when I tell you that your FireDisc cooker can last a lifetime, provided it's adequately cared for and well maintained. Also since the FireDisc cooker was designed with stainless steel construction to expect it to be durable. In fact, with proper care, it could be handed over to your second generation.
Can natural gas be used as a source of Heat for Fire disc cooker?
This is a big No. The FireDisc cooker was adequately designed with unique materials to be used with propane gas as its clean source of fuel.
Now the FireDisc cooker cooks at a fast pace thanks to the higher BTU value of Propane gas which makes it burn faster than any other gas grill which uses natural gas (methane).
What are Propane tanks constructed of and is there a specific type to be used for Fire Disc Cooker?
A propane tank or canister is usually a low-pressure gas Cylinder made of welded steel. An instance of a welded steel is when two half-cylinder sheets of steel are welded together with the addition of a foot and neck ring.
The welded steel help insulate propane against fire. The Low gas pressure regulator on your Fire Disc cooker is designed to adapt to a 16.4 oz green propane tank and 20-pound propane tank around 4 feet.
What cooking methods and food recipes can I cook using the Fire Disc gas cooker?
Since the FireDisc cooker is one of the most versatile grills you can get in the market today, you can sear, fry, boil, steam, braise, and fry any food recipe.
The different cooking methods stem from the fact that the FireDisc cooker has three concentric heating zones. With a cooker like this, you can make food recipes such as Fresh Venison back straps, Fried Steak with gravy, Hunter's Ultimate Grilled cheese, Fish tacos, Duck an L' orange. You can even use it to boil sea Shrimps.
How can I set up my Fire Disc gas grill?
Setting up your FireDisc gas grill is quite easy. All you need do is assemble the components by nesting the 3-piece adjustable stand and then placing the disc itself on the four leg supports. Note if the disc does not adjust on the four support stand. You can readjust or bend the legs as needed.
Since the Fire Disc appears way too heavy, what can I do to clean once after use?
When done cooking with the FireDisc, disassemble it from the stand and scrape out any sticky food with the use of a non-abrasive tool, rinse with water and wipe out the disc using a paper towel or smooth, dry cloth.
In case it is a burnt food on the FireDisc that needs a serious cleaning, strongly heat for 5 to 7 minutes, carefully add cold water and boil up to 9 minutes. Turn off and let cool and then dump out the water.
Yes, there is a product warranty for the FireDisc cooker which lasts up to 5 years.
Can one buy the components of the Fire Disc separately?
No, you cannot buy the components separately, because it is often sold as a single unit. Meanwhile, only accessories of the Fire Disc cooker can be bought as a separate unit.
How can I eliminate rust?
Rust or corrosion of the FireDisc usually occurs when it is left unseasoned and continuously exposed to moisture. In the event of corrosion don't worry as this is only surface rust.
In case of rust, all you need to do is use a cleansing agent such as Bar Keeper's Friend cleanser and polish. You can also make use of a mixture of baking soda and water. However, always remember to coat with oil after cleaning to prevent the occurrence of corrosion.
Can I use soap on my Fire Disc Cooker?
No, using soap and any form of chemicals can strip off the seasoning from the Fire Disc. In Fire Disc Review section How to Use we already mentioned, that you have to use soap only once. You can always re-season it.
How do I season my Fire Disc cooker?
Season the Fire Disc by adding 1- 2 tablespoons of cooking oil. Then use a paper towel with the help of a pair of Kitchen tongs spread the oil over the entire surface. Get another clean piece of paper towel, attach it to the Kitchen tong, and dry-wipe the oil thoroughly from the disc surface. Turn off the heat and allow the disc to cool.
Why do I need to season in the first place?
The act of seasoning helps preserve the Fire Disc, by preventing rust or corrosion. Seasoning also goes a long way to keep food from burning or sticking to the surface. The act of seasoning will also enhance the flavor of your food.
How do I light my FireDisc Cooker?
Lightening the FireDisc cooker is a process that requires precaution. Once that is properly done, you can then light – up by placing the flame over the burner and turning the knob safely to the appropriate cooking temperature.
Follow the precaution of keeping your face and hands from direct contact with the burner at all times. Also, ensure the knob is on low heat when lightening.
In Fire Disc review and all other our reviews, safety is very important for us, so please, be careful while cooking on the grill.
How hot will my FireDisc get?
The FireDisc temperature varies depending on the three concentric heating zones within the disc. The center zone can up to 600oF, the middle zone can heat up to 300oF, and the outer zone can heat up to 150-200 degrees Fahrenheit.
Final Word
Enjoy an exhilarating summer experience with the Fire Disc cooker. With a cooker like this, get ready to smear, fry, and boil your outdoor meals. Thanks to its seasoning effect you get to enjoy a flavored taste of an outdoor meal. Also, with its mobility and adjustable feature among other things, the Fire Disc is a desirable gas grill to take on your next camping trip.
Did you like this Fire Disc Review? Please leave your comment!