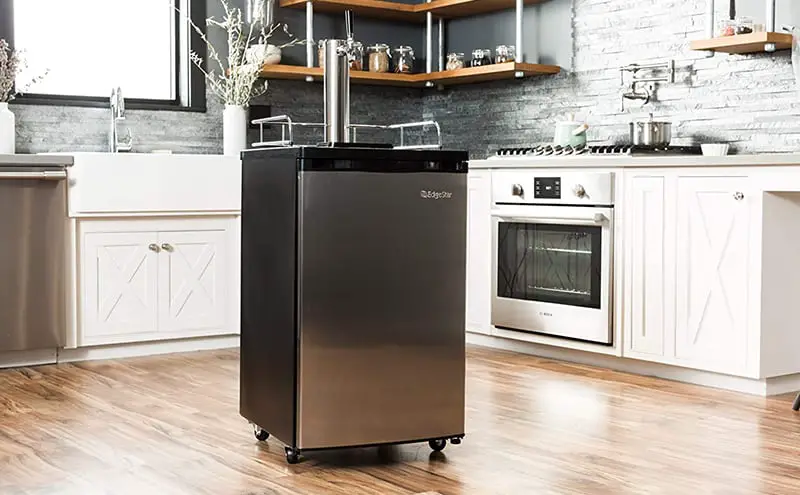 As a beer enthusiast, getting a chilled beer at home will be highly appealing. While you can opt for getting bottles or cans of beer into a refrigerator, a Kegerator would serve you better. With a Kegerator, you get a cost-effective way to store and cool beer Kegs at a considerable temperature.
Moreover, Kegerators come with a mechanism for tapping out a chilled brewed beer at arm's length. Here, we have the best selection of Kegerators that can serve any beer draft enthusiast well. Read our comprehensive review to discover the best Kegerators for your home or commercial use today.
Top 6 Kegerators Review
Build and Design
The EdgeStar KC2000 Kegerator can be used to set up a home or commercial scale beer dispensing system. This Kegerator is ideal for the beer enthusiast looking to get a reliable Kegerator at a budget cost.
From the outlook, this Kegerator is brilliantly designed in a dimension of 28 x 16 ¾ x 15 ½ inches and weighs 81.6 pounds.
Aided with casters, this freestanding Kegerator comes with a refined power of mobility. The presence of a protective metal floor plate adds the advantage of durability to the Kegerator unit. With a reversible door, you can always check the contents of the Kegerator.
A two-piece drip tray embedded with this appliance allows the collection of drips and messes
Special features and Usability
With this Kegerator, you can keep your beer chilled at a low temperature of 31oF. This Kegerator comes with a 5-pound Aluminium CO2 cylinder to hold the preservative gas. Your beer is tapped out through a stainless steel column Draft tower and D-system Sankey coupler.
On the last note, the Kegerator takes up a power of 105-watts to keep your beer, and other beverages chilled regularly.
Pros
It is the easiest Kegerator to install.
Adds a stylish outlook to a room décor
Presence of caster wheels for mobility
Provides an ultra-low temperature for beer keg
Cons
Some customers complained about the high noise emission.
Verdict
The EdgeStar KC2000 Kegerator has the most stylish and best durable parts. Besides, it helps chill beer to an ultra-low temperature.
Build and Design
If you need a convertible Kegerator for home and commercial use, EdgeStar KC20000SSTWIN will be your best fit. From the outlook, the Kegerator has size dimensions of 48 ½ x 10 x 24 inches and weighs 81.6 pounds. It comes with an external tank mount, which provides more savings on interior space.
The best part is the Kegerator is essentially constructed from stainless steel material, conferring durability.
With a reversible door on this unit, you can easily open and access the contents. Also, the Kegerator comes embedded with rolling casters, which paves the way for mobility. You get to see a protective floor plate to help prevent slips or falls due to drippings.
Special features and Usability
On average, this Kegerator requires the power of 105-watts to regulate at a cool temperature. The best part is that EdgeStar KC2000SSTWIN is useful as a regular refrigerator with internal storage shelves without a Keg.
Pros
It comes with a distinct high-quality
The presence of a double-tap faucet allows dispensing of different beer variety
Good chilling effect to 31oF temperature
Large internal space
Cons
Quite expensive but still price-worthy
Verdict
This Kegerator takes a step above the older single tap model with more expansive space and a sturdy stainless steel frame. It is capable of cooling your beer as low as 30oF.
Build and Design
With EdgeStar KC1000SS, you can keep your refreshing beer brew well chilled. This Kegerator was tentatively designed to accommodate 1/6 barrel keg along with an Aluminium CO2 gas tank. You can always fit in this Kegerator in tight spaces as it comes with a slim width of 17.5-inches.
The presence of an integrated door lock allows you to secure your beer keg to maintain a constant temperature.
On the outlook, this Kegerator has an ultra-modern appearance which comprises of solid stainless steel door and blue interior LED lights. It comes with a single chrome-plated faucet and stainless steel Tower for good beer dispensing.
The presence of a drip tray beneath the Kegerator unit helps collect liquid drips that could result in accidental slips.
Special features and Usability
A digital panel on this Kegerator allows one to adjust and control the temperature unit to ensure perfectly chilled beer. This Kegerator can maintain a keg temperature of 32oF thanks to an internal circulation fan.
Pros
Maintains a cold temperature close to 300F
Easy to clean, install and disassemble
High-quality construction for durability
Presence of drip tray for drip collection to prevent slips and falls
Verdict
This is mainly a small, portable Kegerator with the best intuitive features to serve you well at any beer party.
Build and Design
With this Kegerator unit, you get all the equipment you need to serve a refreshing chilled beer. Generally, the Kegco K309B-2 Kegerator boasts of attractive and conveniently built features. One such feature is a chrome guard rail at the countertop to prevent sliding off of glasses.
With the aid of rolling casters beneath the Kegerator, you can conveniently move from a location to the other.
This Kegerator also features two faucet taps to dispense your chilled beer from the Keg. A LED screen unit on the Kegerator shows temperature notification and features controls. It comes with large interior space to accommodate a full-size keg or three 5-gallon Cornelius ball lock kegs.
This unit is adaptable for use as a refrigerator with the presence of two adjustable storage shelves without the beer keg.
Special features and Usability
This Kegerator allows you to set intuitively, control, and monitor your Keg cooler temperature with push buttons and a digital temperature display. With a Fan-forced cooling function, the Kegerator can provide even cooling to a temperature of 32oF without freezing.
To cool down a warm keg, you could use a deep chill function to get your Keg to the desired temperature.
Pros
Allows even cooling of beer keg
Easily convertible to a Refrigerator
It features a large interior
Presence of locking casters for mobility
Cons
Some customers complained about tower leaks
Verdict
Suppose you need a Kegerator with a spacious interior and has a wide temperature range (for chilling and fermentation). Then the Kegco K309B-2 Kegerator will be your ultimate choice.
Build and Design
The Kegco HBK 309S-2 Keg Dispenser is a Kegerator that features a large interior that is large enough to store up to three Cornelius ball lock kegs. Overall, this unit has size dimensions of 33.25 x 23.6 x 23.6-inches and weighs 95 pounds.
It features two complete ball lock taps, including gas-in and beer out couplers for easy tapping of kegs. A CO2 tank helps keep preservatives responsible for chilling your beverage. A double faucet is available with this Kegerator to help dispense beer with ease.
Furthermore, it comes with an attractive styling of a sleek black cabinet and stainless steel door. A host of other features exist, such as a chrome guard rail to prevent sliding of glasses. The availability of rolling casters on the Kegerator allows for easy mobility.
Internally, this Kegerator unit also comes with two adjustable shelves, which serves as a good refrigerator conversion.
Special features and Usability
The Kegco HBK309S-2 keg dispenser has a wide temperature range from extreme cooling to fermenting. Digital temperature control allows you to accurately set the temperature to as low as 32 degrees to dispense chilled home-brew. A temperature setting to 75 degrees produces a fermented brew.
With a Deep chill functionality, the embedded compressor within the unit can continuously work for hours to cool a warm beer keg.
Pros
Integrated double-tap faucet for dispensing beer
Presence of rolling casters for mobility
Wide temperature range to either cool or ferment beer brew
Protective feature in the form of chrome guard rail to prevent sliding of glass
Verdict
If you need a multi-purpose Kegerator for dispensing either chilled or fermented beer, then consider buying the Kegco HBK309S-2 Keg Dispenser.
Build and Design
The BeerSquad Tower is an innovative design for a beer dispenser and serves as an excellent addition to any beer party. It isn't like any typical Kegerator; however, it does well to keep beer and other beverages chilled.
It comprises a well-built transparent glass tower (which includes Ice tube) attached to a sturdy plastic base. The sturdy base ensures the beer dispenser doesn't slip while dispensing.
The tube comes with an integrated cap for proper sealing to maintain a chilled temperature on filling with ice. Between the tube and plastic base, you get to see a Dual action spout for ease in dispensing. The ability to remove the study base from the tube allows for ease in cleaning.
Special features and Usability
The BeerSquad comes in a portable and simplistic design. With this dispenser, you can store your beer cold for hours. It is large enough to take in standard ice cubes for a quick refill.
The best part is that you can fill the inner ice tube with water and then freeze it before adding the beer beverage to chill.
Pros
Presence of a sturdy base to prevent slip when tapping
Made of durable plastic material
This beer dispenser is easy to clean
Integrated Ice tube to keep beer cool for hours
Cons
Not suitable for a large beer party
Verdict
The BeerSquad Beer Tower comes in a sleek, unique design suitable for cooling a small quantity of beer for a casual purpose.
Best Kegerators – Buyer's Guide
What is Kegerators?
Kegerators are specialized appliances for dispensing beer; it appears more like a mini-refrigerator, but only restricted to beer drafting. With a home Kegerator, you get a perfect way of brewing your beer at home. What's better? A Kegerator extends the lifespan of a beer to like six months.
You also get to purchase and dispense beer in large quantities.
Different Types of Kegerators
Kegerators come in different types. The more general classes include indoor and outdoor Kegerators. The following are the broad types of Kegerators that exist;
Mini Kegerators: This type of Kegerator is designed in a countertop form and is best utilized for storing a beer with limited space. It's self-pressurized and can only hold a keg of 5 liters capacity. This keg capacity is equivalent to 10.5 pints and can be tapped 3-5 times.
Full-size Home Kegerators: This kind of Kegerator comes in a freestanding form. It is a residential beer dispenser that can take half-barrel or full-size keg capacity. The full-size Kegerator also comes with a CO2 tank and tap for easy dispensing.
Commercial Kegerators: Commercial Kegerators are built in a large-scale quality in either a freestanding or under-counter installation form. A typical commercial Kegerator can hold half-barrel keg size, quarter, and mini-kegs at the same time.
Outdoor Kegerators: This a Kegerator type that can be used in an outdoor party and can withstand temperatures higher than indoor temperatures. This temperature ranges from 45oc to 100oc. They come with ease of use and cleaning ability. Using this Kegerator will require you to fit in a ½ barrel keg in a container and fill with ice in which CO2 helps dispense the beer.
What Are the Benefits of Having a Kegerator?
Having a Kegerator comes with its pecks. The best part is that you can always pour yourself a chilled glass of beer in the comfort of your home. Get an insight into the advantage that comes with owning a Kegerator as a beer enthusiast.
Maintains a nourishing Beer taste: Beer served from a Kegerator tends to taste better than a bottled or canned-filled beer. This owes to the fact that Kegerators use CO2, which is a natural preservative. With CO2, your beer can stay fresh for long periods up to 6 months, hence minimizing wastes.
Promotes an Eco-friendly environment: One of the biggest problems with a beer party is the enormous bottle wastes that pile up. Bottles are non-biodegradable hence promoting environmental pollution. With a Kegerator, which allows you to serve beer from a tap, you don't need to make those frequent trips to the waste dumpster.
Cost Effectiveness: Owning a Kegerator allows you to buy that favorite brand of beer at a lesser cost. That's because you get to accept them in large capacity kegs, which saves more than buying a crate of canned or bottled beer. The best part is a Kegerator is a worthy investment as it can last up to 2 ½ years.
How To Choose The Best Kegerators
Kegerators are commonly used for beer serving; however, they can serve beverages like wine, coffee, and batched cocktails. Picking the right unit of a Kegerator is difficult, but once selected, it will prove a worthy investment.
To make the best selection, you do need to consider some inherent factors such as;
When buying a new Kegerator, do pay attention to its internal diameter. The inner diameter determines how many barrels of keg beer the Kegerator can hold. If you need your Kegerator to take in a more massive keg size, pick a Kegerator with wide internal spacing.
Some Kegerators do come with a single tap tower, double or even triple. The number of taps ultimately determines to which capacity you can dispense a beverage. In a scenario where you need to dispense more than one type of drink, a double or triple tap can come handy.
The extent to which your beer keg will be chilled depends on the temperature range or capacity of the Kegerator. Some Kegerator units can chill to a temperature of 32oF for a refreshing and tasty beer beverage.
If you need a Kegerator for both cooling and fermentation, you should consider getting one with a wide temperature range of 75oC.
How to set up a Kegerator
From unboxing your Kegerator unit, you need to follow some step process to install your modern Kegerator properly. Some of the steps you do need to follow include;
Attach the locking casters to the bottom of the Kegerator unit and ensure the Kegerator rests on the casters.
Then, take out the Tap tower to install on the countertop. Ensure the tap tower tubes are feed through the hole to the insides of the Kegerator. Then screw in the faucet to its adapter on the tap tower.
Install the chrome railings on the countertop.
Connect a beer line to the coupler then use a hex nut to secure the line
Then connect a CO2 gas tube to the regulator, the other end is connected to the side of the coupler
Then attach the regulator to the gas cylinder with the inlet nut tightened to a wrench.
Carefully attach the coupler to the Keg and place the CO2 cylinder to its holder inside or outside the Kegerator.
Properly calibrate the regulator to an appropriate PSI level between 10-15 psi and set the temperature around 36oF – 40o
Place the Keg in the Kegerator and immediately start dispensing your beer.
Maintenance Tips for Kegerators
As with any other appliance, a Kegerator requires some level of cleaning and maintenance. This also owes to the fact that it dispenses something you take into your body. Lack of cleaning can allow bacteria to develop at the surface of the Kegerator.
Cleaning and maintenance are also expendable to guarantee an increased lifespan for the Kegerator.
Some simple maintenance tips to follow includes;
Always clean the Kegerator once you finish dispensing a beer Keg to prevent microbial infections. This cleaning should be done with the Kegerator unit turned off.
Wipe external surfaces with mild soap and warm water to get rid of spilled beer.
Check the parts of the Kegerator to ensure they are correctly fitted and assembled before operating.
Check if the CO2 cylinder is not leaking before you operate
Remember to defrost Kegerator regularly to remove ice-build up on Refrigeration plates.
Kegerators FAQ
Can I use a Kegerator outside?
Yes, it is possible to use a Kegerator outside; however, this doesn't apply to all Kegerator types. Hence, there are special Kegerators purposely designed for outdoor use. Such Kegerators range from 45oC to 100oC, which is above indoor temperatures.
What is the perfect temperature to store my beer keg?
The storage temperature depends on how you desire your brewed beer. In the case of a chilled brew beer, your beer keg should be stored at a temperature of 32oF.
Final Words
The Kegerator is a vital appliance useful for any beer enthusiast. It guarantees cost-effectiveness, an eco-friendly environment, and provide the best preservative for beer. From our comprehensive of different Kegerators, we have the Kegco HBK309S-2 keg dispenser to be the most appealing.
This Kegerator is spacious, Refrigerator convertible, and has a vast temperature capacity for chilling and fermentation.