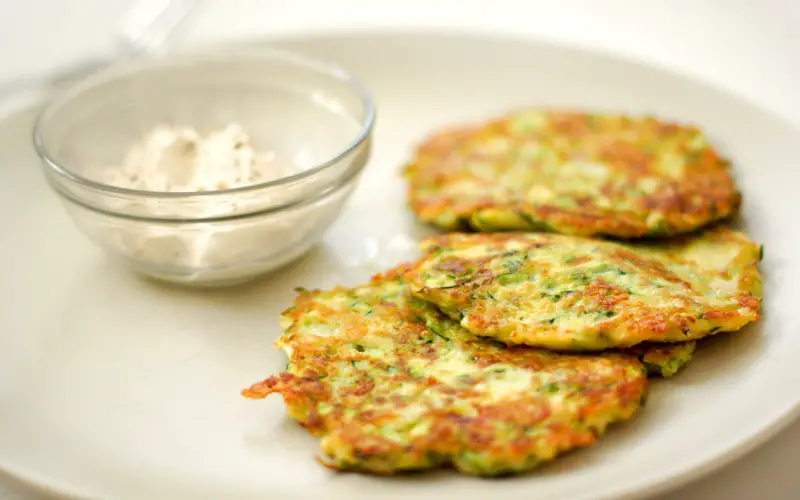 I really love zucchini fritters, especially in summer. I do not cook them very often, but I always eat with great pleasure. By the way, they can also be served as a side dish, for example, to fish.

They are done very quickly and simply, especially if there is a food processor at hand that will help them quickly grate. Training and skill need a minimum, and the result is always a maximum of pleasure. I highly recommend this Zucchini Fritters recipe!

| | | |
| --- | --- | --- |
| Prep Time: 10 min | Cook Time: 7-10 min | Yield: 2 servings |
Ingredients
1 Zucchini (medium size ~ 10oz)
0.5 cup grated cheese (Parmesan or regular)
1 egg
2 tbsp flour
1 tsp minced garlic (fresh or dried)
1 tsp salt
Grate the zucchini on a coarse grater manually or using a food processor. Sprinkle a teaspoon of salt and leave for 5 minutes to give the zucchini juice.

After the time, carefully squeeze the grated zucchini. I use a clean, fine net for storing vegetables for this process.

Put into a dry, deep bowl. Add finely chopped or dry garlic, one egg, 2 tablespoons of flour, and grated cheese. If you want, you can add herbals – it can be parsley, dill, cilantro. Use whichever you like more. Mix well with a fork. If the "dough" turns out to be too liquid, add some more flour.

Fry the fritters in olive oil in a well-heated pan until cooked. Usually, it is 3-5 minutes on each side until golden brown. To make the form more accurate, you can use the culinary ring when putting it on the pan.
The fritters must be well cooked, so if you feel that they are still raw, but are beginning to burn, just turn down the heat a bit and let them get ready. Do not make them too large and thick – small and thin fry much easier.
Serve zucchini fritters best with sour cream and scallion. Bon Appetit!