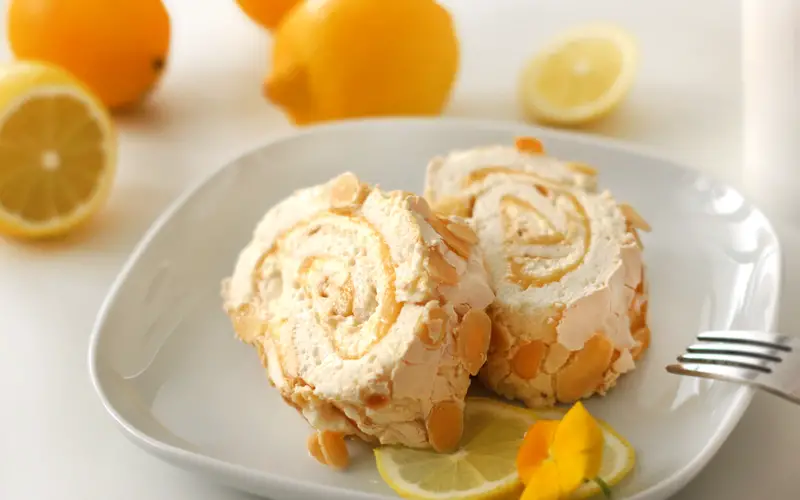 I think that you've noticed that Meringue Roulade has become a new trend? And not surprisingly, cooking this Recipe them is very simple. Аnd as a result, you have a spectacular and tasty dessert. One of the pluses is that it does not contain gluten. But let's take it in order.
The base of our roulade recipe is meringue. Therefore, it is imperative to cook it correctly so that there are no problems and difficulties with the roulade. I suggest taking the French meringue recipe as a basis.

| | | |
| --- | --- | --- |
| Prep Time: 15 min | Cook Time: 35 min | Yield: 8-10 servings |
Ingredients for Meringue:
3-4 egg whites
150g sugar
1 tbsp starch
1 tbsp lemon juice
2 tbsp almond petals
To prepare it, we first whip the egg whites to stable peaks and then gradually add sugar in portions. Also, in this meringue, we will add cornstarch and lemon juice for greater plasticity of the meringue so that it is easier for us to roll it into a roulade.
We bake the roulade base by putting the meringue in a layer about 0.5 inches on the parchment paper.
For such a dessert, it is better to choose a cream. For example, based on heavy cream or mascarpone, adding a little sugar or powdered sugar.
It will also be delicious to make this cake with pistachio cream, adding a little pistachio paste to the cream and crushed nuts to the meringue. This time, I added almond petals before baking for beauty.
You can also use fresh berries or curd as a filling. It would be better if it is something more acidic, as the meringue is sweet. Strawberries, raspberries, or passion fruit are perfect. For this recipe, I chose lemon curd in the filling.
We always prepare the filling for a dessert in advance because after the base is ready, the roulade will need to be collected almost immediately. While the meringue is cooling, it will be enough time to whip the cream and apply it to the cake.
Meringue Roulade Recipe Cooking Steps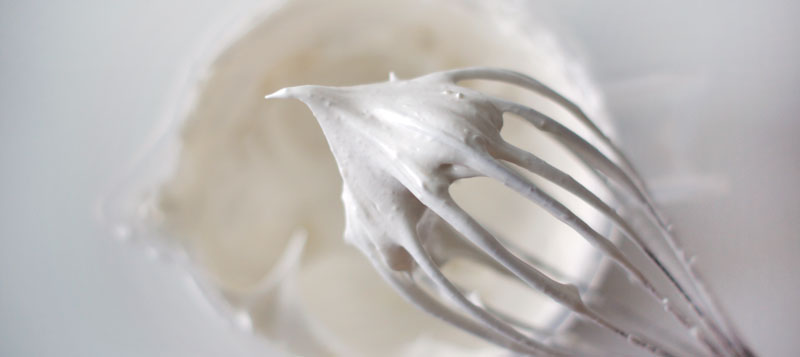 First, we separate the whites from the yolks. To make meringues, I always take chilled eggs. Whip with a mixer at high speed until a stable foam and begin to add sugar (or its substitute) gradually.
When such a cap is left on the whisk, add starch and lemon juice, whisk for another 5 seconds to distribute the cornstarch, and lemon juice in the whites.

We layout the finished whipped whites with a spatula in the center of the parchment paper. We distributed it with a 0.5 inches layer in the shape of a rectangle. It is very convenient to use a Icing Spatula for this. Sprinkle with almond petals on top.
We put our meringue in the oven with convection preheated to 150-160 C. Bake for 25-30 minutes, the meringue will begin to brown. Remove and cool on a board or cooling grid without removing the paper.
Slightly sprinkle the cooled meringue with powdered sugar, put a sheet of parchment paper on top and turn over. Remove the paper on which the meringue was baked.
Ingredients for the filling:
5 oz lemon curd
4-5 oz heavy cream
2 tbsp powdered sugar
Whip heavy cream with powdered sugar until stable peaks. Be careful not to overwhip the cream so that it does not separate into butter and whey.
To speed up the cream whipping process, pre-cool the whisk from the mixer for half an hour in the freezer.

Spread the meringue first with lemon curd and then with whipped cream.
Carefully roll the roulade and refrigerate it for 40-50 minutes.
Enjoy your dessert!
Tools and Equipment that can be useful in Lemon Meringue Roulade Recipe