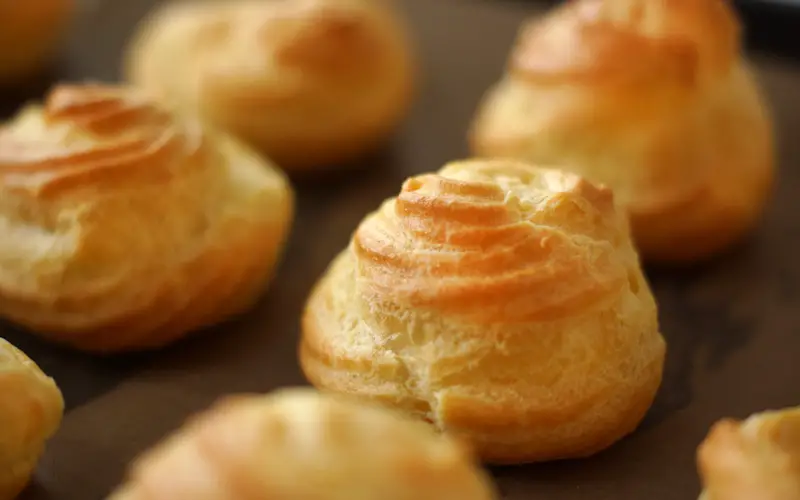 Choux pastry is a fantastic type of dough, from which incredibly light, tender, delicious cream puffs, eclairs, and profiteroles are prepared. Making choux pastry at home can be quite fast and easy, but there are some secrets in the cooking process that we will tell you about in our step-by-step recipe with photos.
Choux pastry recipe is very simple to make. In my opinion, all complexity can be at the end – when we add eggs.

For starters, weigh all the ingredients necessary for making the dough. I always use electronic kitchen scales in the preparation of desserts. They are inexpensive but greatly simplify the cooking process.
| | | |
| --- | --- | --- |
| Prep Time: 5 min | Cook Time: 55 min | Yield: 18-20 servings |
Ingredients
250ml water or milk
150g all-purpose flour
100g butter
4-5 eggs
1tsp salt
1tsp sugar

Cut the butter into cubes – so it melts faster. Pour all the water into the stewpan, add salt and sugar, all butter.
Put on medium heat and stir until butter dissolves in water and mixes until smooth. Usually, at this moment, the water is almost boiling.
Remove the stewpan from the stove and add all the flour. Mix well so that there are no lumps left. Now return the stewpan to the stove and stir well for about two minutes. The dough should form into a smooth ball, and a thin layer will appear at the bottom of the stewpan.
Transfer the dough into a large bowl and add one egg at a time (the first four). Add, mix until smooth. It will become softer and shiny.
The last fifth egg is better to break into a separate cup and add in parts. The dough should not become too liquid.
The dough is ready.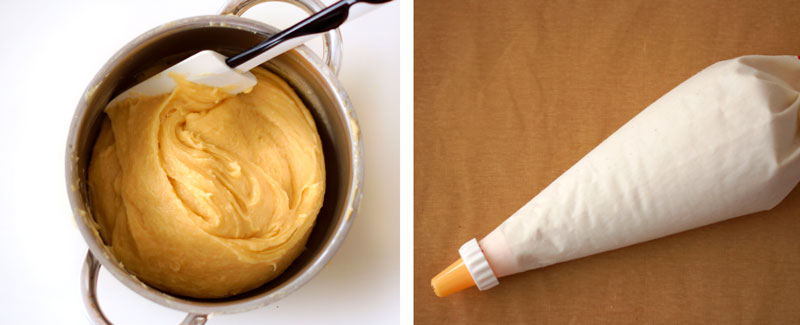 How to use it further is a matter of your imagination and recipe. For example, you can put it with a spoon on a baking sheet – these will be small puffs (profiteroles). But of course, it is best to pipe the dough with a pastry bag. Use a nozzle of 10-12 mm, it can be bigger, depending on the size of the final product.
The most convenient way to fill a pastry bag is to place it in a tall bowl. And then pipe choux pastry on a baking sheet (non-stick), parchment or Teflon sheets. I have been using Teflon sheets for a long time, and I can say with confidence that they are very convenient, reusable, and nothing really sticks to them.
These puffs can be greased with an egg – this will give a more golden crust.

And a couple of secrets
The first is to pipe cream puffs in a checkerboard pattern (in the case of eclairs, diagonally). The choux pastry needs good air circulation to rise.
The second – keep the cakes in the oven until the crust is good (closer to brown), then the dough will be stronger and drier. Do not worry, the cream will make it juicy again.
The temperature of the oven is 170-175 ° C with convection. Bake about 20-30 minutes (it all depends on the size of the baking and the oven). Everything is done here by eye, the main thing to remember is the golden-brown crust.

Tools and Equipment that can be useful in our Choux Pastry Recipe
Cream Puffs Filling
Filling for profiteroles and cream puffs can be sweet, like for dessert, and savory. Such profiteroles can be served as a snack, for example, during a buffet table. A sweet filling for cream puffs can be light creamy fruit mousse, whipped cream, custard, berry or fruit jelly, and ice cream.
For unsweetened toppings, cottage cheese with fresh herbs or cheese mousse is perfect. Shrimp, salted or smoked salmon, crab meat, pasta, and other various ideas will be a great addition. Below you will find the best recipes for salty and sweet toppings, in my opinion.
Profiteroles with Avocado Cream and Smoked Salmon
| | | |
| --- | --- | --- |
| Prep Time: 5 min | Cook Time: 15 min | Yield: 8-10 servings |
Ingredients
1pc avocado
½ lime juice
cilantro
5-6 oz smoked or salted salmon
We make avocado cream on the principle of guacamole. Cut the avocado in half, take out the pulp with a spoon and mash with a fork. Next, add lime juice and chopped cilantro.
For a more delicate and light texture of the cream, you can use a blender.
Cut the fish into thin slices.
Ready and chilled puffs cut in half with a bread knife. On the bottom half, first put the avocado cream with a spoon. Then add top one or two slices of fish and cover with the rest of the upper half.
Cream Puffs with Salted Salmon and Ricotta
| | | |
| --- | --- | --- |
| Prep Time: 5 min | Cook Time: 15 min | Yield: 8-10 servings |
Ingredients
8 oz Ricotta or cream cheese
6-7 oz Lightly salted salmon
Chives, parsley or cilantro
Salt, pepper to taste
Cut fresh herbs. Combine with cheese and mix well, I took the mixer. Fill the pastry bag with all cream cheese. Ideal with an open star nozzle. Cool the finished puffs a little and cut in half. Stuff with fish and cheese. The top can be decorated with greens.
Blue Cheese Mousse Profiteroles
| | | |
| --- | --- | --- |
| Prep Time: 2 min | Cook Time: 10 min | Yield: 8-10 servings |
Ingredients
6 oz Blue cheese
1 (4 ounces) package Cream cheese
1/3 cup Heavy whipping cream
1 pinch Black pepper, freshly ground
1 pinch salt
The classic Blue Cheese mousse is easy to make at home. The spicy and salty taste of Blue Cheese is perfect for this recipe! Cream cheese will soften the flavor, but will not kill the bright taste. To cook, this is ridiculously easy. Simply mix the blue cheese and cream cheese in a food processor until smooth.
While the blender is working, gradually add the fresh cream until the mix smooth. Season to taste with salt and pepper. Refrigerate for 1-2 hours. It is easy to fill profiteroles with the pastry bag and a thin nozzle, piercing them from the side.
Sweet Cream Puffs Filling
Coffee and Chocolate Custard for Profiteroles
| | | |
| --- | --- | --- |
| Prep Time: 5 min | Cook Time: 20 min | Yield: 15-20 servings |
Ingredients
1 1/2 cups whole milk or light cream
1 portion espresso
3 eggs
½ cup of sugar
2 tbsp cornstarch
2 oz Dark Chocolate
Bring the milk to a boil and add coffee.
Whisk eggs and sugar in a bowl. Next, add all the cornstarch, mix it well.
Gently pour a portion of the hot milk while continuing to stir the egg mixture.
Add dark chocolate to the remaining milk. Pour the egg-coffee mixture into the milk, stirring well.
Return to the stove (medium heat) and wait until the cream thickens well. Better if the stewpan is with a thick bottom.
Transfer to a cold bowl and cover with foil in contact. Put in the refrigerator until fully stabilized (a couple of hours).
Cream Puffs with Blueberry Cream
| | | |
| --- | --- | --- |
| Prep Time: 5 min | Cook Time: 20 min | Yield: 10-15 servings |
Ingredients
3 pcs. yolks or 1 egg
1/2 cup Heavy Cream
1 tbsp Cornstarch
3 tbsp Sugar
1/2 cup Blueberry puree or fresh berries
1 pcs. Gelatin Sheet
Soak a sheet of gelatin in a bowl cold water for 5 to 10 minutes. In a large bowl, combine sugar, yolks, and cornstarch.
Mix everything with a whisk, put heavy cream on medium heat, and prepare the blueberry puree. If not, take a frozen berry.
When the cream is a little warm (steam will go out), gradually pour them onto the yolk mixture, continually stirring with a whisk.
Return the mass to the saucepan and cook, continually stirring with a spatula. The mass should become thicker. Add squeezed gelatin and mix well.
Pour the cream onto frozen berries or puree. Do not forget to hit with an immersion blender until completely smooth. The mass should become bright in color and taste. Cover with foil and put in the refrigerator to make the cream stabilized.
Tools and Equipment that can be useful in our Choux Pastry Recipe