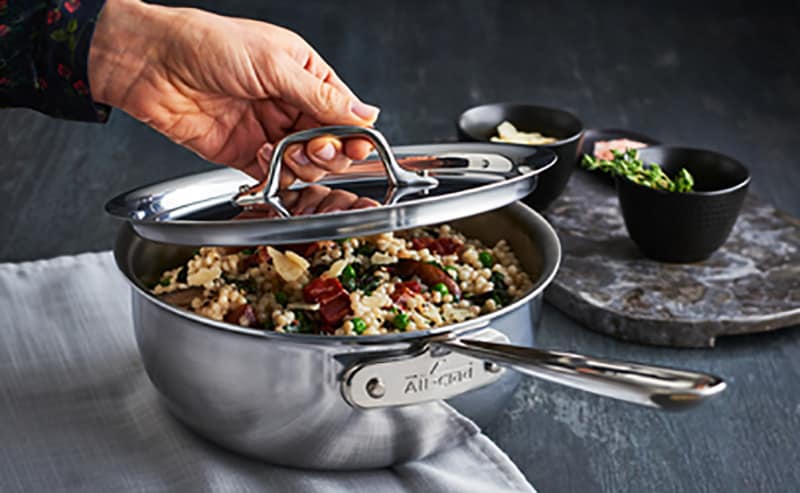 Finding the right tool helps to ignite one's passion. So also is using the best saucier for an individual whose hobby is cooking.
If you find yourself always wanting to be in the kitchen doing what you love to do best, a saucier being one of the most versatile pan chefs uses should be highly considered to get the best out of it.
A saucier combines the uses of a frying pan with that of a saucepan. Getting the right one will afford you the privilege of doing so many things with it, but if you do not get the best, the aim of engagement could be defeated.
When purchasing a saucier, many factors must be considered, like construction and shape, the material used in its making, the handle, and so many more.

This article seeks to enlighten you about the best saucier that will help you make dishes of the right flavor and also inform you to make the best decision as per which saucier will fit your needs when buying one.
Best Sauciers Review
This saucier is designed for sturdy and frequent use. Its construction steamed from a hard-anodized copper blend resulting in a beautiful and scratch-proof base. The bottom of the pot is fortified with a non-stick coating to enhance easy maintenance and effortless cooking.
Besides, the handle gives a smooth and easy-grip, allowing you to maneuver the saucier pan with complete ease.
Also included in the package is an embedded helper handle for additional gripping power as well as serve the purpose of simple, quick storage. You can find the saucier in sizes of 2, 2.5, 3.5, 4, and 5.5 quarts, respectively.
If you intend to buy a saucier for any occasion, this will be the right choice. It can withstand heat up to 5000F in an oven. You are guaranteed a durable product as it features a lifetime warranty. It is induction-friendly so just cook your way to the stomach.
Pros
Balance on cooktops
Smooth, curvy, gently flared walls
Helper handle included
Superb heat distribution
Cons
Heavy at the bottom
It is sometimes hard to empty content
This is a brand known for making outstanding cookware. It is made of tri-ply construction, having aluminum at its core from base to rim: a guarantee of dependable regular use.
The interior is graduated with markings for easy measurement of liquids and sauces of any kind while the design consists of a curved rim that serves to prevent splashing.
It has this 'look and picks me' outward appearance that is too apparent, not to mention. Each pan is finished with a professional-grade layer of stainless steel that tends to resist corrosion and discoloration over time. The side walls are made curvy for even distribution of heat.
Taking a look at the lid, you will see stainless steel with built-in steam vents and rim that prevent dripping when pouring from the saucier, thereby saving prep time and making it cleaning a breeze.
This whole beauty will just balance in your hand without harming your palm with its stay-cool handle. Also, the helper handle permits you to move the saucier quickly and comfortably on the cooktops.
Are you thinking of using it on any cooktops? It a goal! It is compatible with any cooktops and withstands heat up to 5000F inside the oven. Looking for that Saucier that keeps your ingredient together during cooking? You've found yourself one.
The curve sides are suitable for preparing dishes with complex flavors.
Pros
Well designed handle
Easy to empty
Dripping free
Non-corrosive
This is a fail-safe investment accompanied by a high-quality finish, which is generally not common with other products.
It ensures even heat distribution by covering all the parts of the saucepan with aluminum core rather than just limiting it to the base like most products do, hence the name ALL-CLAD. The brand is reputed for producing long-lasting and consistent heating cookware.
All-Clad saucier pan 4212 2-quart versatile saucepan is made of 3-ply consisting of stainless steel encapsulating an aluminum core, which allows for even heat distribution all through its useful period.
It guarantees stick-free owing to its well-polished cooking surface with starburst finish and afford easy maintenance. The pan does not also react with food.
An ergonomic handle designed in contoured stainless steel that has been secured with rivet is included to make maneuvering of the pan easy. This thermal friendly pan can withstand oven and broiler heat of up to 6000F (without lid).
It is induction compatible and has a limited lifetime warranty. Though you might spend more money on this pan, the quality surely does compensate for the price.
This saucier will suit you if you are making a dish requiring frequent whisking or stirring like risotto, polenta, creamy sauces, and even custard.
Pros
Dishwasher friendly
Works with all kinds of cooktops
Steam vent incorporated in the lid
Easy to maintain
Cons
Limited lifetime warranty
This is a small size chef pan that can be used for various kinds of dishes from searing to browning, sautés, and many more. The non-stick sear surface allows you to use metal spatulas, whisks, and spoons on it without scratching the surface.
You can work on the metal utensil-safe non-stick just like you do on stainless steel, and the round walls will indulge you in stirring.
The smallness in size is perfect for various tasks such as reheating foods, boiling eggs, or melting butter. This is the right tool for making small batches of soup, pasta, soup, rice, and more. A brushed stainless-steel handle is included to maintain coolness while cooking.
You will be adding to your collection of cookware, a hard-anodized aluminum crafted pan that offers you even heat distribution with a full lifetime warranty.
Additionally, this product includes a see-through tempered glass cover that allows you to monitor your food effortlessly without having to remove the lid, which may lead to an escape of heat. The cover is also made to be oven safe for keeping food warm or finishing recipes.
Maintenance is made more accessible because you can use your dishwasher on it and its non-sticky nature makes it quick to clean. It can withstand oven heat of up to 5000F and conduct heat readily on gas, electric ring, electric, and halogen, and glass stovetops.
Pros
See-through tempered lid
Seared non-stick interior
Sturdy
Dishwasher friendly
Lifetime warranty
Cons
May rust over time
not compatible with induction
The seven-ply offers unrivaled frying and perfect browning and also ensures unparalleled heat distribution and retention. It is made up of an 18/10 stainless steel interior that provides no food reaction with metal giving you the correct flavor always.
An aluminum core covers the entirety of the saucier to ensure that consistent heat is supplied to the whole surface of the pan.
The technology adopted in its make ensures the bottom stays flat when heated. Also, the base includes a copper for high heat conduction and retention on cooktops such as electric, ceramic, halogen, induction, and gas types.
Additionally, the patent silvinox surface treatment gives a handsome look to it and serves to keep the silvery white matte appearance. Also, this helps it to resist fingerprints and more comfortable to clean.
Enjoy dripless cooking with the rolled rim; the pouring edge has been designed to avoid fluid spillage. There is a handle that is welded to give the strength for longtime use of Maneuvering of the pan.
Furthermore, the saucier has a sturdy built, making it ideal for whisking, but because of its heavyweight, it becomes difficult to empty content with just one hand. It offset handle, and seven-ply construction is worth the investment on it.
For a professional seeking saucier with elegant design and outstanding performance, this is the right choice.
Pros
Highly responsive
Welded handle
Easy to maintain
Consistent heat distribution and retention
Cons
Prolong heating makes the handle hot.
Best Saucier – Buyer's Guide
How to select the Ideal Saucier
Haven seen the top choice of saucier in the market, we have gather areas you should look out for when selecting a saucier of your own. Check them out before you go shopping.
The material it is made with
The ply (tri-ply, 5- ply, 7-ply) means it consists of the number of layers of metals signified by the prefix; typically, steel encapsulates a layer of aluminum or copper.
When metals are combined, there is added advantage by utilizing the properties of both: aluminum can heat up fast and evenly, and steel help to add durability to the product. Most of the products selected were entire- clad.
Heat distribution
A good saucier should be made with thick, high-quality stainless steel and have heavy bottom: a property that will ensure even heating.
Handle
The handle on a saucier aims to be able to carry the pan conveniently without getting the finger burned.
All "stay-cool" handles will get hot over time, but the most crucial factor to have in mind is to be able to hold it conveniently with an oven mitt. The design is a matter of preference, is a thicker round one better for you than a ridged handle?
Size
The choice of size is relative. We mean, it depends on the number of people you will be cooking for. Since saucier is majorly made to heat liquids, they usually come in small sizes; nevertheless, some products do come in various sizes so you can pick the correct size that will meet your need.
Maintenance regimen
A saucier that is fortified with a non-stick surface would be very easy to clean. But the drawback with some of those pans is that you cannot use a metal utensil with them. Carefully read and understand the maintenance regimen of the pan you intend to buy so it will align with your priority.
Cooktops compatibility
As we have with other pans that some do not work with every cooktop, so also it is with saucier. Make sure the one you are purchasing will work with your cooktop. If not, the purpose of purchase has failed already.
Research your cooktop and the type of material that works with it, so have to prolong the useful life of your saucier.
How easy it is to empty the content
A model with a curved rims design has proven to facilitate clean pouring from the saucier to bowl while straight rim pans create a mess when attempting to pour from them.
Spout curved model, though, is good but soon was found to be a limitation for left-handed persons as they would have preferred the spout to be on the opposite side.
The lid
The fitting of the lid is an important aspect that you should not ignore. It must be fit snugly to prevent steam from escaping for tasks like cooking rice and well covered for a moderate boil. Except for All-Clad that has a steam vent in the lid, all other products are well covered.
What Does A Saucier Do?
A saucier is a versatile tool that will bring you custard for your breakfast, soup for lunch, and tomato sauce for dinner. Its unique structural design makes the cooking task more straightforward.
These tasks include preparing oatmeal, polenta, and risotto. The kind of foods prone to lodging at the edge of the ordinary pan and getting burnt is better prepared with a saucier.
What is a Saucier?
Saucier also called the chef's pan, is essentially designed with a wide opening, giving room for more space and curve sides making an ideal tool for heating liquids. The unique structure is perfect for whisking and makes heat to be evenly spread to food.
Obviously, the saucier pan is a necessary tool for a professional for the continuous crafting of delicious soups and sauces.
Saucier Vs. Saucepan
The discrepancy between the saucier and a saucepan lies in the structure and function. As for the saucepan, it comes in straight sides and is basically used for heating and boiling.
On the other hand, a saucier is made into a rounded bowl-like structure ideal for creamy foods, sauces, and all the tasks a saucepan can perform. Literally, a saucier differs from a saucepan in shape and performs many cooking duties than a saucepan.
How to Clean A Saucier?
Easy cleaning is one of the advantages of a saucier compared to a saucepan. Because of the slope edges, stirring is made easy and thereby preventing the burning of food.
Most of the products listed are dishwasher compatible, so you can your dishwasher do the job for you. You can also follow the simple steps listed below in case of burnt.
Using vinegar:
Vinegar as a disinfectant is used in the kitchen as well.
Pour a small layer of equal parts water and white vinegar in the saucier
Allow the mixture to heat till it reaches its boiling point
After a minute boil, withdraw the heat and drain vinegar down the sink
Add a tablespoon of baking soda to the empty pan and massage the baking soda with a scouring pad to remove burning marks on the bottom of the saucier
Then use water to rinse the saucier and ensure it is clean
Frequently Asked Questions about Electric Woks
What size of saucier should you purchase?
The saucier size you should go for really depends on what you cook. However, a 3 quart is a mid-range size for anyone, and a three-quart size is a reasonable enough size that does everything. It is not too small or huge so that you won't be struggling with the saucier.
What are the best saucier brands?
There are lots of saucier brands in the market, but not all are reliable. Some of the ones that are worth your money are All-Clad, Anolon, Cuisinart, Le Creuset, Zwilling, Viking, Tramontina, Farberware, and Breville.
Conclusion
Adding the best saucier to your cookware collection would be a great plus. The way they are constructed and designed would make cooking enjoyable and much easier for you. You should be able to find the one that works perfectly for you among the top 5 sauciers mentioned above.
Now, you can indulge in your hobby and cook like a professional on an elevated saucepan.